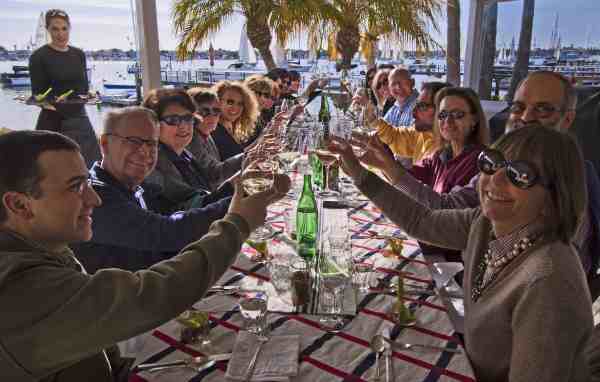 By Jennifer Erickson | LB Indy
We're at a festive gathering on the sun-dappled porch of a bayfront home on Balboa Island. Guests chat away, enjoying views of passing sailboats. When everyone has arrived, we take our seats around a long table, set for brunch.
Most in our group of 20 don't know each other, but are meeting for the first time. Though we paid in advance for the privilege of coming, we didn't know the locale until notified by e-mail the day before. And the home's owner, Jane Lloyd, did not make out the guest list.
Instead, this chance encounter over food prepared from locally sourced seasonal ingredients came complements of Linda Elbert and Michell Bretall, who last spring began The Basement Table. Their underground supper club serves up a monthly meal at to-be-announced locations to the first 20 takers. So far, they have sold out each event since last April.
"I like that you meet people that you wouldn't meet otherwise," said Ted Wright, who knew Elbert through Slow Food OC. Having attended an earlier event, he and his wife brought four friends from church to the December meal at Lloyd's home.
"We don't have enough events like this in the area," said Barbie Hendon, who had also taken one of Elbert's classes and joined the Basement Table for the first time in December.
Underground or "secret" dining clubs often involve pop-up locations and many occupy a special niche, such as catering to lovers of certain foods or modes of dress. Some even require diners to bring their own chairs or cutlery. Most appeal to food lovers with a sense of adventure and a willingness to dine outside the box, literally.
Elbert and Bretall vow commitment to fresh, locally sourced ingredients, and are enticing like-minded locavores. Increasingly, local restaurants tout similar dedication to the farm to table concept embraced by Outstanding in the Field. Their teams travel the country, setting up meals, usually al fresco and often right in the farmer's fields. Most sell out on line soon after they post their schedule for the season and begin taking reservations.
Basement Table grew organically in the fertile field of Laguna Culinary Arts.
Laguna Beach resident Elbert, 57, and Bretall, 45, of Mission Viejo, crossed paths when both women decided to place their passion for cooking on the front burner by taking the professional chef's course at Culinary Arts.
"I fell in love with it," said Elbert, a 25-year psychologist.
"I found my tribe," echoed Bretall a stay-at-home mom and part-time gallerist.
They met at the school and discovered their mutual appreciation for "good, clean, local food," cooked entirely from scratch. Both eschewed haute cuisine for building meals from fresh flavorful ingredients and making them shine.
Elbert shared her dream of creating a supper club with Bretall. "As soon as we started creating menus together, it clicked," said Bretall. The chefs finish each other's ideas for menus the way married couples finish each other's sentences.
They also envisioned creating a home-grown dining experience without formality, allowing food lovers to share their passion and enjoy a sense of community.
Their first events drew from people connected through Laguna Culinary Arts, Transition Laguna and Slow Food OC. Thanks to word of mouth, the audience is widening. Anyone interested can visit thebasementtable.com and sign up for e-mails of the next date.
Fortunately, their overhead is minimal. Flatware and dishes culled from flea markets and garage sales make up their eclectic "tablescape." Their signature red, white and blue French linens came from a serendipitous encounter with one of Elbert's friends, who supplied linens to boutiques from her textile plant in Lyons until retiring. She offered Elbert her leftover inventory.
The Basement Table's greatest expense is procuring the freshest possible ingredients. Sourcing lamb for their first dinner last April involved many phone calls and one purveyor asking if they would "harvest" the meat themselves. They finally found a sheep farm in northern California. "We knew we had a really clean, well-managed animal," said Bretall. For produce, they generally turn to farmers markets, community supported agriculture such as San Juan Capistrano's South Coast Farms, and use localharvest.org, building relationships with suppliers whenever possible.
Elbert and Bretall buy the ingredients, cart them to the venue and cook everything themselves on the premises the day of the event, hiring helpers only to serve.
The menu for the tonight's dinner, including a salad of winter greens, celery root soup with duck confit, stuffed pork loin with house-made quince glaze and ancient grains, went out Jan. 5. The venue remains a secret until the day before the gathering. The next event will be Feb. 25.
Finding homes is the easy part. People just keep offering them up. After participating in a dinner early last fall, Lloyd was quick to offer her home for the December date. It's like having a party in your home without doing any of the work, she said.
And, of course, those providing the venue don't have to pay for their meal. December's was $120, including wine and service, cheaper for those opting out of wine.
"We knew we had a great idea," said Bretall. "Build it and they will come."
And they did.