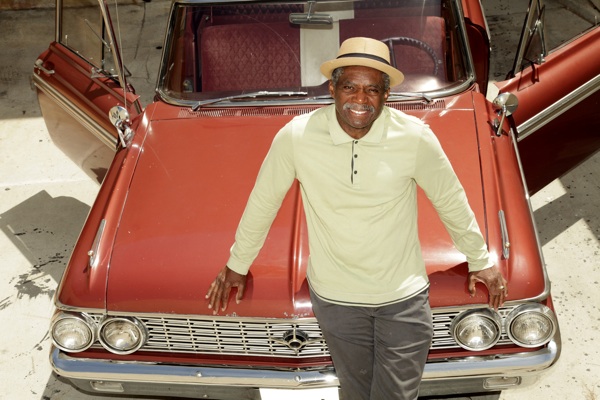 Tonight marks the opening of "Jitney," South Coast Repertory's final production before going dark for the summer.  If you haven't yet gotten your theater fix this season, don't fret – they are going out on top with this one.
"Jitney" is one of late playwright August Wilson's "Pittsburgh Cycle" plays – a series of 10 plays he wrote depicting the African-American experience in each of the decades of the 20th century.  It takes place in 1977 Pittsburgh, in the Hill, a predominantly black neighborhood where Wilson himself grew up.
Wilson's work has widely been regarded as an epic literary saga.  Among his many awards, and even more nominations, are two Pulitzer Prizes for drama, and a Tony award for Best Play.
The remarkable thing about his writing is that he was able to take a microcosm of society, and tell a universal story by following their day-to-day existence.  He has been quoted as saying that he wanted his work to echo "the poetry in the everyday language of black America."  He also wanted his plays to "offer (white Americans) a different way to look at black Americans."
Having grown up in Pittsburgh's Hill District, and having many different jobs, he was able to meet a wide variety of individuals, and many of his characters are based on actual people he knew and talked with about the realities of their lives.
In "Jitney," we meet Becker, whose jitney (unlicensed taxi) station is set to meet its demise, as it is scheduled to be shuttered in order to allow for an urban renewal project.
Adding to Becker's worries is the imminent reentry into his life of his son, who has been serving a prison sentence for the last 20 years.
In his employ are four drivers: Turnbo, a neighborhood gossip who always has his nose in everyone's business; Fielding, an alcoholic wrestling his demons; Youngblood, a hot-headed Vietnam vet who is fiercely trying to do right by his young family; and Doub, a Korean War veteran and Becker's long-time friend.
Also frequenting the station, are Shealy; a bookie who uses the station as his base of operations; Rena, Youngblood's girlfriend; Philmore, a local doorman and frequent jitney passenger; and Booster, Becker's ex-con son.
Between fares, the men come and go, answering customer's calls on the pay phone, playing checkers, and sharing stories about life and what's going on in the neighborhood.   Before long, we feel like we are right there in the station with life-long friends.
The Pittsburgh Post Gazette says that "Jitney" is a "vivid mix of comedy and passion backed by a solid sociology of men struggling to survive. … Wilson excels in the casual, expressive revelation of emotion under the drone of day-to-day."
Director Ron OJ Parson, is a seasoned veteran, and brings his experienced vision to the stage, in this his 19th August Wilson production.
Along with the cast, he conveys the notion that we are all linked by our desire to connect and rise above our situation.  By walking in these men's shoes, we are able to not only appreciate their reality, but examine our own as well.
Tickets $20 – $68. For showtimes, other information and tickets, visit www.scr.org or call the box office at 714-708-5555.