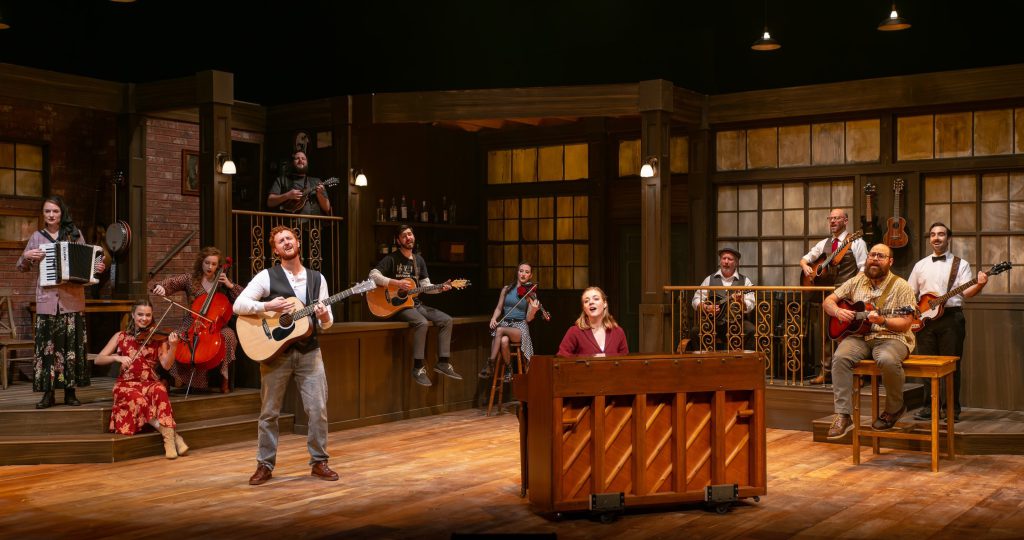 By Eric Marchese | Special to the NB Indy
Some tales like the basic boy-meets-girl romance have been told so often they're frequently riddled with clichés born of audience overfamiliarity.
"Once" offers a textbook example of how to tell such a story, hold audience interest throughout and yet keep everyone guessing as to where its events will go next.
The play started in 2007 as a small, low-budget independent Irish film written and directed by John Carney. Four years later it was adapted for the stage and workshopped in Cambridge, Mass., before its Off-Broadway production.
Director Steve Steiner and the Laguna Playhouse company have created a deceptively simple staging that wields considerable emotional impact. "Poetic," "bittersweet," "romantic," "electric" and "compelling" are some of the words that come to mind.
"Once" is set in Dublin in 2007, and most of the story unfolds at an informal nightspot where various musicians congregate and perform their favorite pieces, primarily for themselves.
Singer and guitar player Guy (Keaton Eckhoff) takes the club's stage and performs "Leave," an intensely personal ballad of heartbreak.
Only one person pays him any attention and shows any interest in his music: Girl (Grace Belt). This disarmingly candid Czech immigrant suspects that Guy wrote the song about his ex-girlfriend – and from that she's spot-on.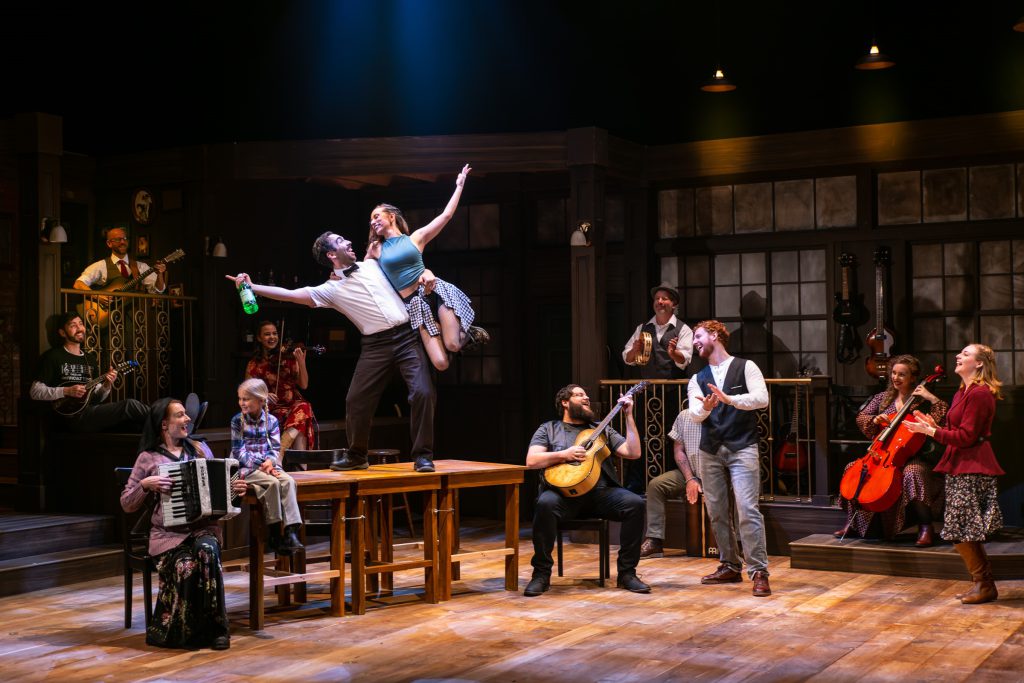 But "Once" doesn't (and couldn't) end there. Girl sees tremendous value in Guy's emotionally charged music, while his singing has a quality unlike anything else around. That makes "Once" a tale of boy meets girl, boy loses girl, boy meets new girl.
This new girl, though, isn't looking for romance with him. She wants to be his Muse – to inspire him to reclaim his artistic talent, then to go to New York City to rekindle things with his ex.
Depicting the relationship that develops between Guy and Girl over the course of a week, Edna Walsh's stage adaptation of "Once" is unpredictable from start to finish. It avoids more conventional means even while exploring familiar themes like physical attraction, sex, love, friendship, and the role music can and does play in our lives.
The 2007 source movie starred Glen Hansard and Markéta Irglová, who co-wrote its bittersweet songs. As Hansard is Irish and Irglová is Czech, it would be easy to assume that "Once" is autobiographical – yet that's something we can never know.
Steiner directs the Laguna Playhouse staging with understated confidence and a sure eye, ear and hand towards the material. His actors are top-notch, which translates into a fuller realization of his vision of the show.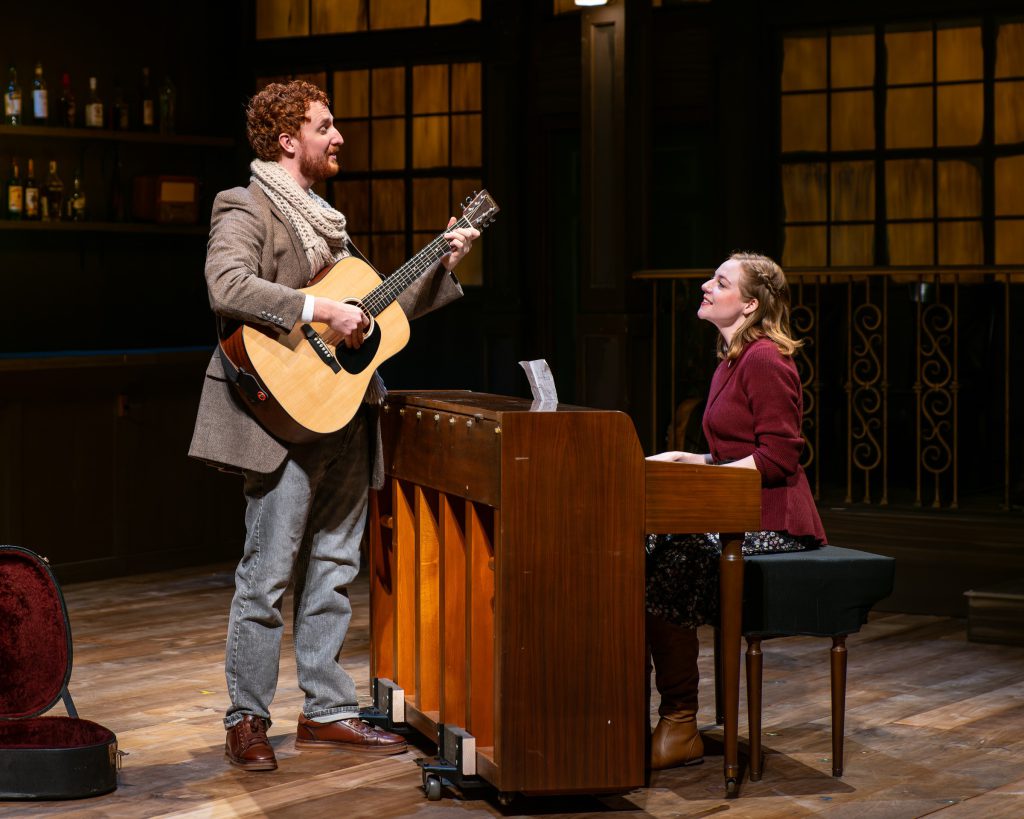 Musical director Julia Hoffmann (who's also in the cast in the role of Reza) adeptly realizes the strengths of the show's incredible music, while Playhouse stalwart Paula Hammons Sloan puts her wide-ranging choreography on full display.
Matthew Herman's scenic work makes wholly credible the club run by Billy (Will Huse). While that club is shown as a place where musician friends can congregate, the versatile set design also serves not just as the club but also as a Dublin street near the club, Girl's modest home, Da's vacuum cleaner repair shop, the Bank Manager's office, and a recording studio.
The story surrounds Guy and Girl with a raft of pleasingly quirky characters, most of whom are struggling workaday musicians who are natives of Ireland or who, like Girl, are Czechs – and as eccentric as are the Dubliners, the Czechs are even more so.
The presence of these supporting characters provides a mostly comedic counterpoint to the focal sweet, sad tale of Guy and Girl. The songs these characters perform likewise provide a stunning contrast – boisterous and often explosive, brimming with incredible life and energy, the polar opposite of Guy's persona.
Guy and Girl tangibly form a microcosm of that dynamic: Eckhoff's wounded, melancholy Guy looks inward, cautiously shying away from human contact; Belt's Girl is alive with hope and possibilities, an appealing waif whose every instinct is to reach out to others.
That lends the score of "Once" a powerful degree of emotionality unlike just about any other stage musical you might have seen – yet Hansard, Irglová, Carney and Walsh sidestep the kinds of clichés that typically derail projects like these.
Much of Hansard and Irglová's music is simply haunting. Laguna's cast realizes the full potential of their score, the show's opening numbers setting the tone.
First is Eckhoff's solo "Leave," laden with Guy's feelings of longing – something Guy is reluctant to let anyone see. Belt's first number is also a solo, as the classically-trained Girl plays the pensive, melancholia-tinged "Songs Without Words" (Mendelssohn composed 48 in all under the same title) on a piano.
"Falling Slowly" pairs the duo vocally, with Eckhoff on guitar and Belt on piano. The superb Oscar-winning song returns at evening's end, this time with two stars joined by the entire cast.
As the ideal closing number, it perfectly showcases the peerless musicianship of the Playhouse's expert cast of top-flight singing, dancing, instrument-playing actors.
Eckhoff, it's safe to say, couldn't be better – but Belt is positively captivating. It's easy to see how Guy is drawn to her. While Girl is more pragmatic than Guy, she has no problem expressing in song whatever she won't say in direct contact with him.
In casting this "Once," Steiner mined for gold, and he struck it: Each actor displays keen musicianship, singing and dancing while playing various instruments – primarily guitars, violins, mandolins and bass, complemented with percussion and an accordion.
The two are surrounded by an ideal supporting cast, each character sharply sketched in a few deft strokes. Will Huse's outspoken, over-the-top Billy despises the excesses of capitalism, so he takes an instant dislike toward James Michael McHale's coyly sardonic Bank Manager, repeatedly spoiling for a fight.
As impressive are the multitalented Hoffmann as the seductive Reza, Maryann DiPietro as the mysterious Baruska, and Grant Alexander Brown as the self-protective Andrej.
Less prominent within the story yet no less accomplished in Laguna are Morgan Hollingsworth as recording studio owner Eamon, Becca Last as Girl's young daughter Ivanka, Chris McGraw as percussionist Svec, Michael Naishtut as Guy's guitar-playing Da, Caitlin Ort as the bass-playing Emcee, and Lauren Witman as Guy's violinist Ex-Girlfriend.
In the 15-minute pre-show concert that blends seamlessly with the play's opening, these ten actor-musicians (everyone but young Last) deliver a winningly boisterous, seemingly impromptu jam session brimming with joyous spontaneity.
Thankfully, "Once" doesn't pound us over the head with its heart and soul. As its title is identical to the first word of the traditional storybook opening phrase "Once upon a time," "Once" can only be called a sweetly sad fable that reminds us of everything we love about live musical theater at its best.
Moulton Theatre, Laguna Playhouse, 606 Laguna Canyon Drive, Laguna Beach. Through March 26. Running time (including intermission): 2 hours, 10 minutes. Tickets: $66 to $91. Ticket purchase/information: 949-497-2787, lagunaplayhouse.org