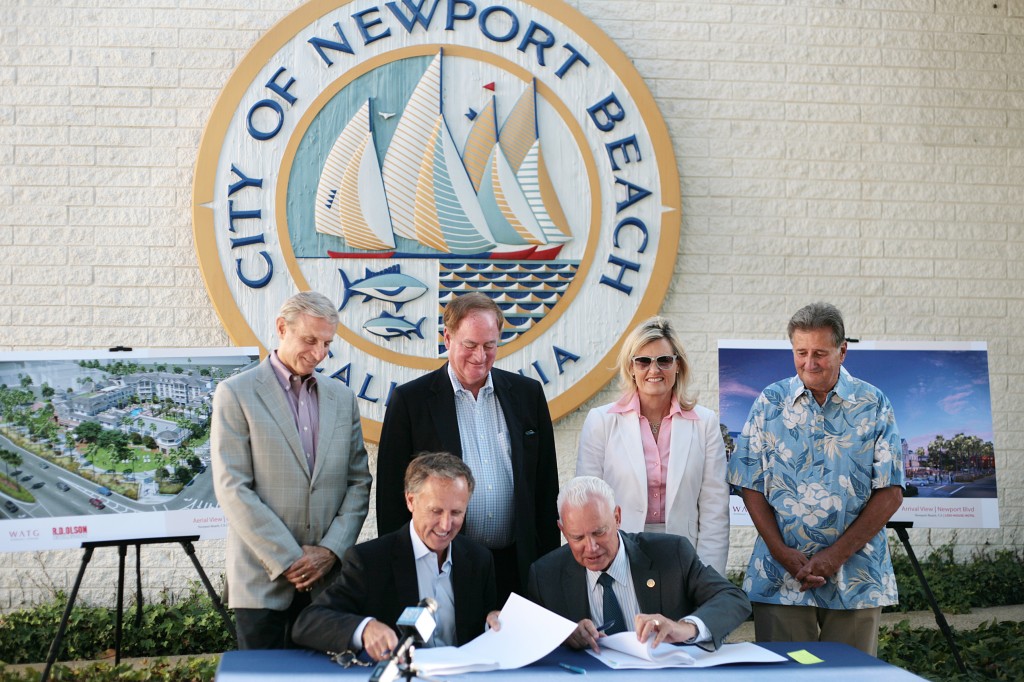 About 50 people gathered at the old city hall site this week to witness the official signing of the lease from the city to R.D. Olson for the property on Newport Boulevard.
Bob Olson and Mayor Rush Hill signed the papers Monday in a small ceremony in front of the old council chambers.
Council approved the lease last week, moving the 130-room boutique hotel project forward.
The Lido House Hotel will be the "gateway to Lido Village and the Peninsula," Olson said previously, and will help revitalize the area.
Hill called the project a "major opportunity for the city."
"We're on the verge of a project that will bring significant public value to this area," Hill said.
Hill said he was pleased to sign and move forward with the project to the California Coastal Commission. He emphasized that the fight isn't over and public support is still needed at the CCC level.
Olson thanked the community for support and agreed with Hill that there is still work to be done.
"We're rounding second base," Olson said.
The CCC application should be submitted within the next 30 days, he said, and it usually takes six to eight months for the commission to review it.
"We've got the Coastal Commission next and some neighbors we're trying to make happy," Olson said. "We just want to get everybody on board."
After the ceremony, Olson addressed the conflict over 32nd Street alley with Lido Partners.
"We're hoping to find some common ground with them," Olson said. "They have some concerns we're trying to work through."
Olson, a Balboa Island resident, is excited to do a project in his own back yard, he said.
The community support has been incredible, Olson said.