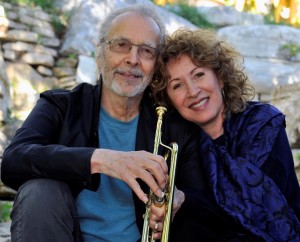 "In the music business, the word 'legendary' is applied to very few individuals. I think that when it comes to Herb Alpert, that word is more than appropriate," said Pacific Symphony Pops Conductor Richard Kaufman. "Herb Alpert and the Tijuana Brass were a musical mainstay throughout the world for many years, and now Herb Alpert has decided to combine his many talents with his wife, singer Lani Hall, and Pacific Symphony in their very first symphony performance."
Yes, you heard correctly—The Pacific Symphony Pops concerts June 4 – 6 mark the first time that Alpert has performed with an orchestra.
"We have an orchestrator, Bruce Fowler, who is just great," said Alpert during a recent phone interview from his home in Malibu. "We have heard the pieces on a synthesizer, then Fowler translates it for an orchestra. Lani and I are looking forward to it. We've been traveling with the same group of musicians, we have a great time on stage. It's what I love to do."
And Alpert has been doing it for more than five decades, selling over 70 million records worldwide and winning nine Grammy awards (the most recent in 2014). He also received the National Medal of Arts in 2013.
His new album, "Steppin' Out," is a mix of new tunes and standards such as "Chattanooga Choo Choo" and "Puttin' on the Ritz," done in that instantly-recognizable Herb Alpert style.
Hall sings on several of the album's songs, and has been performing with her husband since 2006. Hall herself is a Grammy winning artist who rose to fame as the original lead singer for Sergio Mendes' Brasil '66.
"We've been getting standing ovations for the past nine years," said Alpert, who noted that his concerts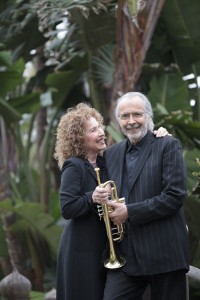 change every night. "There is lots of spontaneity. We do a Tijuana Brass medley, and Brasil '66. The challenge of course is what to leave out. But nobody will be disappointed."
Talking to Alpert, it's easy to tell that despite his many years in the business, he's still passionate about what he does.
"I think that goes for any pursuit," mused Alpert. "Be passionate. It's wonderful to wake up in the morning—I cannot wait to get to the music studio. In fact, I have musicians showing up here in a few minutes, we're recording new material that I'm very excited about."
Alpert offered a few words of advice to budding musicians.
"This is advice I give to all artists: you've got to find your own voice, your own way of communicating. You need luck along the way, combined with hard work. I was looking for my own sound when I satrted, I spent time trying to sound like Miles Davis and Louis Armstrong, but who wants to hear that—they've already done it. I finally hit on my own style, my voice."
Listening to Alpert's music, especially his latest albums, you can almost hear him singing through his instrument.
"I'm very conscious of the lyrics expressed through the instrument," acknowledged Alpert. "I want to articulate the lyrics—I'm acknowledging a great song and the lyrics."
"It's going to be a fun concert," added Alpert. "We have unbelievable musicians, we're doing it for all the right reasons and not trying to massage my ego. We have fun playing great music. At this time of my life, I want to share it as long as I can."
For tickets, visit PacificSymphony.org or call (714) 755-5799.