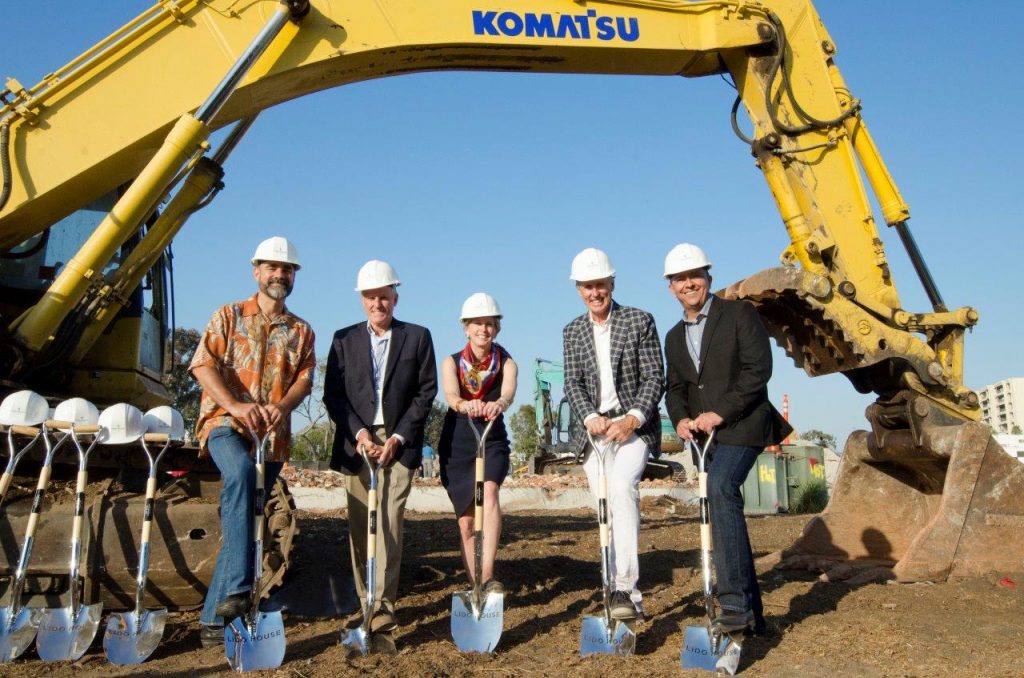 Officials broke ground on the Lido House Hotel last week, marking the first physical step toward making the 130-room boutique hotel planned for the old city hall site at 3300 Newport Boulevard a reality.
Several people dug shovels into the dirt on June 29 during a groundbreaking ceremony, including: President & CEO of R.D. Olson Development, Bob Olson; Executive Vice President of R.D. Olson Construction, Ian Gardiner; Associate Vice President of WATG Greg Villegas; Newport Beach Mayor Diane Dixon; and several other city council members, project officials and community leaders.
City officials and community members have emphasized the hotel as part of the revitalization of the Balboa Peninsula.
 "This hotel is a key milestone for the redevelopment of Lido Village and a great benefit to the economic vitality of the Peninsula and Newport Beach," Olson said. "With its accessible location, beautifully planned architecture and many amenities it will fill an important void here and is poised to be a vibrant destination for locals and tourists alike – a true community hub."
The City Council approved the hotel in 2014 and the California Coastal Commission gave the project the green light last year.
Newport Beach Planning Commission also recently unanimously approved a 4,745 square-foot expansion for the hotel. It is a 4.8 percent increase to the maximum floor area.
The hotel is scheduled to be complete next summer.
 Lido House was designed by WATG. The general contractor is R.D. Olson Construction, directed by President Bill Wilhelm. Novato-based EDG will provide interior design services, and Autograph Collection Hotels, a division of Marriott, will be the operator.