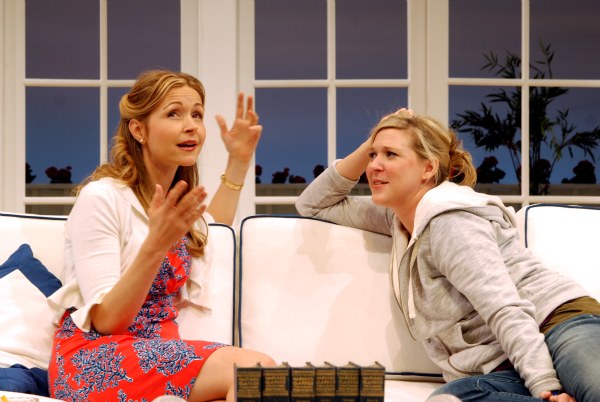 "Elemeno Pea," a biting new comedy about the rich behaving badly, will have its West Coast premiere tonight through Feb. 26 at South Coast Repertory.
Molly Smith Metzler's play features a pair of sisters: down-to-earth Devon and status-seeking Simone. Simone works as a personal assistant to Michaela Kell, the trophy wife of a wealthy ad executive, and she's planned a sisters' weekend in the Kells' gorgeous beachfront mansion.
But within minutes of the girls' arrival, Michaela crashes the party. She and her husband have had a fight, and she's counting on Simone to help her keep from becoming Ex-Wife Number Two. The ensuing chaos brings to light old wounds and explosive secrets that turn everyone's world upside-down.
"Elemeno Pea" marks the Southern California directorial debut of SCR Artistic Director Marc Masterson, who gave the play its world premiere when he was still serving as head of Actors Theatre of Louisville.
"I am amazed by Molly Smith Metzler's ability to tell a great story," Masterson said. "Her characters are people you care about, and she has a gift for smart and funny dialogue. I can't wait to share 'Elemeno Pea' with our audiences."
Cassie Beck is making her SCR debut as Devon, a role she originated in Louisville. Beck also appeared in "The Norman Conquests" on Broadway and recently completed an Off-Broadway run in Ethan Coen's "Happy Hour." Melanie Lora (SCR's "Misalliance" and "Collected Stories") plays Simone, and Katrina Lenk (SCR's "Caucasian Chalk Circle"; Off-Broadway's "The Miracle Worker") portrays Michaela.
Two men round out the cast: Jamison Jones (SCR's "Doctor Cerberus," TV's "24") is Simone's boyfriend, Ethan; and Jonathan Nichols (SCR's "Anna in the Tropics"; Lincoln Center Theater's "Measure for Measure") is the put-upon caretaker, Jos-B.
Playwright Metzler is a New York native whose play "Close Up Space," starring David Hyde Pierce, is currently playing at The Manhattan Theatre Club. A graduate of NYU and The Juilliard School, Metzler is also the author of the plays "Carve" and "Training Wisteria."
Shows start at 7:30 p.m. Sunday, Tuesday and Wednesday nights, and 8 p.m. Thursday-Saturday nights, with matinees starting at 2:30 p.m. Saturday and Sunday. Discussions of the play with members of the cast will take place after the Feb. 8 and Feb. 14 performances. Tickets are $20-$68 and can be purchased online at scr.org, by phone at 714-708-5555.