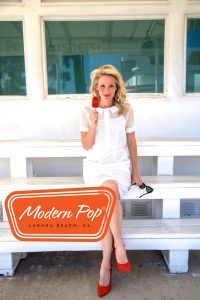 By Donna Furey & Christopher Trela | NB Indy
Three years ago, Laguna Beach resident Julie Podolec began to puree fruit and freeze it for her teething son because she could not find a popsicle sans added sugar in local grocery stores.
This led Podolec – often outfitted in a custom apron with retro styling – to sell her healthy handmade frozen fruit concoctions from a pushcart on the patio at The Old Pottery Place in Laguna Beach.
Dubbed "Modern Pop," the treats soon became available for $3 each at Pizza Lounge in Laguna Beach and Bristol Farms in Corona del Mar.
Soon, a Laguna Beach Whole Foods manager contacted Podolec and asked to carry her product in the Laguna store.
Over the past three years, Modern Pop has become so popular that Podolec has moved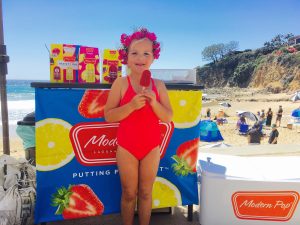 her operation from her home to the kitchen of the former Thalia Beach Café to a commercial kitchen in Costa Mesa (where she could turn out 1,000 bars a day) to a full manufacturing operation in California's Central Valley.
Today, Modern Pop's founders confront an old-fashioned quandary: making the leap from start-up entrepreneurs to regional suppliers. Last month, Podolec began distributing fruit bars to 18 local Costcos, 30 Gelson's markets and 30 Whole Foods stores, all in California (including the Gelson's in Newport Beach).
"It's been a busy couple of years," says Podolec's husband and company partner, Brad, who developed Modern Pop's business model.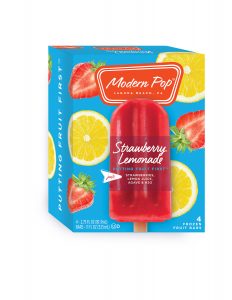 Modern Pop products are now made in Modesto, where the manufacturer sources fresh fruit, some of which is organic, from inside and outside the U.S. There they can turn out around 200,000 pops a day.
Podolec takes pride in Modern Pop's simplicity of ingredients, which are mostly just fresh fruit. In addition to fruit, water and lime juice, the bars get a little extra sweetness from organic agave. Each treat contains just 11 grams of sugar.
Her slogan, "Putting Fruit First," appears on boxes of all three flavors, strawberry lemonade, pineapple and raspberry pomegranate.
The Podolecs say they're focused on the Southern California market this summer, but have plans to soon leverage their distribution partners that have national reach.
Julie also has large aspirations for the brand. "Modern Pop is more than just a fruit bar company. We're excited to be building a healthy snack brand, focused on fruit and inspired by the Southern California lifestyle."
For more information on Modern Pop, visit TheModernPop.com.