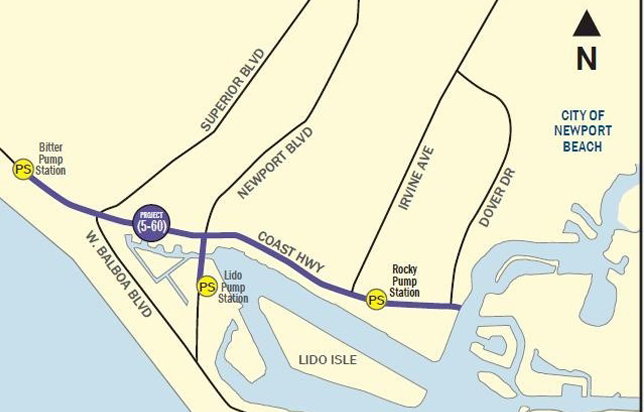 The Orange County Sanitation District will be rehabilitating its trunk sewer line along West Coast Highway between Dover Drive and Prospect Street starting this month and continuing through May 2015, according to information provided by the city of Newport Beach and OCSD.
Motorist have probably already seen the advance warning message boards that have been placed along the highway
Starting the week of Sept. 8, crews will start to reconfigure the roadway in preparation of construction. Because most of the sewer pipeline work takes place in the center median of West Coast Highway, the travel lanes will be shifted to the outside edges of the highway.
In order to create a safe work space and provide for traffic lanes, all on-street parking will be eliminated along West Coast Highway. Bikes will share the outside lane with vehicles, so motorists need to be aware of them and be cautious.
On Sept. 15, work crews will begin to mobilize as construction activity starts to get underway.
Eastbound (headed to Corona del Mar) Mariners Mile, two travel lanes will remain open for the majority of the project. However, the westbound lanes will be down to one lane during working hours. This is where the most significant traffic impacts will occur during the course of the project. Commuters should be prepared to avoid the area.
Most work will take place Monday to Friday, between the hours of 7 a.m. to 5 p.m. Some portions of the work will require night and weekend work and extended hours.
A second phase of construction will occur between September 2015 and May 2016.
All local businesses are open during the construction period. Please remember them, and continue to visit them and shop there as best you can. If you can't brave the weekdays, please make every effort to visit on a weekend day, when traffic is lighter and more lanes are open.
This sewer replacement project is important, as this line is a critical component of the OCSD system and the existing 50-year old pipeline has reached its life expectancy.  Continuing to use the existing aging pipeline increases the risk of a potentially massive sewer spill into Newport Harbor, which would be devastating.
All parties involved in the project understand that this is a highly-used area that many of us depend upon on a daily basis. The project team (OCSD, the City and the contractor) is committed to keeping the community informed, minimizing the impacts, and completing the project as quickly as possible.
For additional information on the project, please call OCSD's dedicated community liaison at the construction hotline: (714) 679-2088, or email [email protected]  
The City is maintaining a project web page – newportbeachca.gov/marinersmile – that will be updated regularly and will provide important project information.