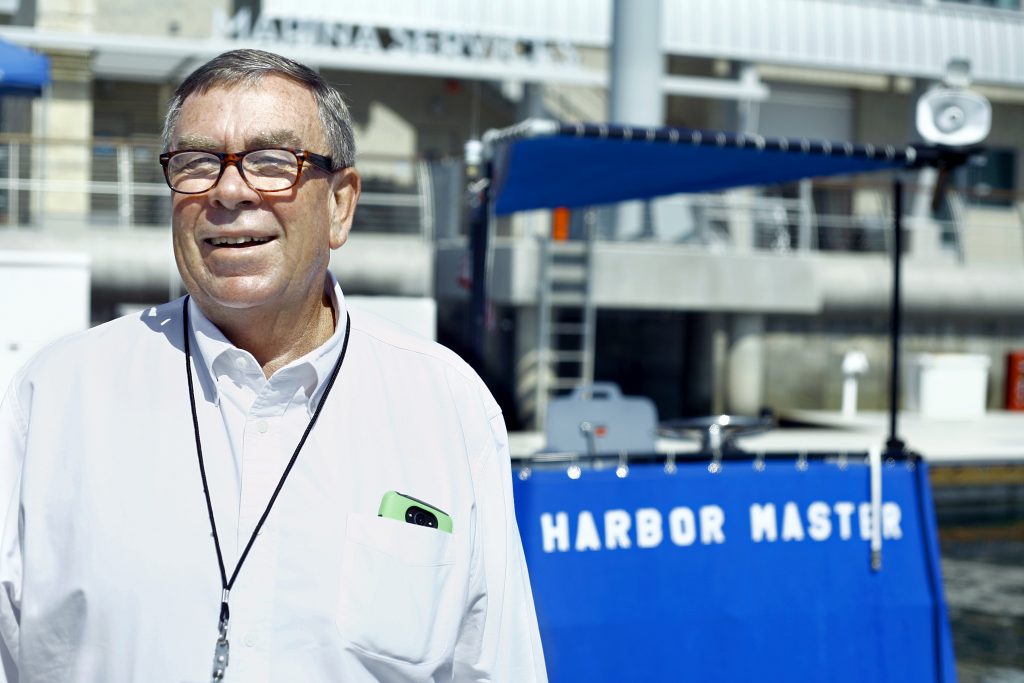 Longtime resident, world-renowned sailor, yachtsman, businessman, local real estate agent, and Newport Harbor enthusiast Dennis Durgan now can add one more role to his list: Harbormaster.
Durgan is well-known around Newport Harbor and is already a familiar face with a number of locals who live, work and play on the water.  He officially started his new position as harbormaster on July 1.
The city was looking for someone who knew the harbor "inside and out, forwards and backwards" and he fit the bill perfectly. Durgan grew up in Newport Beach and has been sailing out of the local harbor for more than half a century.
"It's really been a blessing to have grown up in this wonderful harbor," Durgan said. "It's nice to give back to the harbor that I so dearly love."
Durgan is a "key part of the city's harbor service transition," it explains on the city website. He oversees the day-to-day operations, harbor service staff, marina park marina operations, management of the city moorings, and customer for "all who enjoy the harbor."
He moved to Newport Beach in 1961 from Palo Alto. Jumping right into the local lifestyle, Durgan started sailing sabots when he was just 7 years old.
Growing up, he attended Harbor View Elementary School, Ensign Intermediate, Newport Harbor High School and Orange Coast College before venturing out of the area to attend University of Hawaii.
In high school, Durgan played football and tennis, while pursuing sailing on his own time since there were no organized sailing teams at school during that time.
Durgan qualified for the Congressional Cup while still in high school and competed in his first TransPacific Race when he was just 15.
"I didn't even have a driver's license yet," Durgan joked. "I just kept at it, kept practicing."
He was surrounded by a lot of great supporters and talented fellow competitive sailors in Newport, he noted.
"Newport Harbor has opened so many doors for me to competing around the world," Durgan said.
Durgan has since participated in 16 TransPac races. His resume also includes sailing in the Governor's Cup in its first few years, representing the Bahia Corinthian Yacht Club, back-to-back wins in the Congressional Cup in 1979 and 1980, and serving as tactician for Dennis Conner during the latter's 1980 America's Cup win.
He's competed on the world's sailing stage in everything from 8-foot sabots to 80-foot maxi boats. Sailing out of Newport Harbor, he's also cruised around the world.
"I'm very familiar with the harbor – having cruised around in it for 57 years – but I must say, I've never looked at it with a careful eye like I do now," Durgan said. "It's a totally different perspective."
His department aims to provide information and education for boaters – both visiting and locals – and mooring permitees and renters, and watch for ordinance violations, while also educating the public on ordinances in the harbor. The crews also answer noise complaints, from party boats to sea lions. They even have a trash can and a pool net on board to clean up debris floating in the water.
"We're ambassadors on the bay," Durgan said.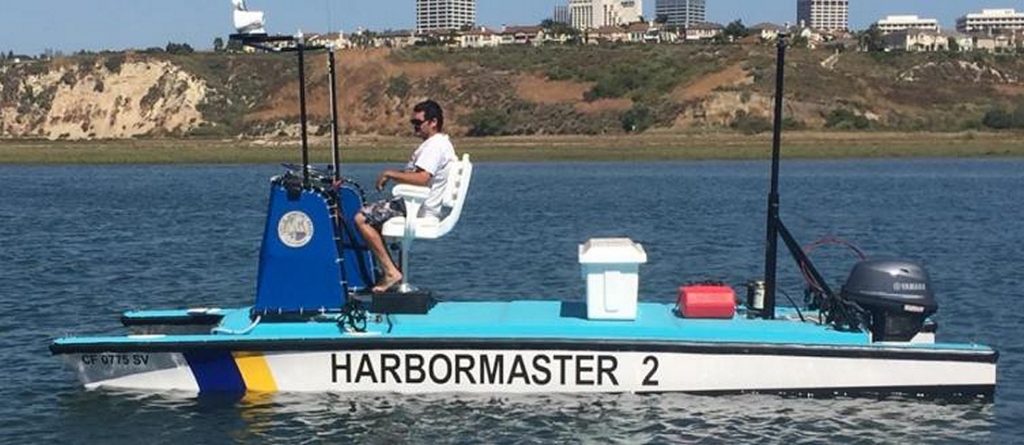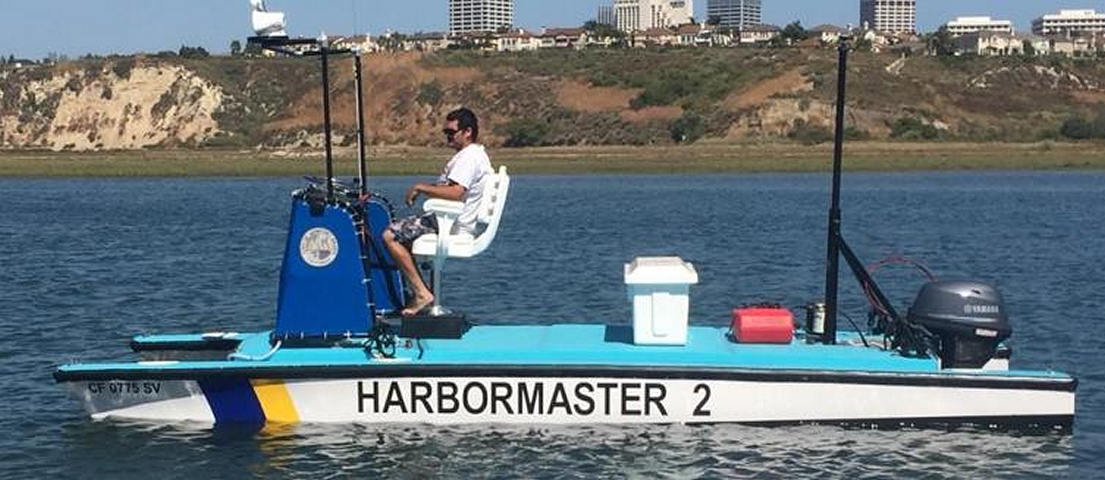 In its fleet, the city has a 19-foot Boston Whaler powerboat (already owned by the city) and two 18-foot, low-wake catamaran coaches (rented and refurbished from Newport Aquatic Center). The boats, named Harbormaster 1, 2 and 3 respectively, make daily rounds in Newport Harbor. They have hired 13 part-time workers to crew the city's patrol boats and do some office work.
"[As part of] our daily routine we do a sweep around the bay and check out anything we see out of the ordinary," Durgan explained.
A top priority for the new harbormaster is controlling the wake in the harbor.
"I'm really concerned about it," he said.
It's been creeping up over the years, he pointed out. Boats – on average – have been getting bigger and people have been exceeding the speed limit more often, Durgan commented.
It's a "hot button" issue for Durgan.
"I just want to get everybody to slow down and enjoy the harbor without tipping the brand new [inexperienced) paddle boarders," Durgan said. The novices are "wobbly" to start with and even a small wake can knock someone into the water.
But it's not just about speeding, it's about being a "no wake" harbor, Durgan explained. Different size boats, carrying different amounts of weight make different size wakes going at the same speed. So it depends on a number of factors, but the end result should be no wake, Durgan emphasized.
Another top priority for Durgan is the maintenance of the moorings and the mooring lines. Better lines means less boats breaking loose, he explained.  
During his time as harbormaster, he also hopes to "sort out" issues (ordinance violations) on public docks, like time limits for fishing and tying up boats.
"Make the public docks accessible for all people using the bay," he noted.
The job also consists of logging everything and then combining their new information with what the Newport Mooring Association and Orange County Sheriff's Department Harbor Patrol previously gathered. Measuring, mapping and recording every mooring and its status. A database of the entire harbor. With more than 1,200 onshore and offshore moorings in Newport Harbor, it's a big job.
"We're up for the task," he said.
The biggest change with the creation of the new department and harbormaster role is the management of the city moorings (transfers, rental, fees, maintenance, etc.), which Harbor Patrol previously handled.
With just three weeks under his belt, Durgan and his staff are still trying to work out the finer details regarding "who does what" with OCSD. Sheriff's Department will still control emergency response and the law enforcement aspect of the harbor.
"We're both trying to do the right thing to make the harbor fun and safe for everybody to enjoy," Durgan said.
They'll continue working with the Harbor Patrol, Durgan emphasized.
The primary goal of the entire program is to create more user-friendly services, increased enjoyment of the harbor for all users and put a friendly customer service-oriented face out on the water.
So far Durgan and his staff seem to be living up to the ambition. He's received "terrific" reactions from residents. He hopes to continue to be a good neighbor and improve the harbor.
"The harbor really is the center of Newport Beach," Durgan said. "It's the mechanism that ties… all the communities together."
For more information, visit NewportHarbor.org and newportbeachca.gov/government/departments/public-works/newport-harbor/contact-us, email [email protected], or call (949) 270-8159.