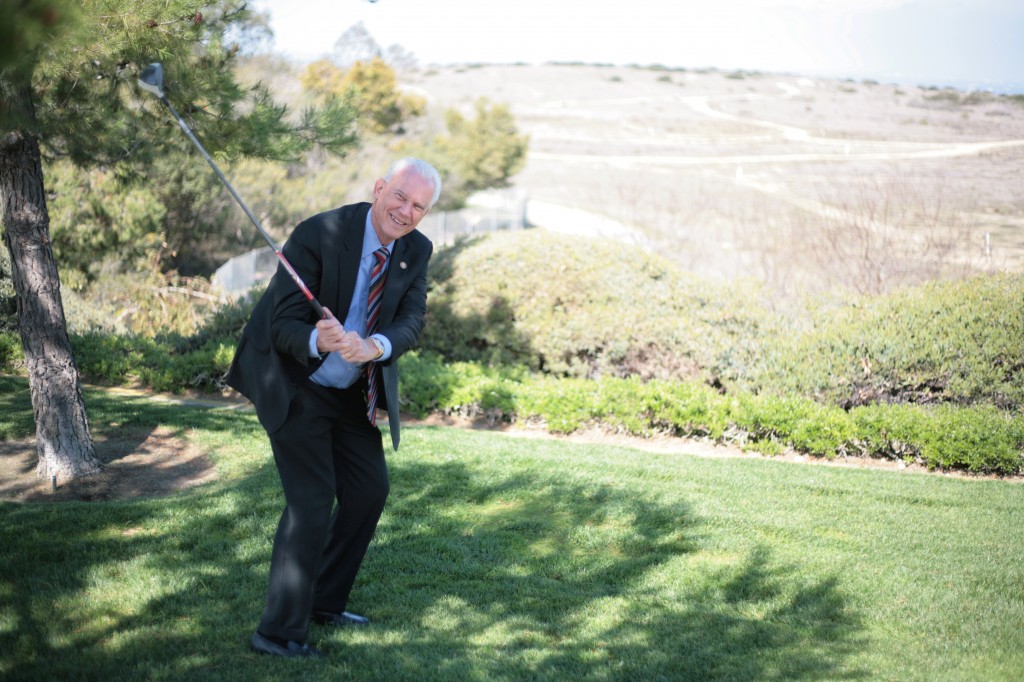 Mayor Rush Hill touched on a number of topics at an early morning Chamber of Commerce event this week, including his three initiatives he wants to implement in 2014.
Hill spoke at the organization's monthly Wake Up! Newport meeting on Thursday.
"The chamber is really an important ingredient to the quality of life we have in Newport Beach," Hill said.
He addressed the city's quality of life and the finances behind it, celebrating Newport Beach's success and continuing the momentum.
His three initiatives a new mooring system and water taxi in the harbor, public golf course at the old Coyote Canyon Landfill site and building permit fee reductions.
With the Toshiba Classic golf tournament teeing off next week, Hill's initiative to build a new public golf course is of particular interest.
"Newport Beach doesn't have an affordable public golf course," Hill said after the event, and that's where the idea for his initiative began.
His idea is modeled after Torrey Pines Golf Course in San Diego, where residents pay a discounted price and out of town guests pay the market price.
The goal is a first class, champion golf course that is affordable.
Pelican Hill is beautiful and a great feature for the city, but not everybody can pay to play.
After thinking about the idea and looking into the Coyote Canyon location, he made some discoveries.
A golf course at that location is apparently not a new idea.
Hill was a surprised to find out that the site was already zoned for a golf course, which must have been at least 20 to 30 years ago, he estimated.
Although it is within the city limits, it's owned by the county. It was originally owned by the Irvine Company, Hill explained. At some point it was destined to be a golf course.
"The landfill was closed and sealed with the anticipation of it being a golf course," Hill said.
To properly shut down a landfill some special conditions must be met, he added, in order to later plant trees and types of vegetation.
Those conditions were preconceived years and years ago, he said.
"So this is not a new idea at all," he said.
He contacted Orange County Supervisor John Moorlach (whose district covers Newport Beach) with the idea and he got on board.
The immediate next step will be putting together a timeline and a list of all the required permits.
"So we're identifying the steps required to move forward," he said. "And the goal is to figure out how we can schedule all of that to happen this year."
A lot of agencies are involved and it will take a lot of entitlements, Hill explained. Identifying that and getting all the needed approvals could take some time, he added, but he hopes to send out the requests for proposals by the close of 2014.
"The goal is to do that this year, to put this on a fast track, to move it forward as rapidly as possible," he said. "To, by the end of the year, say 'This land is available to be developed as a golf course.'"
The RFP process could take about three to four months, he said. Ideally, two years from now there could be a golf course designed and ready for construction. Maybe three to four years from now people could be playing golf.
In his talks with people who have managed golf courses, the consensus is that it will likely be very widely used and popular because of the quality and price.
He has also heard from some residents who are interested in the idea of putting something nicer in the location.
The site has more than 200 buildable acres, which the golf course would take up most or all of, depending on the design.
Depending on how it's structured with the county (as the landowner), the goal would not be a revenue producing activity, Hill said, the goal would be to provide the most affordable and high quality experience as possible for residents.
At this point in time, there is no cost range known, he said. The costs would not be public funds, he emphasized, they would be private funds.
"As far as what the city and the county would do," he explained, "is they would make the land available, they would get it entitled, so the developer could come in and not have to go through the process of getting all of the entitlement approvals."
They would still have get building, grading and other approvals, he added.
That could save a year's time, Hill said.
Hill said he's enthusiastic about the project and confident about the timeline.
"I'm looking forward to teeing off," Hill said, noting that seeing the land and the view from the hilltop by the Newport Coast Community Center makes it even more exciting.