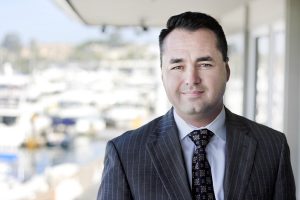 Newport Beach Mayor Kevin Muldoon, who made a State of the City address at the annual Mayor's Dinner on Feb. 10, attended the Corona del Mar Chamber of Commerce luncheon at Bayside Restaurant this week and told the audience that the city was still in good shape.
"I'm the new mayor," he said, looking around the room. "I know, I'm more shocked than you are."
After a few more jokes, the young mayor, who told the audience that he was only 37 years old, dove into a frank and open discussion of the city's economic highlights and challenges.
In terms of income, Muldoon remarked that property taxes continued to be the highest source of revenue for the city, but that the Transient Occupancy Tax (TOT) tax on hotel rooms helps pay for the fire department and lifeguards.
And with tourism to Newport Beach steadily increasing and new hotels opening, the tax has been incredibly beneficial. Muldoon said that seven million visitors come to Newport beach each year, and on some days, tourists outnumber residents in the city.
Though the economic future is bright, he warned that the unfunded pension liability of $300 million looms when decisions are made at City Hall.
Admitting that the new City Council is "young, both in terms of age and experience," Muldoon said they are dedicated to making Newport Beach a better town for business owners and residents.
"We can be gun shy," when it comes to new projects and "have an agenda that is noncontroversial," he said.
Muldoon went on to share his ideas on rebuilding the sea wall and using wireless technology to mitigate traffic throughout the city.
In addition to receiving a plaque from the chamber for his service to the city, the mayor also helped install the new board members of the Corona del Mar Chamber of Commerce.