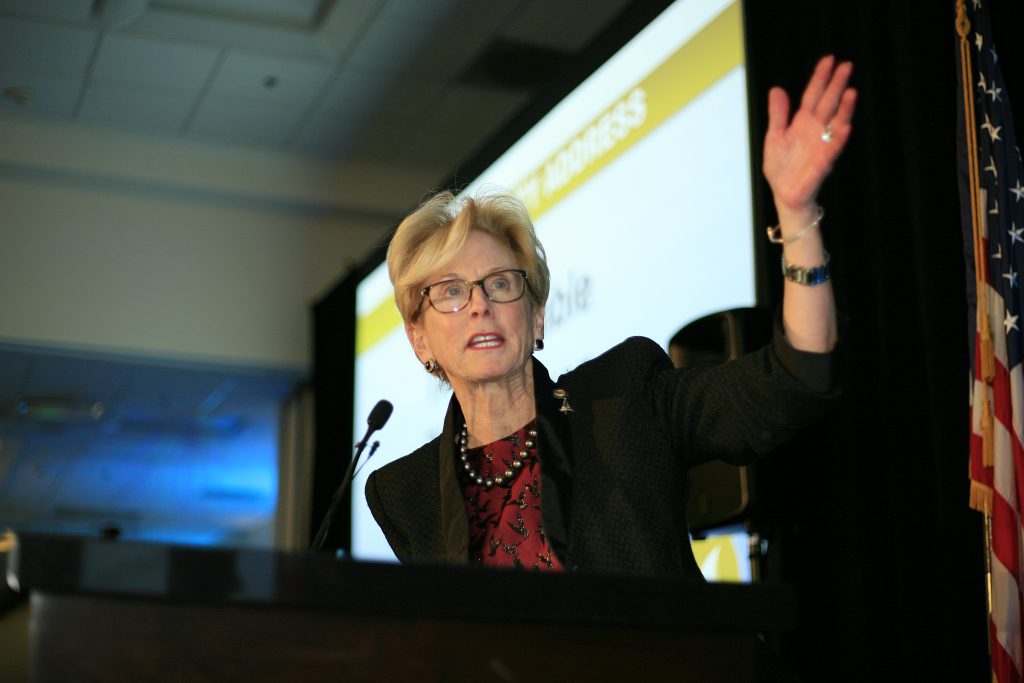 Newport Beach Mayor Diane Dixon gave a state of the city address last week, noting the Council's newly restore cooperative spirit, the city's approach to its biggest financial challenge, and the community-focused General Plan update process.
Dixon spoke at Speak Up Newport's 38th annual Mayor's Dinner on Feb. 7 at Marriott Hotel & Spa in Newport Center.
"I'm pleased to report to you that the state of our city is excellent," Dixon said.
Dixon kicked off her presentation with a light-hearted video of herself and her colleagues on the Council answering various questions, like favorite frozen banana toppings, beach of harbor preference, and favorite local hobby.
"There is more that bonds us and unites us as residents, citizens and council members than divides us," Dixon said after the video.
They are committed to working together on behalf of the residents, she added.
Local government is effective, personal, and non-partisan, she noted. At the local level the goal is simple, she said, they work to make the community stronger and improve residents' quality of life.
"We get things done, we don't shut down, local government works," Dixon said. "Sometimes it's bumpy, sometimes rocky, sometimes messy, but it works."
It's a great honor to be selected to serve as mayor again, Dixon added.
"Being mayor of Newport Beach is the best job in America," she said.
Dixon went over her priorities for her second mayoral year, including the city's biggest financial challenge: Paying down the unfunded pension.
Her goal is to continue the accelerated payment plan, she said. The city pays nearly $9 million more than the standard payment in an effort to address the unfunded pension liability, which currently stands at about $320 million, over the next 15 years.
"This is huge," Dixon said, and demonstrates the city's unique position in confronting the issue.
The city is very well managed, Dixon pointed out. There is a budget surplus again this year, she noted. The $13 million surplus this year is "extraordinary," Dixon said.
"We have a lot on our plate and nothing is more important than our future," Dixon said. "The time is now that we pull together and move forward."
She also spoke about the General Plan update process, which kicked off this year. The first meeting of the steering committee was held Wednesday. There will be more and more meetings in order to gather community input, Dixon said.
"Your input is important and needed," she said.
Dixon emphasized that the process will be transparent, inclusive, interactive, open, and public.
"With all of us working together, I am confident we will produce a plan for our 21st century city," Dixon said.
Dixon also spoke about the John Wayne Airport agreement, infrastructure, homelessness, and more.
Also during the evening, former mayors Ed Selich and Rush Hill presented Former Indy publisher Tom Johnson, who now runs Stu News Newport Beach, with the SUNshine award.
Johnson has been actively involved in the community for many years, including NB Chamber of Commerce's Commodore's Club and Hoag Hospital's 552 Club. He also earned the title of the Newport Beach Citizen of the Year in 2011.
"This is a big surprise," Johnson said. "Thank you so much to all of you in Newport Beach for making this town so special and letting me be a part of it."
Peter Buffa acted as host for the night, Senator John Moorlach provided the invocation, and NBPD Chief Jon Lewis led the pledge of allegiance.