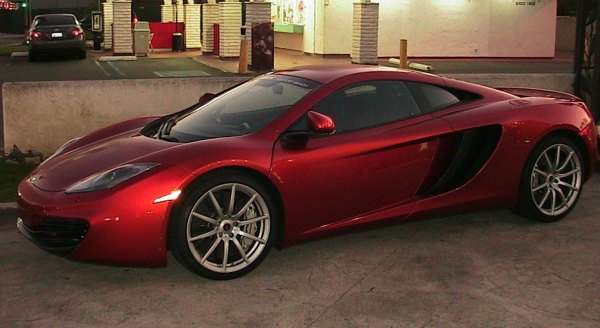 There's a new name in the exotic sports car market: McLaren.
McLaren, a renown name is Formula One auto-racing is getting in the business of selling it's first direct to public automobile. And here in Newport Beach later this month you'll get a chance to test drive and buy one yourself.
The new McLaren dealership – to be devoted to selling the McLaren MP4-12C sports car – is under construction at the corner of PCH and Tustin Avenue in the Mariner's Mile section of Newport Beach. Doors are slated to open to the public late this month.
Newport Beach is one of fewer than a dozen cities in the United States where the car will be sold. McLaren launched the new car and the company behind it only last year
The Independent was given a close-up look at demo model of the McLaren and a few other custom-built cars that recently arrived and have already been sold to waiting customers.
Just in case you were wondering if you might be in the market for one, the price tag is $235,000 to more than $500,000, depending on options, according to Nick Jones, of McLaren Newport Beach. The cars are made to order at the company's new state-of-the-art production facility in Woking, UK, just southwest of London.
If you're concerned about not being able to keep up with your neighbor's luxury sports car — no worries. The MP4-12C can get you from zero to 60 mph in little more than 3 seconds. And if you ever felt the need (of course not on PCH or any Newport street) to see just how fast you can go, McLaren says the car has a top speed of more than 205 mph.
Jones said he's targeting a "soft" opening for the showroom by the end of this month. A grand opening celebration is expected later in February or March, Jones said, and city officials and company executives, among others are expected to attend.
For more information on the McClaren MP4-12C car and the Newport Beach dealership go here.