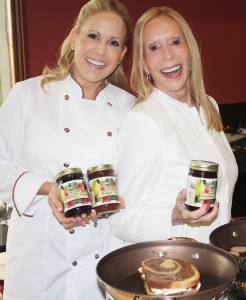 By Christopher Trela & Catherine Del Casale | NB Indy
In September of 2012, the annual Taste of Newport ended its 24 year run in Fashion Island.
Now, another food and wine festival aims to take its place.
The inaugural Newport Beach Wine and Food Festival will be held Sept. 20 and 21 at the Newport Beach Civic Center, and it's shaping up to be an impressive event.
According to the press material we've received, foodies and wine aficionados can indulge in two days of tasting, sipping, learning and enjoying the finer things the culinary world has to offer.
Event ticketing includes daytime tickets, and tickets for exclusive evening events including a VIP launch party, pop-up event, and grand finale.
Pre-sale tickets for daytime events went on sale this week. For $160 per day or $300 for both days, guests have unlimited access to live cooking demos, food tastings from local restaurants, exceptional wine tastings, sommelier panels, mixology courses, live jazz, and more.
Among the cooking demos we're looking forward to: Pascal Olhats of Café Jardin, 24 Carrots and "Top Chef" Alumni Chef Ashley Santo Domingo, Montage Chefs Lee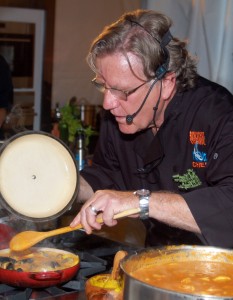 Smith and Casey Overton, Studio Chef Craig Strong, Golden Truffle Chef Alan Greeley, Mozza Chef Emily Corliss, and Tamarind of London Chef Imran Ali.
Celebrity chefs scheduled to show off their talents include "Top Chef All-Stars" winner Chef Richard Blais, "Chopped" winner Chef Joe Youkhan, "Top Chef Masters" Alumni Chef Sue Zemanick with Chef John Ledbetter, and "Cutthroat Kitchen" winner (and Newport Beach resident) Chef Jamie Gwen with Fleming's Newport Beach Executive Chef Mark Ogren.
The Grand Tasting Pavilion will feature chefs from local restaurants serving their signature dishes, including Tamarind of London, PIZZERIA MOZZA, Side Door, Five Crowns, The Crow Bar, Café Jardin, The Golden Truffle, Blue C Sushi, True Food Kitchen, Driftwood Kitchen, Fireside Tavern, Tommy Bahama, 24 Carrots, Montage Laguna Beach, The Loft, Studio, Selanne Steak Tavern, Wildfish Seafood Grille, Back Bay Bistro and The Quiet Woman.
A variety of noted wineries will be offering tastings. Our friend Jörn Kleinhans of The Wine Elite is moderating a series of sommelier panels, while master mixologists Francesco Lafranconi and Tricia Carr of Southern Wine and Spirits will offer cocktail seminars.
Festival sponsor DUKE Spirits, inspired by Newport Beach's favorite actor, John Wayne, will be offering tastings at the DUKE Bourbon Bar. DUKE Bourbon will also be sharing memorabilia from the family's private John Wayne collection.
Among the live jazz musicians to perform: James Tormé, internationally acclaimed vocalist and son of three-time Grammy Award Winning jazz legend Mel Tormé.
And in case you're wondering, the festival is being produced by NewBe Productions LLC, a new entity formed to produce this event.
Profits from the festival will benefit Project Hope Alliance and HOAG Hospital Foundation's Circle 1000.
For more information and to purchase tickets, visit www.newportwineandfood.com or call (888) 511-FEST.
New Chef at Back Bay Bistro
We have a new reason to return to Back Bay Bistro: Bruno Massuger has been appointed executive chef of the Back Bay Bistro at Newport Dunes Waterfront Resort. He'll oversee the 199-seat restaurant as well as the Dunes' catering division.
Locals may remember Massuger from his 16 years as chef at The Center Club.
"We are delighted to welcome aboard Chef Bruno to our team and look forward to transforming the Back Bay Bistro," said Andrew Theodorou, vice president and general manager of the Dunes, in a statement. "His vast global experience, sterling reputation and enthusiasm for the task that lies ahead make him the ideal person for his new position."
We're told that Massuger was trained at the Ecole Hoteliere in Rouen, France, and later at the Culinary Institute of America (CIA). He is a member of Masters of French Gastronomy, Les Toques Blanches, ACF member of Escoffier Society, and is a touring chef for the prestigious James Beard House. He also mentors rising chefs from the national headquarters of the CIA.
For more information, call (949) 729-1144 or visit newportdunes.com/back-bay-bistro.
Luau and Pig Roast at Wild Goose Tavern
We raved about the sausages when we visited Wild Goose Tavern last year, and now we're raving about their philanthropic endeavors.
This Sunday, June 22, from 1 to 7 p.m., Wild Goose Tavern hosts its 2nd annual Luau & Pig Roast. Proceeds from this year's event will benefit Irvine-based Boys Hope Girls Hope of Southern California. In addition to 100 percent of the proceeds raised from the event's silent auction and raffle, Wild Goose is donating 20 percent of the day's sales.
The festive event will feature a large outdoor beer garden and pig roast by new chef Chris Rubinstein.
"We're looking forward to another exciting event, and pleased to know that the money raised is going to a very good cause with Boys Hope Girls Hope," said Wild Goose co-owner Mario Marovic.
For more information, call (949) 722-9453 or visit goosebar.com