By Christopher Trela and Catherine Del Casale | NB Indy
"Did you know that Lemonade restaurant just opened in Fashion Island?" I asked Catherine.
"Lemonade?"
"Yes, but I heard a restaurant called Iced Tea is opening next door, and they're going to merge and call it Arnold Palmer," I said with a grin.
"Very funny," she replied. "So what is Lemonade?"
"It's billed as seasonal Southern California comfort food in a fast-casual cafeteria setting. There are a handful of Lemonade locations in L.A., but this is the first one in OC. The chef that started it, Alan Jackson, is the grandson of actor Alan Ladd and the son of radio talk show host Michael Jackson. Apparently he's had some success in the L.A. market, but that doesn't mean it'll work in the OC."
"I guess we need to go try it and find out," stated Catherine.
And go we did last Tuesday evening. The bright lemon-yellow facade beckoned us inside, where we encountered a bright ambiance and a cafeteria-like setting. We grabbed trays and stared at the row of salads (dubbed "Marketplace" on the menu) before us–20 in all, each one a unique twist on familiar favorites.
According to the large menu signs, each scoop is called a Portion. One Portion is $2.75, two are $5.25, and so on.
"Would you like to sample anything?" asked the girl behind the counter.
"Sure," we replied, and tasted several salads that looked both tempting and interesting. We settled on Brussels sprouts with red grapes, pistachio, and parmesan, a kale salad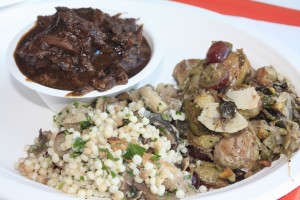 with mushrooms and kumquat vinaigrette, and couscous with wild mushrooms, parmesan and lemon truffle.
Then it was on to the sandwiches and hot entrees. Catherine ordered a grilled cheese sandwich ($5.50) and a half order of white truffle mac 'n cheese ($3.50), while I opted for a half order of red miso beef short rib ($6). We completed the meal with lemonade–blood orange for her, blueberry mint for me.
We found a table on the patio and dug into the food.
"The options are almost overwhelming," noted Catherine. "But it's got a really cool vibe, and the portions are all a nice size–enough for leftovers. And I love the lemonade."
"Try the Brussels sprouts, they're really good. So is the couscous," I told her, taking a bite of her kale salad. "Hmmm…I'm not that impressed with the kale. It's a bit bland."
"I like it, I think it's refreshing," countered Catherine. "Not to many flavor components."
"It's not bad, just my least favorite. If you want more couscous, get it fast, because it will be gone soon."
"I like the short rib–I'm putting some on my grilled cheese sandwich," said Catherine.
I took a bite of the sandwich sans short rib.
"Hmmm…not impressed with the grilled cheese either. Could use more cheese, or something in it."
I took some short rib and crammed it into half a grilled cheese sandwich.
"Much better!"
We finished our meal and got up to leave.
"For all this food and the two drinks, it came to around $35," I noted. "Not bad."
"I want to come back several more times and try more dishes," said Catherine.
"Sounds like a plan to me."
For more information, visit LemonadeLA.com.
Greenleaf Gourmet Chopshop
Greenleaf is another healthy restaurant concept that started in L.A. but has migrated to OC with two locations in Costa Mesa–one on 17th Street, and most recently at the OC Mix.
We were invited to a media tasting at the OC Mix to sample the menu. We tried a variety of dishes, and of course had our favorites.
Catherine's take on the experience:
"Greenleaf has a delicious variation on pizza using a crispy whole wheat tortilla, which makes for a great light crust with toppings such as turkey sausage, arugula, mushrooms, truffle oil and more. My favorite was the burrata pizza, which had basil pesto, fresh baby tomatoes, parmesan cheese, burrata cheese and a light drizzle of balsamic reduction.
Another favorite was the Faro Salad, which had sofritto and vegetable stock and was finished with a feta cheese. I loved the great flavor the cheese added to a sometimes-plain dish.
I was surprised by how much I enjoyed the turkey sliders, since I usually steer clear of turkey. The sliders had great flavor and weren't thin and flat like many other turkey patties I've seen. They also had a great combination of toppings including butter lettuce, roasted tomato, red onion marmalade and a pomegranate aioli served on a sesame bun. The sweet pomegranate aioli really made the sliders stand out, providing a great flavor component you don't find on your every day slider."
For more information, visit GreenleafChopShop.com.