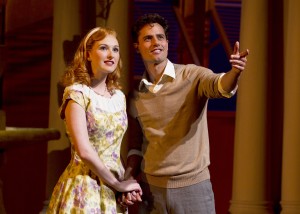 By Christopher Trela and Catherine Del Casale | NB Indy
Americans have a love affair with all things Italian. We love the cuisine, the music, the architecture, the clothes, and the cars.
And, during the month we celebrate love, it's fitting that South Coast Repertory is presenting the romantic musical "The Light in The Piazza," which is set in Italy and serves as a reflective, charming, poignant and triumphant tale about the power of love.
We thought it would be fun to attend the play and then dine at an Italian Restaurant, so we got tickets for last Saturday's matinee performance of "The Light in the Piazza" and planned to enjoy the authentic menu at Pizzeria Ortica after the show.
We called it our "Pizza and Piazza" day.
Catherine has never experience the show, which won six Tony Awards in 2005 including Best Original Score. I saw the show several years ago at Segerstrom Center and,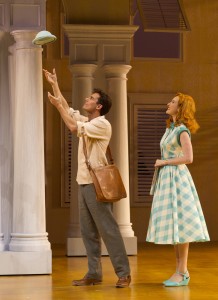 while I enjoyed it, thought it was a bit too intimate of a musical for the 3,000 seat hall. I had an idea that SCR's 500 seat Segerstrom Stage might be a better fit. I was right.
A remarkable cast with remarkable voices brought to life the story of Margaret and Clara, a mother and daughter on a tour of Italy. Clara meets a young Italian and sparks fly, but her mother has a secret about Clara that she feels she must reveal.
The show nicely balances drama and humor, and each cast member seems fully invested in their characters. The songs fit perfectly within the context of the script.
Catherine's take on the show: "'The Light in the Piazza' is now one of my favorite shows. What's not to love about a story about young love set in Italy? The size of the theater helped make the show feel intimate and left you immersed the entire time. The cast had beautiful voices that really transferred the feeling of the moment to you. Part of the show is in Italian, and having spent several months living in Italy, it was fun to translate but also unnecessary since the actors did such a fantastic job expressing what they were saying through movement and tone."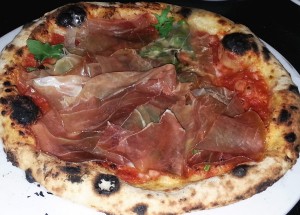 We left the theater exhilarated and ready for pizza. We neglected to make a reservation, and when we strolled to Pizzeria Ortica, discovered it was sold out, although there were seats at the bar.
We actually love sitting at a restaurant bar—the bartenders are usually fun and informative, and you never know who you might meet. We gladly took our seats and, after ordering two glasses of Italian wine, perused the menu.
It was a tough choice, but we made our selection s with a little help from the bartender and the GM, who helped guide us.
We started with buffalo mozzarella with olive oil and sea salt ($7), followed by gnocchi ($14), pappardelle with braised lamb ragu ($18), and prosciutto pizza with parma ham, San Marzano tomatoes, mozzarella, basil and arugula ($18). We finished with a chocolate torta with vanilla gelato ($7).
"After the show I recommend going to Pizzeria Ortica since you will definitely be in the mood for more Italian," said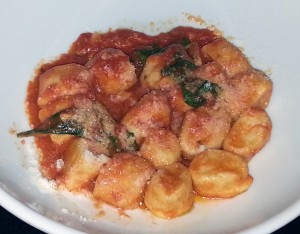 Catherine. "I enjoyed their prosciutto pizza, and the fact that they bake it in a wood fired pizza oven and that they use 300 year-old "biga" from outside Naples to start their dough. I also couldn't help but try their gnocchi since it is one of my favorite dishes. They were large and soft, served with a tasty marinara and topped with parmigiano reggiano. Between the show and the dinner, it was wonderful to step out of Orange County and into Italy for the day."
Pizzeria Ortica also offers a special Valentine's Day menu featuring shared dishes for two and a variety of small plates.
For tickets to South Coast Repertory, visit www.SCR.org or call (714) 708-5555.
For reservations to Pizzeria Ortica, visit www.PizzeriaOrtica.com or call (714) 445-4900.