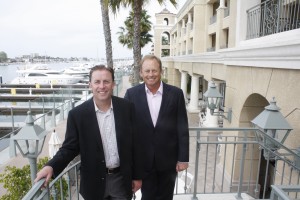 John Wayne was a frequent visitor. So was fellow Newport Beach resident Joey Bishop. Presidents, royalty and Hollywood stars from Humphrey Bogart to John Travolta have enjoyed staying there.
Balboa Bay Club has indeed had a storied history since it open as a private waterfront club in 1948. The facility turned 65 last year, but retirement age has not slowed the club, a portion of which was opened to the public back in 2003.
In addition to adding the word "Resort" to its name to help differentiate the public (Resort) and private (Club) areas, Balboa Bay Resort made itself more welcoming to the public last year by removing the guard shack from the main entrance off Coast Highway and moving it to the club side.
That was the first of many changes that have been put into place by Eagle Four Partners, who in 2012 purchased International Bay Clubs, Inc., parent company of Balboa Bay Club, Balboa Bay Resort, and Newport Beach Country Club. Balboa Bay Resort includes a 160-room resort hotel while Balboa Bay Club is a private club with a 130-slip marina and 145 apartments.
Newport Beach Country Club is a private 18-hole golf course adjacent to Fashion Island that is home to the annual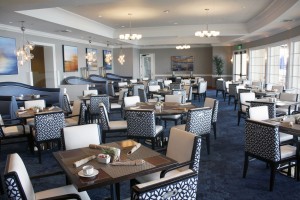 PGA Champions Tour Toshiba Classic.
The resort, club and golf course are all undergoing transformations of one degree or another.
"There had been a decline in membership, so phase one was to update the club side," said Kevin Martin, President, International Bay Clubs, LLC. "Members wanted a casual experience where they could bring their families, so we're refreshing and updating."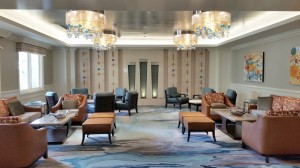 The updating included a new restaurant and other amenities such as special member events. The apartments are being remodeled as they become available.
"The club is on fire," said Martin. "This could not be a more exciting time to be a member. People who were members want to come back."
Earlier this year, they turned their attention to the resort side. A modern coffee shop called Blend opened next door to the new Bayfront Boutique. First Cabin restaurant has a new look, new chef and new name: Waterline.
The old Duke's Place lounge (named after John Wayne) reopens next week with a new look including an indoor outdoor bar and new name: A&O Kitchen+Bar.
New restrooms were installed near the bar, and the adjacent library room has been remodeled.
Perhaps the most dramatic change is the new lobby, which was unveiled last week. Offices behind the old check-in desk were removed, the lobby was pushed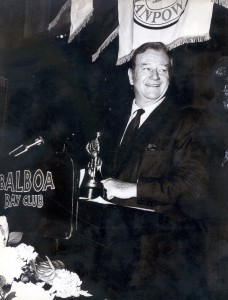 back, and the check-in area moved closer to the entrance. New furniture and color schemes, along with the other changes, have helped to essentially re-brand Balboa Bay Resort as a destination for tourists and locals alike.
"We're trying to be a part of the community," said Martin, which is why they also support various charities and assist local organizations such as Big Brothers Big Sisters, who recently held a fundraising event at Newport Beach Country Club.
"When we originally reviewed the package, we were one of the only groups that intended to keep the golf course," said Todd Pickup, CEO, International Bay Clubs, LLC. He said the clubhouse will undergo renovations later this year.
Resort rooms will be remodeled starting in 2015, once everything calms down, said Pickup.
"We want people to know that this is open to the public. You can valet, meet friends, have a meal, enjoy the evening, and leave," said Pickup. "We have a guest dock where you can bring your Duffy boat, dock and have a bite to eat."
"The club has been here for 65 years, you cannot take that lightly," added Martin. "We plan to continue to embrace the rich history and legacy of Balboa Bay Club while looking at future enhancements."