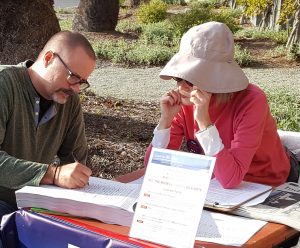 The developer of the 25-story Museum House condominium tower claims the petition for a referendum on the project is defective under state law, arguing it doesn't include the full text of the City Council's resolution and that black-and-white photocopies don't meet minimum type size requirements.
Gino Canori, executive vice president of Related Co. of California, wrote in a statement that his company is especially concerned because most of opposing petition is "completely illegible."
"How can people be asked to sign a petition that is unreadable?" Canori wrote. "At its heart, the petition is an informational document. Our attorneys have never seen a petition that is formatted like this one—where every page is essentially scaled down to one-half or smaller of its original size."
State law mandates the text of the ballot measure shall be printed in type not smaller than 8 point. However, the letter from Related's attorney, Ashlee Titus of Bell, McAndres & Hiltachk LLP, appears to challenge the supporting documents not the text of the Museum House ballot measure.
"Despite this bright line minimum 8-point font size rule, the referendum proponents sought efficiency over compliance, and much of the petition is completely illegible," Titus wrote.
The original text of the resolution was shrunk to fit four pages that were 8.5 by 11 inches to fit onto one side of a 11 by 17 inch paper. Excluding signature sheets, each petition contains 1,028 of these 11 by 17 inch pages.
Nancy Skinner, a committee member with the resident group Line in the Sand PAC, said the City Council was requiring about 3,800 pages of supporting documents to be attached to the petition. By shrinking each page, the committee was able to shorten the packet to about 1,100 pages.
Of the 3,800 city council-mandated pages, Titus highlights three pages that are missing from the petition, including a site map from the Final Environmental Impact Report, a site plan from the preliminary Water Quality Management Plan and a page from the transportation and traffic analysis.
The City Council took several other actions as part of its approval of the project and documentation of those votes aren't in the petition, Titus said.
Tim Stoaks, a spokesman for Line in the Sand, declined to comment on Tuesday.
City Attorney Aaron Harp said the City has received the letter and is in the process of reviewing it.
"At this time we have not received a petition from anyone so we have no further comment to give," Harp said.