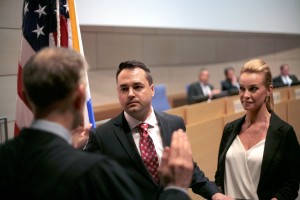 The new City Council members got down to business quickly at Tuesday's City Council meeting, each one calling for some kind of action, just moments after they were individually sworn in.
The new council team also unanimously voted Ed Selich in as mayor and new member Diane Dixon as mayor pro tem.
"I pledge to lead this council in openness, respect and equanimity," Selich said.
The four newbies on the dais, self-dubbed "Team Newport" during the campaign, each directed staff on several different issues during council announcements to be placed on the agenda for the next meeting on Jan. 13.
Councilman Kevin Muldoon directed staff to examine the options to repeal the fee increase for residential docks, including the seizing of property without just compensation and restrictions on the transfer of ownership.
He also asked staff to return with a proposed scope of an audit for the tidelands fund to be sent to RFP. It should include the source of funds and expenditures by area, like beach versus harbor, for the past 10 years.
Councilman Marshall Duffield proposed a tidelands audit of all the income and expenses.
"This is not a witch hunt," Duffield said. "It's just to inform me, all of us, better to discuss the various sources of revenue that comes into the harbor and expenses."
Councilman Scott Peotter asked staff to look into bringing back wood burning fire rings, eliciting some applause.
"Coming up with a scheme that will keep the [California) Coastal Commission happy and AQMD [Air Quality Management District] happy at the same time," Peotter said.
He also suggested replacing the finance committee with a seven member finance commission and an updated resolution about what can and can't be said in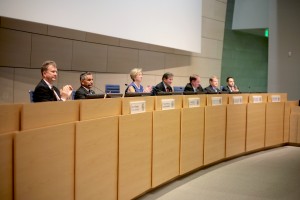 an invocation.
Dixon asked for a project completion close out audit on the civic center.
"So that we may identify lessons learned and put this matter to rest to the satisfaction of the voters," Dixon said.
She also proposed a resolution that would recognize state senator Mimi Walters for her service and congratulate her on her election to the U.S. House of Representatives.
All eight incoming and outgoing council members said a few words about their time on council or their election to council, thanking supporters and the state of the city.
Exiting councilman Mike Henn called the moment "bittersweet." He is proud of what the council had accomplished over the past eight years, he said.
They've tackled every tough issue that needed to be tackled, Henn said.
"We never kicked the can down the road on a single problem to leave a mess for somebody else," he said.
"We have honored the long tradition in Newport Beach of all of the councils that have preceded us that we have left the city in a better state than we inherited it," Henn said.
"I leave office, at this time, with gratitude and appreciation for the privilege to serve the people of this great city," said outgoing Councilwoman Leslie Daigle.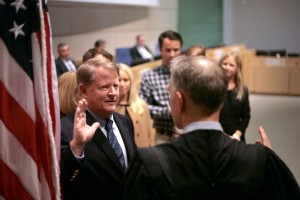 Departing Councilwoman Nancy Gardner kept it short and sweet. She will miss the people the most: Residents, staff, and her colleagues.
"And now it's on to my next excellent adventure, whatever that may be," she said.
Outgoing Mayor Rush Hill agreed with Gardner.
"It is the city family that I will miss most as I leave the council," Hill said. "My fellow council members and the dedicated and loyal staff from top down that collectively delivers what may each define slightly differently, but consistently, as our quality of life."
Hill choked up as he thanked his family, among many others, who supported him during his time on council.
"It's been a privilege to serve with this council," Hill said. "It's been an honor to serve as your mayor."
Several of the council members mentioned projects or plans completed during their time on council, including Oasis Senior Center, Bicycle master Plan, AAA credit rating, several parks and more.
"I think together we have made a difference in a positive direction for the benefit of our 87,000 residents," Hill said.
"New leadership is ready to take over," Hill said. "The decision will be theirs to either continue the momentum that exists through well thought-out strategic plans or risk disrupting the delicate balance of funding that produces a high quality of life and losing a highly motivated and productive delivery team. The burden is now theirs to perform for the good of us all "
The civic center was at one point compared to the Eiffel Tower by Councilman Keith Curry.
Hill has been a tremendous leader who made tremendous accomplishments, including the Newport Dividend, Curry said.
Through Hill's leadership, the civic center became something that people from around the world come to see and marvel at, Curry continued.
"You took a little bit of heat for that in this election," he said to Hill.
About 125 years ago Charles Garnier represented the Committee of 300, he said.
"This was sort of the reform resident's group of his time,' Curry explained.
They protested against the "useless and monstrous" Eiffel Tower, Curry noted.
There are many other iconic structures have "short-sighted" critics, he added.
"Everybody in this room tonight knows who Gustave Eiffel was, but until I mentioned his name not a single person had ever heard of Charles Garnier and by the time they get home tonight nobody will remember him again," Curry said as the audience chuckled. "That's the way it is with the critics and that's the way it's always been. Such as the legacy you leave for future generations here in Newport Beach."
Presentations, congratulations and awards were also handed out by city staff, Supervisor John Moorlach, Assemblyman Don Wagner, on behalf of Assemblyman Allan Mansoor, on behalf of Congressman Dana Rohrabacher, and more.
Later, during the Newport Beach Chamber of Commerce hosted Mayor's Reception at Back Bay Bistro, all of the outgoing and incoming council members spoke again.
The chamber event also honored a few award winners.
Ambassador of the Year Award was given to Shani Moslehi from Shani Moslehi Productions, and Sabrina Little from First Team Estates.
The Silver Anchor Award was presented to Sheldon Singleton from Social Zing, Kay Walker from Kay Walker, Esq., and Chandler Bell from Hornblower Cruises & Events.
The new members of council also got an opportunity to speak during the council meeting.
Dixon thanked everyone who voted "for change, transparency, fiscal restraint, civility in our city government."
"You spoke, the city listened," Dixon said.
It's fun to be up on the dais for the first time in the "Taj Ma-City-Hall," with all the bunnies watching, Peotter said.
Although the city is in good shape, there is still work to be done, he said.
"We've got some areas that we need to tweak and turn around," Peotter noted.
"The city is quite daunting," Duffield said. It's very complex, he added. "I will do my best."
It's an honor, Muldoon added. He looks forward to serving the people by protecting private property rights, strengthen public safety and reduce local taxes and fees.
"I hope that we're able to work together in a collaborative way to put the city first," Muldoon said.
Selich also said a few words after being elected mayor.
He took a moment to thank the outgoing council members, part of what he called the "Dream Team."
Now the remains of the "Dream Team" will merge with "Team Newport," Selich said.
He predicts great success for the council and sees some group hugs in the future, he said.
After the contentious campaign season, that had some "spirited and lively" debates, the voters have spoken, Selich noted.
"It's now time to get down to the business of governing our city," Selich said. "Although there may be different points of views on some issues, I believe that all of us up here have the best interest of our city and its residents at heart. I believe we will do, as Newport Beach city councils past have always done, and that is come together to make our city even better."