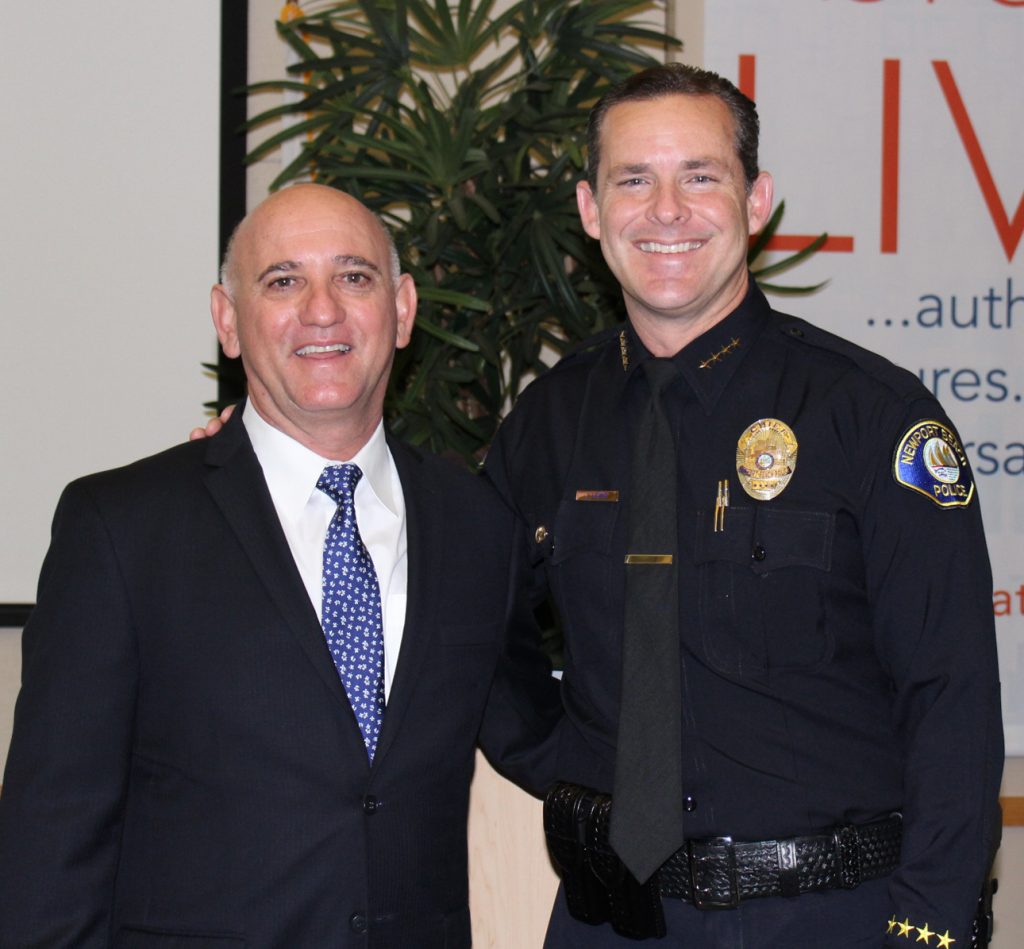 Police Chief Jon Lewis kicked off the Chamber of Commerce's first early morning Wake Up! Newport series of 2017 to a packed house at the Newport Beach Public Library Main Branch on Thursday.
Dozens of residents sat with city council members past and present, local leaders, high school business club members, and public safety officers.
"There is no safer place in Newport Beach right now," joked chamber director and former mayor Rush Hill.
Hill went on to introduce Lewis as just the tenth police chief in Newport Beach's history, noting his impressive 26 years on the force.
"We believe that our officers are ambassadors of our community," he said.
Lewis touted the numerous accomplishments of the 258-employee local police department, including a remarkable 3:07 minute response time for Priority 1 calls.  
"Five minutes is considered good, 3:07 is excellent. We are very proud of our response times," he told the audience.
Former Deputy Police Chief David McGill, he said, was in Sedona, Ariz., where he is soon to be sworn in as their new Chief of Police. Taking his place is Jeff Brouwer, who will be Deputy Chief, Detective Division.
Four new initiatives were discussed, including a full-time Homeless Liaison Officer dedicated to handling situations involving the homeless community.
"They're vulnerable people," he said, adding that the department has "good people doing good work" with them. "It's a work in progress."
One detective is also assigned to the prevention of human trafficking.
"In areas of affluence and large number of tourists, that's where it happens. It does and it's here," he said. The city partners with the Orange County Human Trafficking Task Force based in Anaheim.
Lewis commended the work of the animal shelter in Newport Beach and Carol Jacobs, who heads up the project for the police department. Working with Home Free Animal Rescue & Sanctuary, "we have very low euthanasia rates and hope to have our own animal shelter soon."
He also thanked residents for making it a successful animal shelter.
"Newport Beach has some very generous people," he added. 
The last of the new initiatives was the phasing out of the Ford crown victoria as police car of choice.
"They were near and dear to my heart," lamented the chief. The force now uses the Ford explorer police interceptor.
In discussing crime trends, Lewis said that property theft continues to drive the overall crime rate in the city. The room full of business people were understandably upset with the 27.4 percent increase in commercial burglary in 2016.
"We are going to be out there with our business community," he told the crowd. He noted that mail theft was a new concern as well with a 15 percent increase, taking into account how many more people are shopping online.
"Hundreds of delivery trucks are going in and out of Newport neighborhoods every day. It's something we need to focus on," he said.
As with any police-attended event, it was quite the dog and pony show. Literally, in this case. Levi, the 3-year veteran horse of the force, greeted guests under a tent in the light rain, and Kajo of the K-9 unit sniffed a few lucky guests for narcotics.