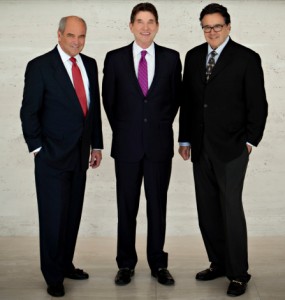 During her opening remarks at this year's Boutique Lifestyle & Lodging Association Leadership Symposium, held last month in Santa Monica, BLLA's Founder and Chair Frances Kiradjian announced the launch of a new Newport Beach-based hotel brand, KARAS Lifestyle Hotels.
The new brand replaces Unique Hotels & Resorts, and was formed in partnership with hospitality industry executives Eric Prevette and Carlos Lopes (formerly the managing directors of Unique Hotels) and Murray Holland, previously managing director of MHT Midspan, an investment-banking firm based in Dallas, Texas.
Prevette, Lopes and Holland are now the managing directors of KARAS Lifestyle Hotels, which will specialize in managing and developing lifestyle hotels in key U.S. urban markets.
According to Lopes, KARAS Hotels was originally established as Unique Hotels & Resorts, which has a long history of developing and managing high-end lifestyle hotels throughout the world, including Hotel Bel-Air in Los Angeles, Grand- Hôtel du Cap Ferrat along the French Riviera and La Posada de Santa Fe in New Mexico.
"Our team pioneered the creation and management of boutique lifestyle hotels over 20 years ago. The KARAS brand is a natural evolution of our company," Prevette said. "Lifestyle brands are dominating the industry and reflect the highest future growth potential of any hotel market segment. We have the experience, resources and proven track record to quickly establish the KARAS brand as a market leader in this segment."
The KARAS team seeks to build its portfolio to include key U.S. urban markets and will focus on both the commercial and leisure markets. According to Lopes, a typical KARAS Hotel will have between 150 and 300 guestrooms, with an authentic design and ambiance strongly influenced by the locale and community it serves.
In addition to the latest innovations in technology, Prevette noted that the KARAS management team will emphasize highly personalized guest services and amenities. Holland will concentrate on developing financial partnerships for the new company.
For more information, visit KARASHotels.com.