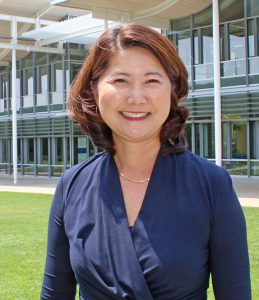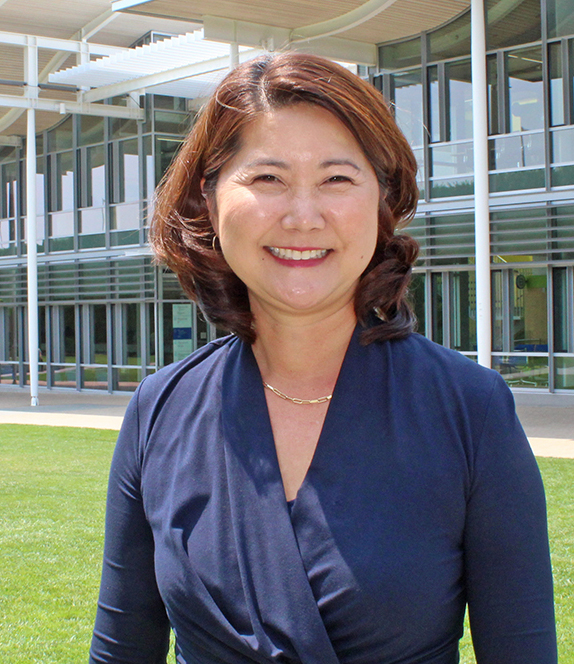 By Grace Leung, Newport Beach City Manager
Congratulations to all the participants and instructors upon the successful completion of the summer 2023 Junior Lifeguard program! This year's program wrapped up on Thursday, August 3 with a graduation ceremony at Balboa Peninsula Park attended by hundreds of program graduates and their families.
Finishing its 39th year, the Junior Guards has become a Newport Beach institution and rite-of-passage, with new generations of guards learning critical ocean swimming and safety skills over the course of seven weeks. This year, 1,416 junior guards completed the program.
I'd like to thank all those who participated, along with our seasonal program instructors and administrative team, led by Lifeguard Capt. Mark Herman, Lifeguard Officer Carly Christian and program coordinator Cynthia Haritatos.
We are looking forward to celebrating the program's 40th anniversary in 2024, which will be the first in the new Junior Lifeguard Building, now under construction. Construction activity was paused this summer and will resume in the fall. We expect the new facility to be completed by early 2024 and fully operational for next summer.
For more information on the Junior Lifeguard Program and upcoming fundraising events, visit https://nbjg.net/.
Bay Water Closure Lifted Following Sewage Spill
The Orange County Health Care Agency on Friday, August 4 removed a bay water closure near the Aloha Drive Bridge to Linda Isle. The area was closed to swimming and ocean contact following a sewage spill, estimated at about 500 gallons, that occurred after damage occurred on a sewer line along the bridge.
After several days of follow-up water testing, the HCA determined that bacterial levels have met health standards and removed the closure.
For information regarding Orange County ocean, bay or harbor postings and closures, please call the County at (714) 433-6400 or visit www.ocbeachinfo.com. To report a sewage spill, please call (714) 433-6419.
National Night Out Draws Hundreds to Bonita Canyon Sports Park
On Tuesday, August 1, the Newport Beach Police Department hosted the annual National Night Out event at Bonita Canyon Sports Park. National Night Out enhances the relationship between neighbors and law enforcement, allowing officers and community members to come together in a relaxed and fun setting.
The event included over 600 members of the community who were able to get a closer look into each of the divisions within the NBPD.
Mayor's Youth Council Accepting Applications for 2023-24 School Year
The Newport Beach Mayor's Youth Council program is now accepting applications for the 2023-24 school year. This educational unpaid internship program gives high school students an in-depth look at careers offered in local government and provides a forum to express opinions, creativity, and civic mindedness.
Mayor's Youth Council is comprised of three functions: education, service and outreach. In addition to one-on-one mentoring with City staff, Youth Council members will be involved in various projects and engagement with their peers. Last year, interns participated in a toy drive to help the Newport Beach Fire Department collect toys for children of military families. High-school aged residents are encouraged to apply online at https://newportbeachca.gov/government/departments/recreation-senior-services/youth-teen-programs.
Lap Swim Schedule Resumes Aug. 7 at Marian Bergeson Aquatic Center
Beginning August 7, lap swimming at the Marian Bergeson Aquatic Center will return to the standard, year-round schedule of Monday through Friday from 6 p.m. to 9 p.m. and Saturday and Sunday from 7 a.m. to 2 p.m. Lap swim memberships are sold in bundles of visits or as an annual pass. Visit www.newportbeachca.gov/aquatics for pricing and monthly calendar.
Save the Date! Fall Classes, Program Registration Begins Aug. 10
Registration for fall 2023 City recreation programs and classes will open August 10 at 8 a.m. Check out all the programs, classes, and special events offered for the season in the digital edition of the Newport Navigator: https://trendmag2.trendoffset.com/publication/?i=797946.
Classes run from September 5 through December 22.
Spots are still available in some of this summer's camps; visit www.campnewport.com for information.
City Welcomes Belcourt Park to Expanded Recycling Program
The City recently welcomed Belcourt Park Homeowners Association to the expanded refuse and recycling service provided by CR&R under City contract.
In March, the City Council approved the inclusion of Belcourt Park into the City's expanded recycling program. As of August 3, Belcourt Park joins most of Newport Beach with the three-cart service that meets state mandates for trash, recycling, and organics recycling.
The neighborhood will also have access to additional services included in the citywide contract with CR&R, such as bulky item pickup, household hazardous waste pickup, a sharps mail-back program, a kitchen food scrap pail, cart configuration assessments, a dedicated customer service hotline, and Christmas tree collection during the holiday season.
For more information on the City's expanded recycling program, visit our website at https://www.newportbeachca.gov/government/departments/public-works/municipal-operations/trash-recycling/organics-recycling.
NBPD Officers at Community Outreach Event Locate Missing Child
On Saturday, July 29, a woman approached the Newport Beach Police Department's Mobile Cafe, a scheduled community outreach event, to report that her 11-year-old girl was missing on the beach. The group (pictured) mobilized, took immediate action and located the girl in less than 30 minutes.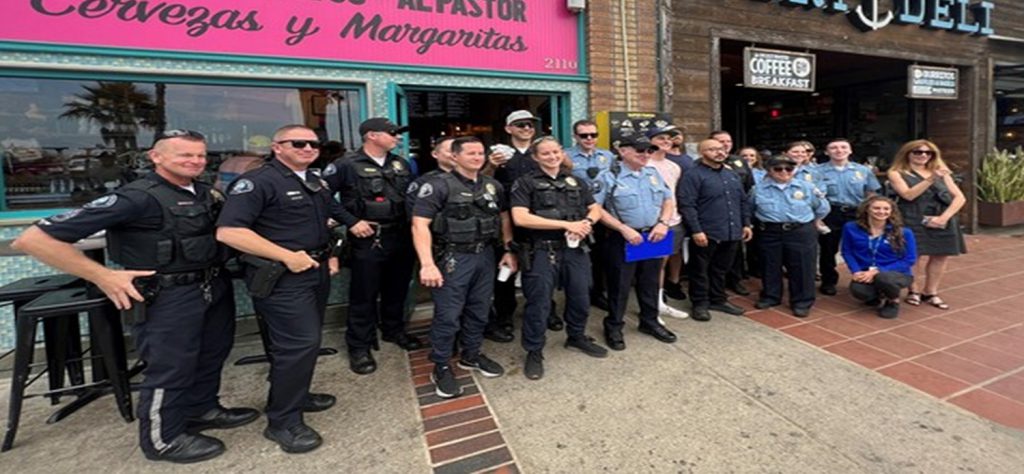 "Words cannot describe how relieved and thankful I am to have my child back in my arms," the mother later said. "My 11-year-old daughter and I were separated during a bike ride. I was terrified and desperate, but working directly with Officer Furnari gave me hope and comfort. He worked quickly and professionally, using his skills and resources to locate my child. Officer Furnari and the NBPD showed compassion and kindness, not only to my child but also to me and my family. Officer Furnari and NBPD have made a difference in our lives that we will never forget. Thank you from the bottom of our hearts."
Be Well Mobile Crisis Response Update
The Be Well mobile crisis response team operates in Newport Beach 12 hours a day, 7 days a week to respond to mental and behavioral health crises. The mobile unit is staffed with mental health specialists and works closely with the City's police and fire departments.
This week, the Be Well team:
Transported a family with minor children to a motel after resolving a mental health crisis.
Transported a person to a crisis stabilization facility for treatment.
Transported two people to the Be Well sobering station for treatment.
Transported a person home after resolving a mental health crisis during a hospital discharge.
Transported a person experiencing a mental health crisis to a pharmacy to refill their medications.
Transported a person to a hospital after resolving a mental crisis.
Transported a person to work after resolving a mental health crisis.
Coordinated a rideshare transport for a person to meet with his primary mental health service provider.
Educated tourists and residents on the Be Well OC services and campus.
To reach Be Well: The mobile crisis team is dispatched through the Newport Beach Police Department. To request service, dial 911 or call the Police Department's non-emergency line at (949) 644-3717.
Homelessness Update
This week the City's homeless outreach and response teams:
Placed a client in permanent housing following nine years of homelessness. He had been staying at the Costa Mesa Bridge Shelter while searching for apartments.
Housed a client who experienced street-level homelessness for over three years. The client received essential household items thanks to generous donations to the Good Giving program.
Collaborated with the City of Costa Mesa outreach team to place an older adult at the Yale Navigation Center.
Enrolled a new family into services and completed a referral to a shelter. The family is enrolled in CalAIM. CalAIM provides comprehensive healthcare services for low-income people to improve their physical and behavioral health.
Continued to shelter people. Twenty people who had been experiencing homelessness in Newport Beach are sheltered in the Costa Mesa Bridge Shelter.
Attended the Newport Beach Police Department's National Night Out event to engage with the community and discuss services.
Click here to view the latest homeless dashboard, which includes key monthly and yearly data on the City's homeless response: https://www.newportbeachca.gov/trending/community-issues/homelessness/monthly-homeless-count.
Click here to view the City's Good Giving program: https://www.newportbeachca.gov/trending/community-issues/homelessness/how-you-can-help.