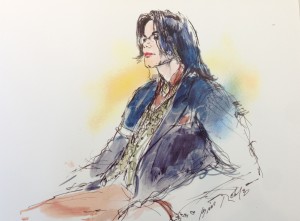 History, drama and art come together in a fascinating display of "Courtroom Art" beginning Jan. 2 at the Newport Beach Central Library, 1000 Avocado Avenue.
The exhibition will feature the work of three award-winning courtroom illustrators: Elizabeth Williams, Bill Robles and Aggie Kenny.
This trio of renowned illustrators will also participate in "An Evening of Famous Trials in Pictures" at the Central Library on March 3 at 7 p.m.
The special presentation, hosted by former KNBC TV reporter/anchor Susan Hahn, will discuss courtroom art and the artists' experiences covering hundreds of high-profile cases, including the trials of Charles Manson, O. J. Simpson, John Gotti, Michael Jackson, Martha Stewart, Patty Hearst, Jerry Sandusky, Dominique Strauss Kahn, and Bernard Madoff.
The exhibit is inspired by the book, "The Illustrated Courtroom: 50 Years of Court Art," by Elizabeth Williams and Sue Russell, recently named as Book of the Year by the Times Literary Supplement (Publisher of the Times of London) and a Kirkus Reviews' Best Book of 2014.
The book includes many images from the three artists who are featured in the library event, and gives a bit of history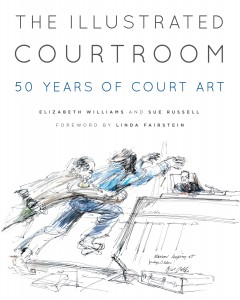 and a behind-the-scenes peek into the courtroom during some of the most famous trials in the last 50 years.
For many of these trials, drawings by courtroom artists are the only recorded images of the events, and the artists masterfully depict the colorful casts of characters and their emotions in these dramatic events.
The art exhibit is free and open to the public during library hours Jan. 2 through March 5. "An Evening of Famous Trials in Pictures" on March 3 is also free and open to the public. No registration is required, but seating is first-come, first-served, limited by room capacity.
For more information, call (949) 717-3800, ext 2 or visit newportbeachlibrary.org.
 About the Artists
Aggie Kenny is an Emmy-winning artist who has covered many court cases since the early 70's. Working for ABC News, CBS News, Washington Post, Newsday and other media outlets, Kenny was assigned to many high-profile cases including Son of Sam, Angela Davis, Mitchell/Stans (Emmy), Watergate hearings, U.S. Congress (prior to cameras), U.S. Supreme Court, John Hinckley, Oliver North, and many others. Her work at "Ground Zero" after 9/11 was the subject of a solo show at the New York Police Museum and the United States Senate Russell Building in Washington D. C.
Bill Robles has sketched some of the most talked about news events of our time, including the trials of Charles Manson, Patricia Hearst, Rodney King, O.J. Simpson and Michael Jackson. He has spent nearly five decades working for nearly every major network and news organization capturing the scenes behind the headlines that transfixed society.
Elizabeth Williams is the co-author of "The Illustrated Courtroom: 50 Years of Court Art," which was recently named a "Kirkus Best Book of 2014," an award bestowed on 100 (out of 460,000) independently-published books each year. Williams has covered many headline-grabbing trials (Martha Stewart, John Gotti, John DeLorean, Bernard Madoff) for the Associated Press, every major network and many other news organizations.
elizabethwilliamstudio.com / illustratedcourtroom.com.