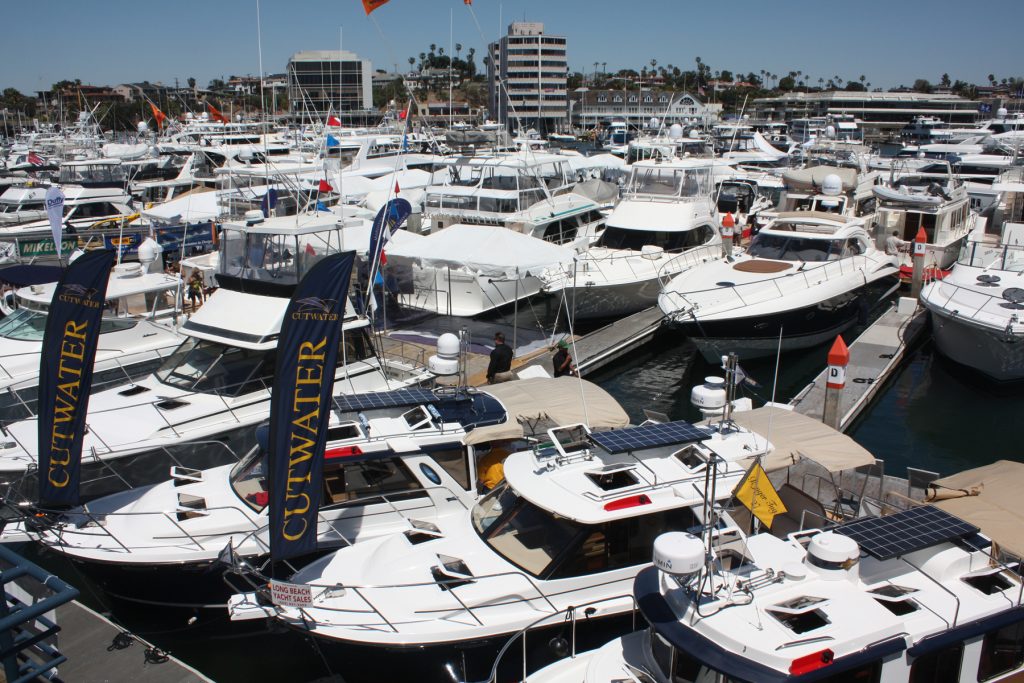 The 44th annual Newport Boat Show docked at Lido Marina Village on Thursday, and the timing is works out great for the revitalized community.
The newly refreshed Lido Marina Village is alive with a new vibrant tone that it has been lacking for many years. New shops are opening and the big draw, Nobu restaurant, opened three weeks ago.
More than 200 boats will be on display through Sunday at the boat show and available for visitors from all over the world to step on board. If sales of these luxury cruisers are the goal, what better way to sell the lifestyle, than to immerse a potential new boater in the fantasy of sitting on the deck of a first-class boat while in the water in Newport Beach?
"Visiting a boat on dry land or in a convention hall only goes so far," Duncan McIntosh said. "Nothing beats the emotional connection of being on the water."
McIntosh, well known for his family of boat shows from San Diego to Los Angeles, is also the owner and publisher of several magazines, including Sea Magazine, BoatingWorld, OC Weekly, and The Log newspaper.
McIntosh has been a Newport resident since the early 1970s.
"When I came up with this idea in 1973, there was nothing like it on the west coast," he reminisced. "Finding a location with that much dock space was a challenge, but I made a bold telephone call to the legendary Don Koll and asked if he'd let us use his then-brand new Marina Village dock area. He thought it was a great idea and here we are almost a half-century later. Hard to believe."
The Lido boat show is definitely competing with the bigger shows across the nation, he noted.
"There are larger boat shows in Annapolis and Florida, since they get a lot of European influence and customers, but you'll find the biggest boats here, which makes our show stand out from the rest," he added.
Regarding the state of the market, he pridefully shared that things are good and getting better.
McIntosh no longer sells his own inventory, but instead acts as a shopping mall for other sellers. This year they expect 225 boats and 100 exhibitors at the event.
For more information, visit newportinwaterboatshow.com.