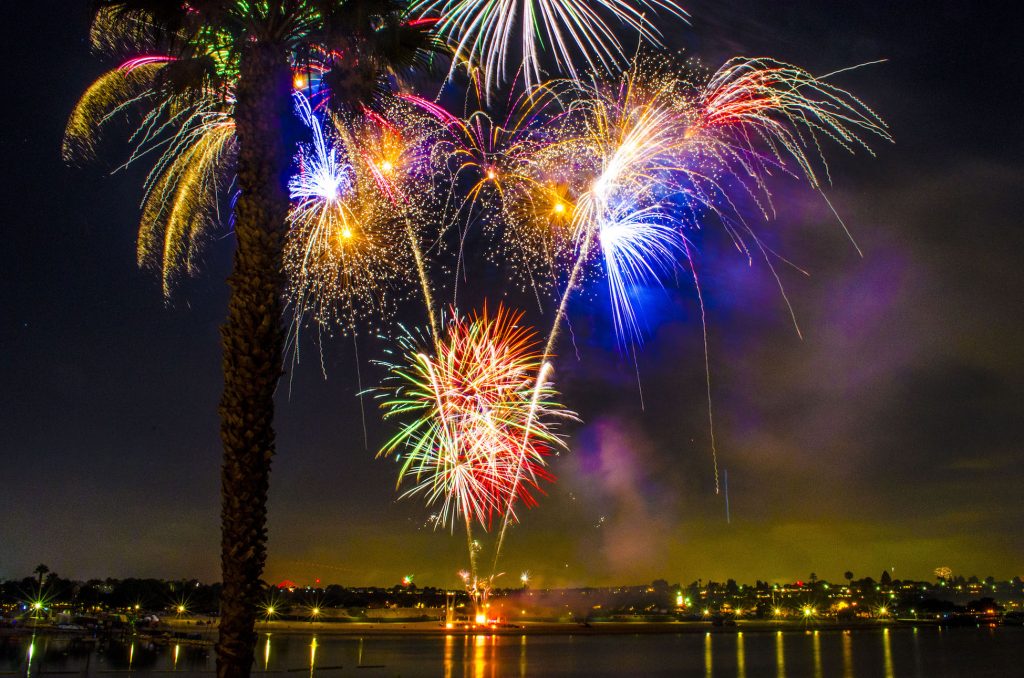 The Fourth of July is a busy time in Newport Beach. In addition to the influx of tourists and beachgoers, myriad patriotic activities take place throughout the city, from a bike parade and community festival to a boat parade to fireworks at Newport Dunes.
8th Annual 4th of July Newport Peninsula Bike Parade and Community Festival. The bike parade begins at 9 a.m. at 36th Street Park and will head down Balboa Blvd. to Channel Place Park for a free community festival including carnival games, giant slides, jump houses, arts & crafts and food. Parade participants are encouraged to decorate bikes, scooters, wagons and strollers. Please bring dogs on leashes. The festival will run 9:30 – 11:30 a.m. For more information, contact the Recreation and Senior Services Department at (949) 644-3151.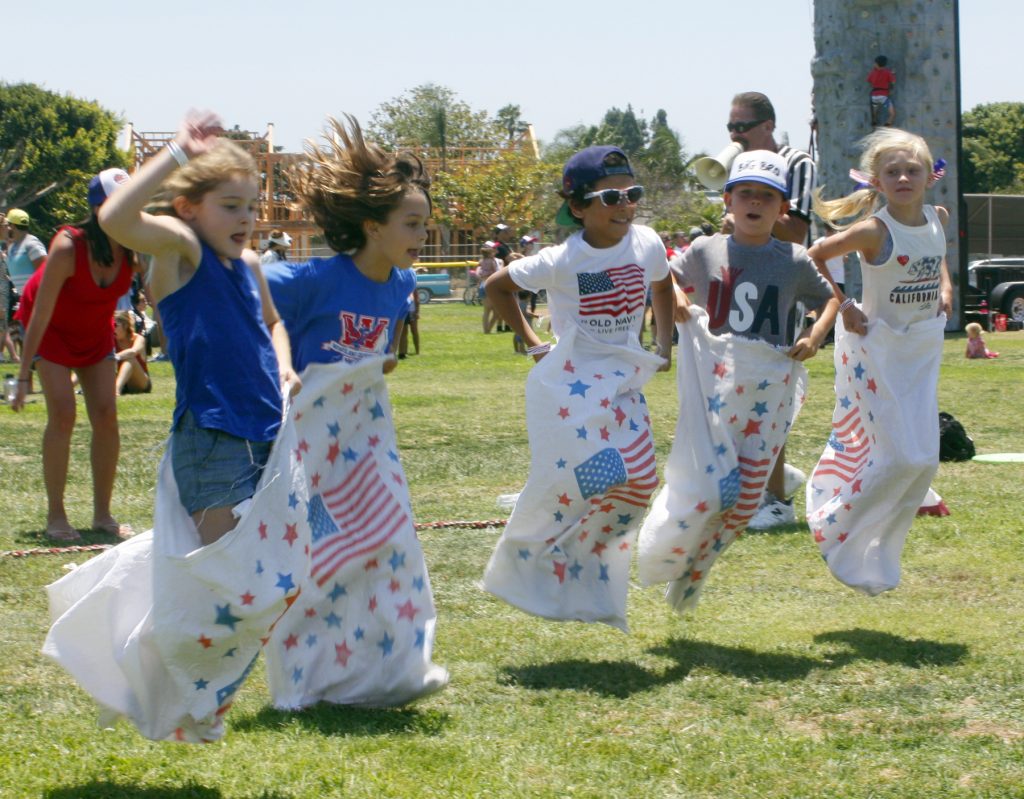 Mariners 46th Annual Independence Day Parade & Celebration, 10:30 a.m. at Mariners Park. This extremely popular event is in conjunction with the City of Newport Beach. The day begins with a bicycle parade down Mariners Drive at 10:30 a.m. followed by games, food, entertainment and activities at Mariners Park starting at 11 a.m. It is a fun-filled day for all ages. Proceeds from the event support Mariners Elementary School and account for about 10 percent of the foundation's annual funds. Visit MarinersFoundation.com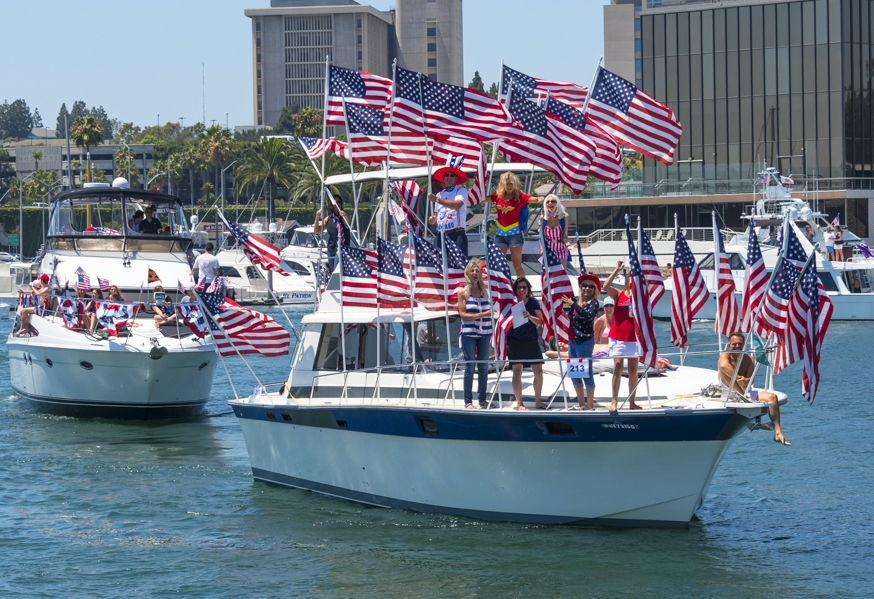 Old Glory Boat Parade, presented by American Legion Yacht Club. This year's theme is "Valor Through the Generations." The parade of decorated boats of all sizes begins at 1 p.m. off of Collins Island and proceeds around the harbor. Boaters are invited to decorate their boats and participate. Registration is free and can be started through the link on the ALYC website. Winners will be announced at the Awards Banquet on Sunday, July 22.
Before the boat parade, the public is invited to enjoy a pancake breakfast at the American Legion on Balboa Peninsula from 7 to 11 a.m. There will be a nominal fee for the breakfast.
For more information visit ALYC.com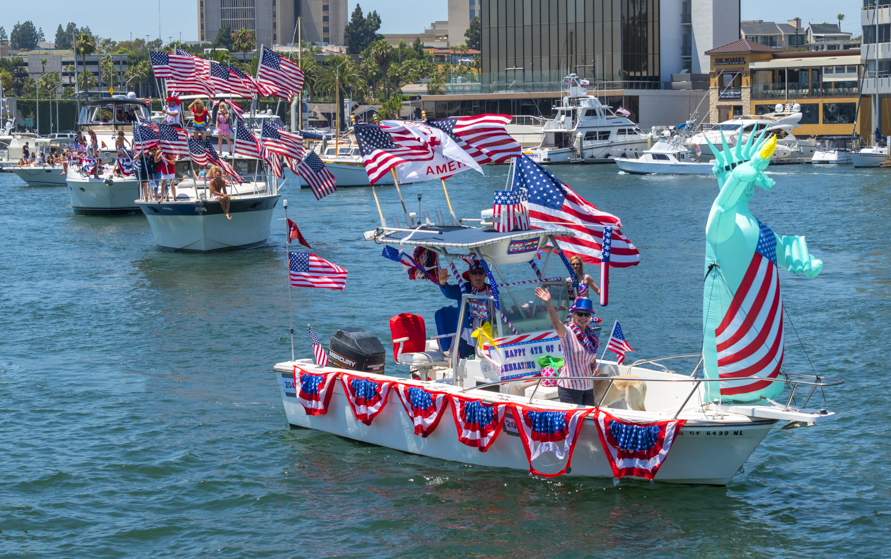 Independence Day on the Back Bay, at Newport Dunes. Celebrate Independence Day on the Back Bay with live music, local food trucks, full bars and a City of Newport Beach Fireworks Extravaganza from one of the best waterfront viewing locations in SoCal.
Arrive early (gates open at 8 a.m.) with beach chairs and umbrellas and experience all that Newport Dunes has to offer including the newly expanded Inflatable Waterpark, rentable kayaks, pedal boats, sail boats, hydro bikes, electric boats, stand up paddleboards and Surrey bikes.
For those looking to relax, enjoy lounging under a private beachside cabana between dips in the calm waters of the gorgeous Upper Newport Bay.
Live music starts at 2 p.m. with line dancing hosted by David Bugenske from Go Country 105. Bands scheduled to play include Wild Child (a Doors tribute band), Redneck Rodeo and Skynard Reloaded. Dine at Back Bay Bistro for lunch or dinner.
After the fireworks at 9 p.m., join the Barn Dance after-party hosted by David Bugenske at Back Bay Bistro. Extended bar service will be available.
General admission to Newport Dunes on July 4 is free. VIP tickets available for $60 and include upfront table seating near the stage, table waiter service and exclusive VIP bar access, plus exclusive VIP restrooms (beach chairs not acceptable).
On-site All-Day parking is $50. There is limited free parking on the street next to Newport Dunes.
Visit NewportDunes.com for details.