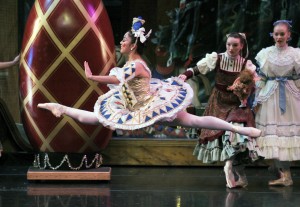 Pamela Diamond | Special to NB Indy
Drama and discipline, passion and performance: a dancer's life is infused with the stuff dreams are made of, but there is a price to pay. Is it worth it?
Nineteen year old Festival Ballet Theatre ballerina Megan Yamashita took time out from rehearsals of The Nutcracker this week to talk about the challenges- and joys- her years of dancing have brought and the two role models who've helped shape her.
Yamashita, a Newport Beach resident, will perform the roles of Harlequin, Merlitons, Spanish Lead and Dew Drop in this year's production, which opens tonight at the Irvine Barclay Theatre and features guest artists from American Ballet Theatre, Pacific Northwest Ballet and The Joffrey Ballet during its run.
Festival Ballet Theatre's The Nutcracker has become not only a much anticipated Orange County holiday tradition but a beloved one for Yamashita, who has been dancing in Artistic Director Salwa Rizkalla's version of the Christmas classic for the past twelve years.
"The Nutcracker has been one of my favorite productions since I was young. I always looked up to the older kids who were dancing the dream roles and now I get to do them! It just wouldn't be Christmas for me without The Nutcracker," she says.
Yamashita started ballet classes when she was 3 years old and has been under Rizkalla's tutelage since she was seven.
"Salwa is like a second mother to me. She has taught me everything I know, and I wouldn't be the dancer I am without her," says Yamashita, adding that "as a dancer, you're always trying to become perfect but you can't be. She's taught me to keep going and to have more confidence."
Characterizing herself as an "athletic" dancer, Yamashita shares a surprising reflection about dancing Dew Drop, the lead fairy in the Waltz of the Flowers. In spite of the role's demanding nature, it's not the physicality of the part that daunts her as much as its inherent elegance.
"I love it, but it's hard for me. It is technically difficult, but my biggest challenge is to be fragile. It's not something that comes natural to me. Spanish and Harlequin are both strong, sharp character dances, and Dew Drop is very soft. Dancing her has taught me a lot, and that's maybe why Salwa gave it to me."
Yamashita, who's currently attending Orange Coast College with plans to study orthopedic medicine, doesn't rule out dancing professionally but is candid about its realities.
"Being able to perform is something that comes from deep inside. I love to entertain, and I wouldn't be the same person without dance, but it's not an easy life. It requires so much dedication. Still, dance is my passion… I don't regret it at all."
Festival Ballet Theatre performs The Nutcracker December 14 – 24 at Irvine Barclay Theatre, 4242 Campus Dr., Irvine. $40 adults, $37 seniors, and $35 children. For tickets and information call (949) 854-4646 or go to www.thebarclay.org