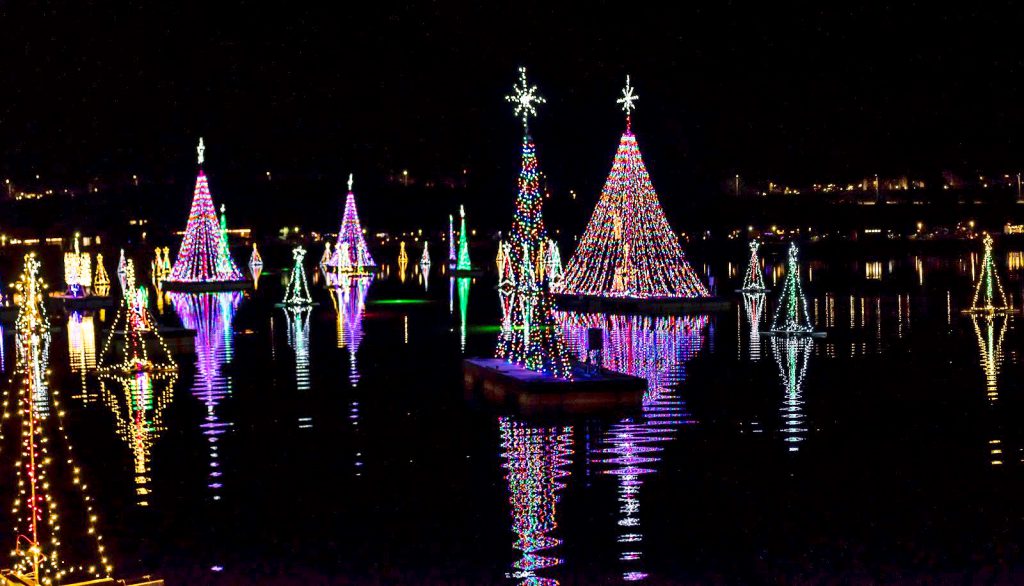 Snow flurries are rare in Newport Beach, but Newport Dunes Waterfront Resort will be a flurry of activity this holiday season starting with the opening of the Christmas Tree Lot on Sunday, Nov. 22 and continuing with the annual Lighting of the Bay on Friday, Nov. 27.
Other seasonal events include fireside dining, beach cottage rentals and private holiday drive-in events.
This year, the usual Lighting of the Bay opening night soiree will not be held, but residents and visitors are welcome to come and view the myriad floating light displays beginning at dusk every night from Nov. 27 through Jan. 1. The Lighting of the Bay is free, but there is a $10 parking fee.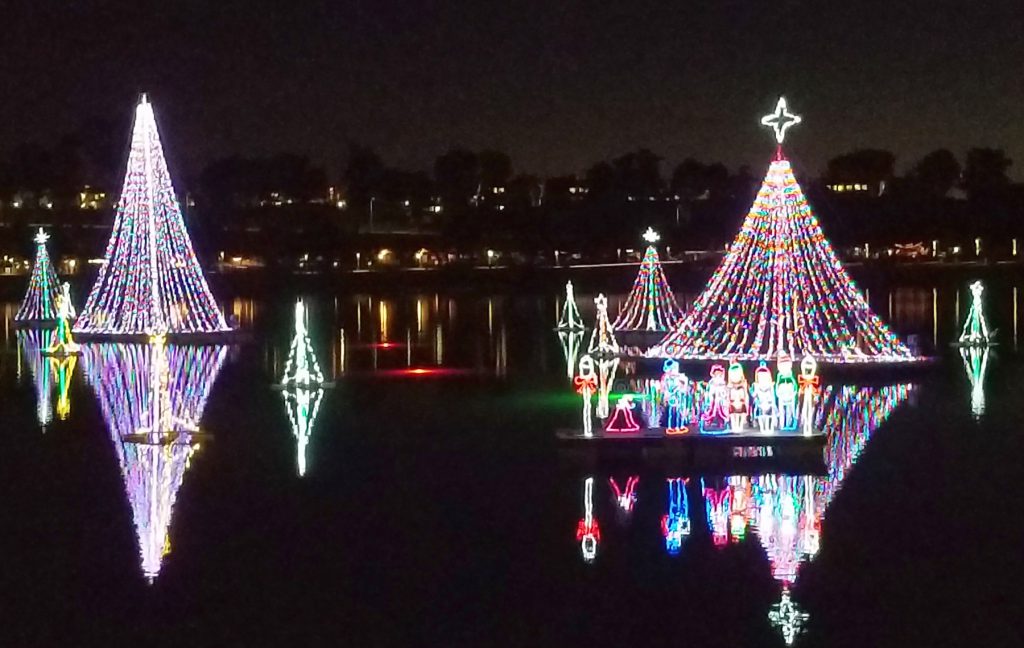 That parking fee is waived if your goal is to purchase a Christmas Tree at the Newport Dunes lot. Newport Dunes receives their trees from Salem Oregon in five to six farm-to-lot deliveries before Christmas. The highest quality, fragrant trees are handpicked and delivered within 16 hours of being cut, given a second cut upon arrival and immediately placed in stands with fresh water.
The Christmas Tree lot is open 10 a.m. to 9 p.m. daily beginning November 22. Find your perfect pine and stay to view the Lighting of the Bay. For more information visit www.NewportDunes.com/christmas-tree-lot.
You can also get cozy with your family or loved ones by enjoying your own private fire pit Friday and Saturday evenings Dec. 4 through 19. Purchase a casual dinner courtesy of Newport Dunes' beachfront grill, Moe B's Munchies. Sip on seasonal beverages and watch the glowing lights in the Newport Dunes lagoon.
There are two seatings each night: 5 to 7 p.m., and 7:30 to 9:30 p.m. Several menu options and beverage pitchers are available. For more information and to view dinner packages, visit www.NewportDunes.com/lighting-of-the-bay/fireside-dining.
And now for an unusual holiday treat. For those looking for a way to responsibly gather this holiday season, Newport Dunes can help you reimagine a personal or corporate holiday part as a physically distant drive-in celebration, complete with a large screen, a stage, a sound system which broadcasts through FM radios, and even food and beverage concessions, Newport Dunes' staff handle all set-up needs and day-of organization. Call the Newport Dunes Sales Office at (949) 729-3800 for details.
And if that's not enough, you can book a stay at the resort to view the Lighting of the Bay just steps from your accommodations. Rent a single-family, one-bedroom Beach Cottage, or reserve an RV campsite. Don't own an RV? No problem. Newport Dunes works with local RV rental companies that will deliver a sanitized luxury RV to your campsite complete and ready to enjoy.
Newport Dunes continues to monitor local, state and CDC guidelines. Guests are required to practice physical distancing and wear face coverings when they are unable to keep a six-foot distance from other guests.
Newport Dunes Waterfront Resort is at 1131 Back Bay Dr. in Newport Beach. Visit www.NewportDunes.com.