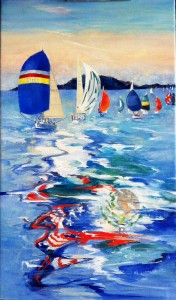 A local artist and former Newport Beach Arts Commissioner was recently revealed as the painter behind this year's Newport to Ensenada International Yacht Race official artwork.
Newport Ocean Sailing Association officials announced that Carole Boller created the 14" x 24" oil on linen painting titled "Spirit of N2E" that will be used on the event program and promotional materials.
The start of the 69th Annual Newport to Ensenada International Yacht Race is less than a month away, scheduled to kick off at the Balboa Pier on April 22. 
The painting will be officially unveiled at a NOSA event just prior to the start of the race.
After boats cross the finish line, board members will decide the painting's destiny. In the past, the works of art have been donated to charity, gifted to the local mayor, auctioned for charity or bequeathed to the commodore.
Boller, commissioned by NOSA, worked with Commodore David Shockley to find out what message he wanted to convey with the artwork.
He wanted to honor NOSA and Newport Beach for their efforts that make the race possible, as well as the dignitaries from Mexico, Boller explained.
Shockley directed her to create an image depicting an abundance of effort and energy, the strong wills of participating sailors and be a tribute to the event's relationship with Mexico.
Complimenting sailing and the story of the race, the finished work depicts the dawn following an all-night sail, showing countless boats with spinnakers up along the final stretch. In the foreground is a subtle illusion of the American and Mexican flags waving in the water fractals.
 Boller, an accomplished local artist and sailor also created the 2007 painting for NOSA. She even raced that year.
It is an exhilaration to participate in a race and a joy to simply be on the water, she added.
"It's an adventure," she said.
There is a unique connection between sailing and painting, she commented. Both have a creative side, require thoughtfulness, and can be therapeutic for the sailor and/or painter.
"Sailing, for me, is a place to get my head on straight," Boller said
Boller finds daily inspiration along the waterfront. She also hosts a class, "Art with a Twist," two times a month on Balboa Island.
 NOSA officials commented that her connection to the water resonates through her work and made her an excellent choice to be this year's artist.
The Chicago native sailed on Lake Michigan before she moved to Newport Beach in 1998. Between 2007 and 2012 her Islander 32 even served as a studio.
"Art should feed your soul," Boller said. "Every time you see it, it should give you something else. It should be a place of discovery."
Her work has evolved over the years. She's looser and freer with color now. Artists also tend to show more confidence in their work as they mature, she added.
"Artists don't make mistakes, they make changes," Boller said.
Her creative process is broken down into several parts: "Courage, enchantment, permission, persistence, trust and divinity."
"This opens countless opportunities to follow my own fascinations, obsessions, and compulsions," Boller explained. Any occasion to create is an opportunity to "look at the usual in an unusual way…That's an excellent way of living."
For more information, visit bollerart.com, newporttoensenada.com, and nosa.org.