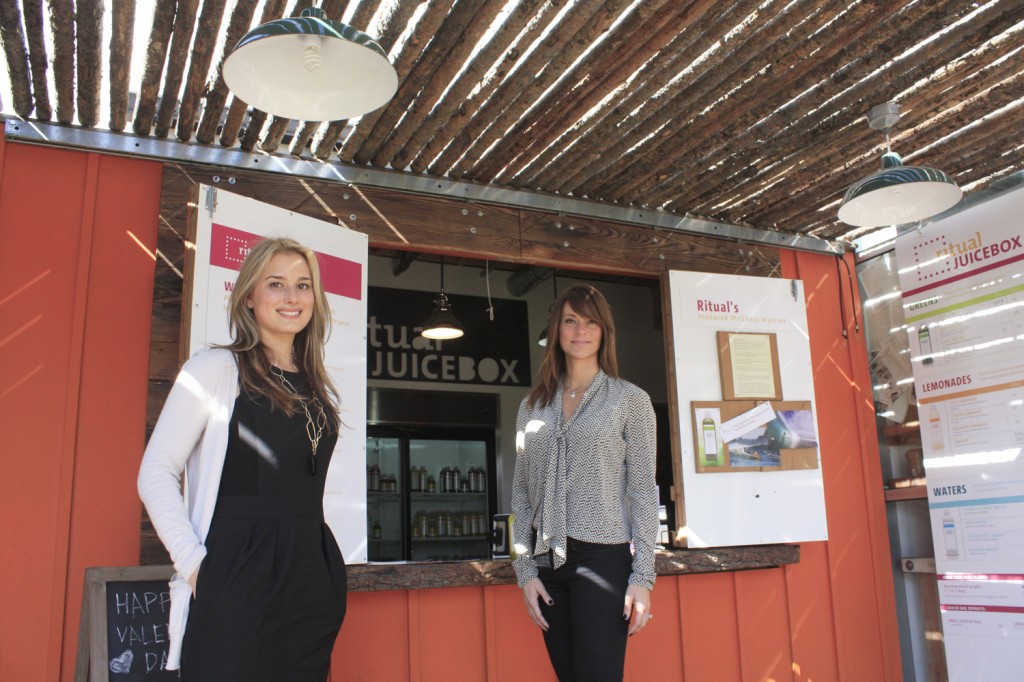 Lori Kenyon was diagnosed with a gastric disorder when she was still in her teens. Unable to digest animal protein, she turned to fruits and vegetables.
Marra St.Clair learned she had Celiac disease while in college, leading to a gluten-free diet.
These two Newport Beach women met several years ago when Kenyon took Pilates classes from St.Clair, a personal trainer and Pilates instructor.
Realizing they had similar nutrition goals and diet restrictions, and being proponents of organic juices, they set about creating a company that would provide not simply fresh juice, but a method of cleansing the body.
The result is Ritual Wellness, which Kenyon and St.Clair founded in March, 2010.
Originally available only online and have delivered to doorsteps, Ritual Wellness recently opened its first store at The Camp, an eclectic retail mall on Bristol Street in Costa Mesa.
"It's very community minded here at The Camp, so that goes well with our products," said Kenyon during an interview on the store's patio. "People told us they wanted to be able to grab something on the go instead of ordering online, so this really fills a need for people in addition to what the online business can do. The grab and go concept is great because they are pressed juices that we make in Irvine every morning so you don't have to wait in line for juices, but can just grab it and be on your way. And the cold press method we use actually extracts three to four times more nutrients than the centrifugal juicers in the juice bars, so even though they're bottled up in the morning they actually contain more enzymes than those in the juice bars and these will stay fresh for 3 days."
In addition to juices, Ritual Wellness offers a juice cleanse, which St.Clair says is an ideal way to jumpstart your system into a healthy lifestyle.
"So many people have the intention of starting an exercise program or start moving away from process foods or leaning away from animal products," she explained, "but when they first delve into one of those programs they have immediate energy slumps and cravings and it's just hard to transition from someone's everyday life to something like that. A lot of people use the cleanse as a bridge to set themselves up to not have craving or have cravings for really healthy food and get their energy restored, so they have the confidence and proven willpower to go into any program."
"There are also people using the cleanses who are going through medical issues, such as people in post cancer treatments or have chronic fatigue," she added. "This is just pure organic nutrition in the form of tons of fruits and vegetables free of pesticides and all the harmful toxins that we ingest every day, and gives people the opportunity to feed their body all that food and know what it feels like to function at their optimal level."
As proof of the success of Ritual Wellness, Kenyon and St.Clair are writing a book called "The Ritual Reset Juice Cleanse Diet," due to be published this December.
For more information, visit RitualWellness.com, or call (949) 954-6522.