Hit and Run Obstacle Course
An upcoming event will combine the TV show "Wipeout" and a fun run 5k for local athletes, adventure seekers and ninjas.
For the first time in Orange County, the Hit and Run 5K will land at the Great Park in Irvine on Feb. 22.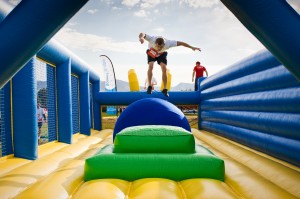 Registration is now open and participants are coming from all over OC to join in the fun, including one adventurous couple from Newport Beach.
The run is comprised of eight mechanical obstacles, giant inflatables, dodge ball cannons, foam machines and more, according to a press release from event organizers.
The OC event kicks off Hit and Run's North American tour, with 17 more races planned for 2014.
With no winners or official times, the Hit and Run 5K focuses more on the camaraderie, not competition.
The course is designed to be family friendly and the race includes a parent and kids (ages 10 to 13) wave.
Check out the Indy after the event for a follow-up story.
For more information, visit hitandrun5k.com
Upcoming Law Forum
Legal administrators and law firm leaders will have an opportunity to expand their knowledge at the Law Firm Leadership Forum next month.
The event will be held March 4 from 11:30 a.m. to 1:30 p.m. at the Pacific Club in Newport Beach.
David Avrin will be the keynote speaker with his "Building Your Business by Building Your Brand" presentation.
The event is being held by the Orange County Chapter of the Association of Legal Administrators and will be attended by managing partners, partners, administrators and business partners.
"The Law Firm Leadership Forum is an excellent opportunity for legal administrators and law firm leaders to acquire additional tools and expertise to better manage and promote their law firms," OC-ALA Board President Elect Theresa Lawrence said.
Cost to attend the luncheon is $40 for members and guests.  For more information, contact: Jess Block Nerren, Publicist, [email protected], (909) 706-8525
For more information, visit orangecountyala.org
Man Rescued After Getting Stuck on Rocks
Authorities had to rescue a stranded man this week after he climbed out on some rocks to retrieve a remote-control helicopter and got stuck, reported Corona del Mar Today.
According to the CdM news website, Newport Beach firefighters rescued the man near Lookout Point in Corona del Mar around 10 a.m. on Monday.
Emergency workers had to use the ladder to get the man down, a police spokeswoman told CdM Today.
Both the man and the helicopter were unharmed.
Council Candidate Accepting Bitcoin Donations
Newport Beach City Council candidate Michael Glenn is accepting a digital currency known as "bitcoins" as donations, several sources, including the Daily Pilot, reported recently.
"Bitcoin uses peer-to-peer technology to operate with no central authority or banks; managing transactions and the issuing of bitcoins is carried out collectively by the network," according to Bitcoin's website.
As a software developer, Glenn is comfortable with technology and told the newspaper he felt it could be beneficial to his campaign.
Glenn is running for District 1 seat this year as councilman Mike Henn terms out. Diane Dixon and Joeseph Stapleton are also vying for the seat.