By Christopher Trela and Catherine Del Casale | NB Indy
 We love taking culinary trips to Europe without leaving Newport Beach. Catherine prefers Italian, mainly because she spent several months living in Italy and fell in love with the cuisine. I have a passion for French food, which is why you can often find me at Brasserie Pascal in Fashion Island.
We recently visited two local Italian hotspots – Andrea Ristorante at Pelican Hill, and Il Barone Ristorante near John Wayne Airport – and popped over to Brasserie Pascal to check out the OC Restaurant Week menu.
 ANDREA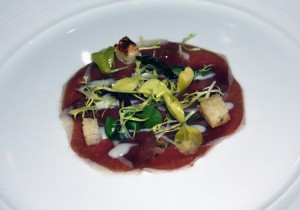 When The Resort at Pelican Hill appointments someone named Luigi Fineo as head chef for Andrea Ristorante (renowned for its Northern Italian cuisine), you know they're focused on all things Italian.  Chef Fineo got his start working in restaurants in Italy before moving to America. Since then, he's served with celebrity chef Thomas Keller at The French Laundry in Napa and Bouchon in Beverly Hills.
Now, he's focused on creating seasonal masterpieces for Andrea.
We attended a media tasting that introduced Chef Fineo to the local food writers, and were fortunate to enjoy a unique and authentic Italian menu with all ingredients locally sourced or imported from Italy.
Among the many dishes we sampled: yellowfin tuna tartar with Sicilian capers and a 100-year-old balsamic (a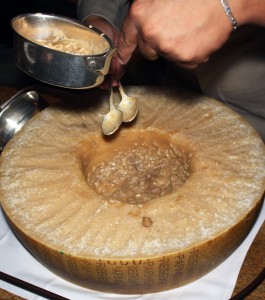 delicious introduction to the delights that awaited us), and house cured duck breast carpaccio with rock salt and a mild gorgonzola dressing. According to Catherine, "The duck was cooked so perfectly that you could slice off pieces with your fork. The ingredients were fresh and simple. It left my palate wanting more."
Catherine had heard stories about Andrea's novel method of preparing creamy risotto, and this evening the stories came true. A large parmesan wheel was rolled out. Hot risotto was stirred inside the center before being scooped up and plopped into a ramekin. The result: risotto nirvana.
Website: PelicanHill.com.
 IL BARONE
Chef Franco Barone (formerly of Antonello Restaurant) opened the intimate and inviting Il Barone Ristorante two years ago, and the place has been packed ever since.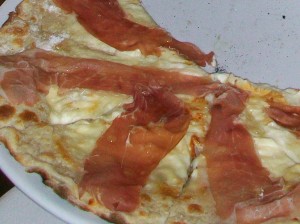 We took our server's recommendations and started with their signature dish, Facci ri Veccia:  baked, paper thin focaccia filled with imported crescenza cheese topped with parma prosciutto and drizzled with white truffle oil. It was thin and crispy yet bursting with flavor–easy to see why the dish was so popular.
We sampled several other dishes, including homemade meat tortellini in a Bolognese sauce. The pasta was firm yet soft and had the perfect amount of sauce to complement the tortellini without drowning them.
Too full for dessert, we vowed to return for Il Barone's unique twist on an Italian classic: limoncello tiramisu.
Website: ilbaroneristorante.com.
BRASSERIE PASCAL
Pascal's price fixe menu for OC Restaurant Week (through March 2) was, as always, an amazing deal at $30.
We started with two appetizers. Catherine ordered grilled artichoke marinated with aromatic herbs, garlic, and bell pepper, accompanied by a parmesan and Dijon aioli. The artichoke had a nice smokiness to it, and somehow each leaf was coated with the tasty marinade. I had my go-to Pascal staple: shrimp cassoulet. A decadent delight.
For entrées, we tried grilled sterling silver flat iron steak and coq au vin. Again, both dishes were practically perfect, and quickly disappeared from our plates.
For dessert, we shared orange crème brulee (which our favorite bartender, Sean, paired with a superb sauterne) and Pascal's famous petit chocolate soufflé.
The best thing about Pascal's OC Restaurant Week menu: the items are often available a la carte every day of the week.
Website: brasseriepascal.net.