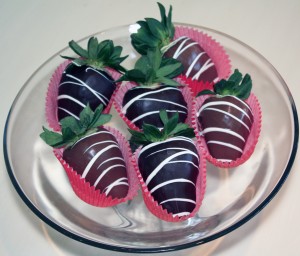 "Sweets to the sweet," wrote Shakespeare.
Even The Bard knew that simple sugary desserts are the perfect way to brighten someone's Valentine's Day. Wonderland Bakery and Island Hotel also know the advantage of indulging in decadent desserts, but their Valentine's offerings are anything but simple.
WONDERLAND BAKERY
Allyson Ames, 26, launched Wonderland Bakery when she was still in her teens. Anyone who's been to her colorful store at The Bluffs Shopping Center on Bison Avenue knows why her whimsical "Allyson in Wonderland" theme has become so popular.
Named the official bakery of Newport Beach and dubbed the town's official "Sweet Ambassador," Wonderland's fame has gone national. Ames created the official Inaugural Gala Cookie for President Obama and Major League Baseball's Official All Star Cookie, and Wonderland was awarded Best Gingerbread Cookie as designated by the TV show "The View."
But now through Valentine's weekend, Ames is offering an abundance of sweet treats that would make cupid put down his bow and arrow long enough to indulge his sweet tooth.
Among the many desserts are cupcakes decorated like a flower and dusted with edible glitter dust, heart cookies in a variety of shapes and themes sold separately or arranged in bouquets, and huge strawberries dipped in either white, dark or milk chocolate (you can also order them Kobe-style, so named for the special milk chocolate with pink drizzle strawberries that Kobe Bryant's wife ordered daily when she was pregnant).
Other goodies include French-style macarons, ruffle cakes, candy gift baskets, heart cookie decorating kits, and giant customized chocolate chip cookies.
All items can be shipped or ordered to go. Most are available same day, but don't wait until Valentine's evening to grab sweets for your sweet–Wonderland often sells out of their most popular items. Call (949) 640-9095 or visit WonderlandBakery.com.
ISLAND HOTEL'S COCOA LOUNGE
Fans of decadent desserts are celebrating the return of the Cocoa Lounge to the Island Hotel in Fashion Island.
Every February, Cocoa Lounge offers chocolate lovers and others with a sweet tooth an opportunity to indulge in a unique dessert buffet in a setting adorned with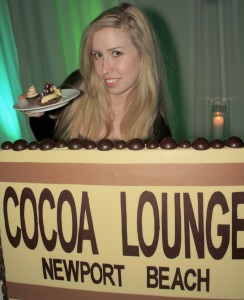 decorative chocolate showpieces and emotive decor. Located in the private dining room of the Palm Terrace Restaurant, this year's Cocoa Lounge has a bright, modern feel with the glow of romance.
My assistant, Catherine, and I got to sample the delicious delicacies in the Cocoa Lounge, including  specialty pastries, tarts, truffles, cakes, mousses and chocolate.
This year they added attended stations offering made-to-order crepes, homemade ice cream sandwiches, chocolate nachos, and caramel popcorn drizzled with chocolate.
Catherine loves her desserts, and offered these comments:
"The vanilla bean pots de crème with Guanaja chantilly was one of my favorites. It was sweet but still light without have an overwhelming amount of chocolate. Another interesting dessert was the white chocolate margarita mousse. It combined tequila, Grand Marnier and lime zest. It not only has a great presentation, but also a great flavor combination."
One of the desserts that we both loved was the white chocolate lemon truffles: white chocolate ganache and lemon extract shaped into balls and rolled in crystal sugar.
Cocoa Lounge runs through February 17, from 6 p.m. to 10 p.m. nightly. Cost is $12 per person with dinner, $18 per person for Cocoa Lounge only, and $50 per person with a choice of two drinks (wine, Champagne or port) or a flight (three 2-ounce tastings of wine, Champagne or port). Call (866) 554-4620 or visit www.islandhotel.com.