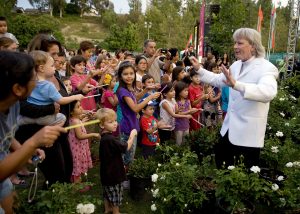 Pacific Symphony brings its "Symphony in the Cities" concert to Newport Beach on Sunday, August 14, thanks to a generous two-year title sponsorship gift of $10,000 from City National Bank.
"We're thrilled to welcome the Pacific Symphony to our Civic Green and very much appreciate City National Bank for serving as the concert's title sponsor and embarking on an exciting new partnership with the City of Newport Beach and our City Arts Commission to bring world-class arts and cultural events to our community," said Newport Beach Mayor Diane Dixon.
City National Bank responded to an appeal from the City Arts Commission, which encourages public-private partnerships in support of the arts in Newport Beach. 
"City National Bank's generous support of the arts in Newport Beach shows their understanding of the importance of public art and the significant enrichment it brings to our community," said newly-elected Arts Commission Chair Lynn Selich. "Our hope is that other companies, organizations and individuals in the community will follow their lead. As one of the City Commissions responsible for making solid recommendations to the City Council, this level of support is key to the City being able to offer world-class art and performances that are well-aligned with our world-class city."
Pacific Symphony is the largest orchestra formed in the U.S. in the last 50 years, and was recognized in a 2010 study by the League of American orchestras as one of the country's five most innovative orchestras.
"City National is very excited to sponsor and help bring such a great event to Newport Beach," said Bob Iritani, executive vice president and Orange County regional executive for City National Bank.  "And we are looking forward to being the presenting sponsor again next year." 
The concert on August 14 will begin at 7 p.m. outdoors on the Civic Center Green. The Symphony ensemble of over 60 musicians,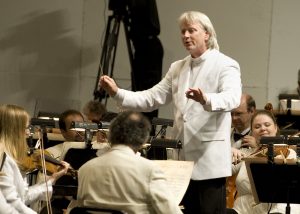 led by musical director Carl St.Clair, will play a repertoire of people-pleasing favorites, ranging from Tchaikovsky masterpieces and rousing marches by John Phillip Sousa to songs from the enchanting musical "South Pacific."
Families are encouraged to arrive early for pre-concert entertainment and an interactive Musical Playground beginning at 5:30 p.m., plus a special chance for kids to conduct the orchestra with Music Director Carl St.Clair.
Admission to the concert is free and free parking is available in the Civic Center parking structure. Concert goers are encouraged to bring a picnic dinner or purchase food and refreshments from food trucks that will be on site. Attendees should also bring low-slung beach chairs and blankets for the outdoor event.
For more information about concert sponsorship or cultural arts programs in the City of Newport Beach, please go to the City's Cultural Arts webpage at newportbeachca.gov/CulturalArts, or send an email to [email protected]