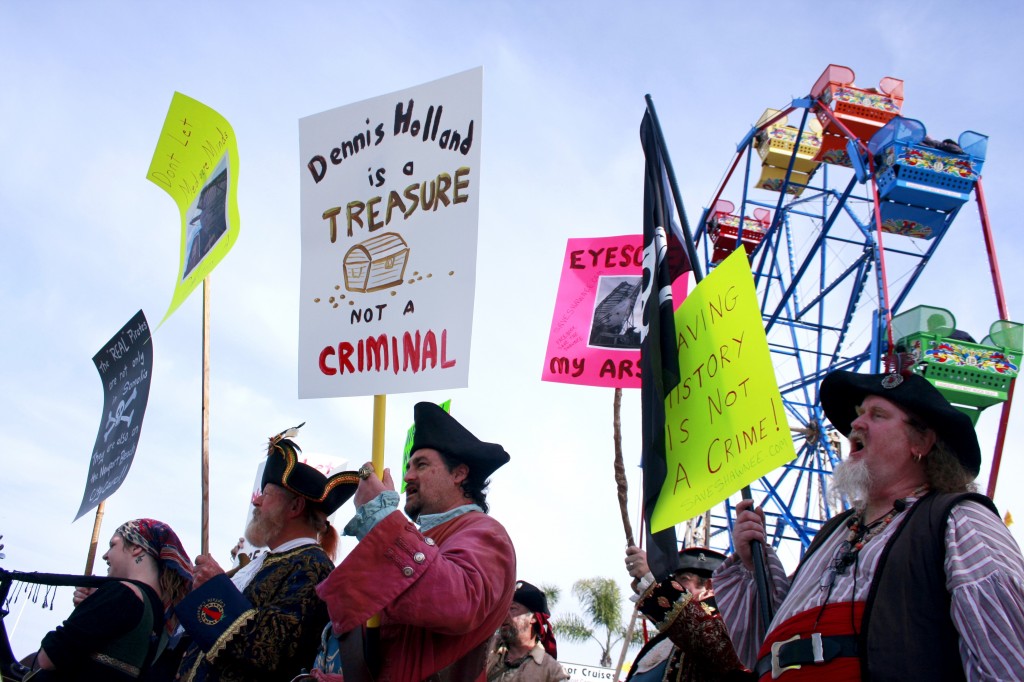 A motley crew of pirates took over the Balboa Fun Zone this weekend.
Dressed in captain's hats and coats, and adorned with feathers, gold rings, eye-patches and bandannas, more than a dozen pirates gathered near the Ferris wheel around 3 p.m. Saturday and waved signs in support of Newport Beach shipwright Dennis Holland and the Shawnee and in protest of the city.
The buccaneers also passed out fliers and spoke about saving the historic tall ship that Holland has been restoring in his backyard for the past six years. Earlier this month, a judge ordered the shipwright to move the 72-foot wooden ship by April 30 or face fines and possible jail time.
The pirate community isn't savvy with the city's ordinance that bans the ship or the judge's decision. They voiced their displeasure with a few songs aimed at the city council and signs that read "Don't let Newport Beach plunder it's own treasures," along with "Don't let mediocre minds destroy a great ship" and "Eyesore my Arse!"
The pirates came from all over Southern California to show their support for Holland, who arrived via ferry with his wife, Betty.
Read more about the controversy and the history of the ship here.