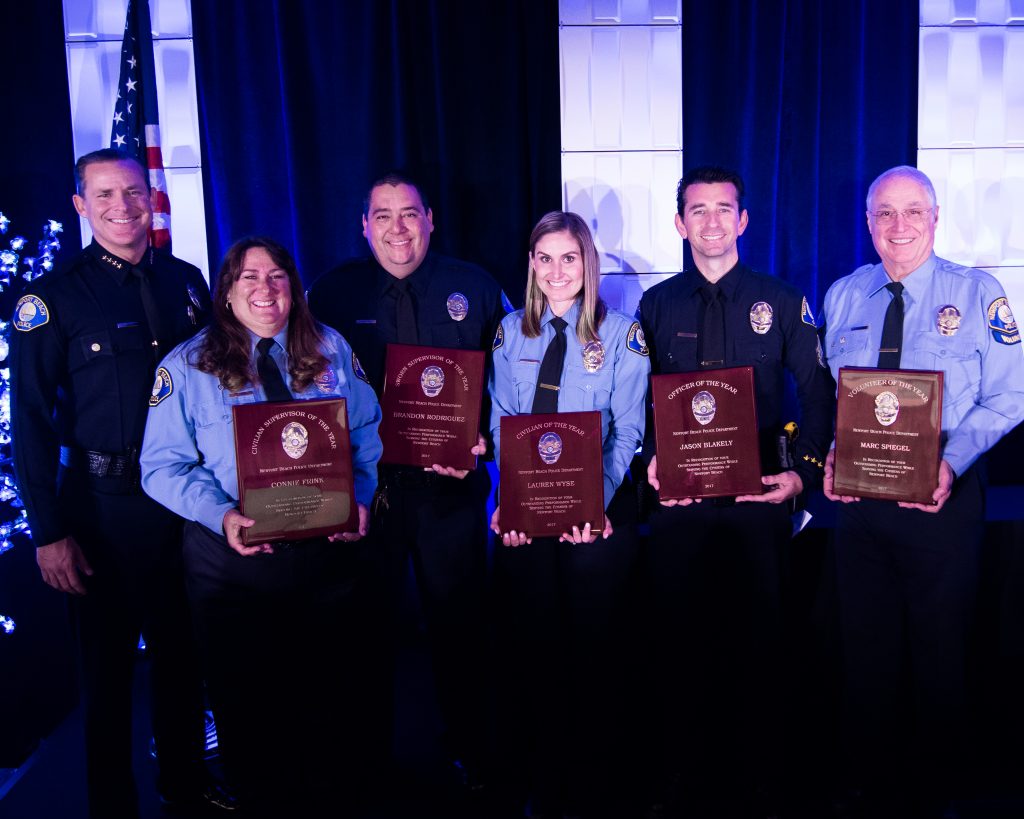 A large police presence was seen at the Hyatt Regency Newport Beach on Thursday morning, but there was no cause for concern, it was an event of celebration and gratitude.
The 47th Annual Newport Beach Chamber of Commerce Police Appreciation Breakfast awarded 19 men and women from the local police department for their service. Friends and family of the honorees also attended the breakfast to cheer them on.
"Our police department not only serves as law enforcement, but also as city ambassadors to the many visitors our city sees," stated Craig Batley, Chamber of Commerce Chairman of the Board and Chairman of the 2018 Police Appreciation Breakfast, during his introduction.
The sold out event was attended by local dignitaries, like State Assemblyman Matt Harper and Orange County District Attorney Tony Rackauckas, as well as past and present City Council members.
Mayor Duffy Duffield, who presented the awards with Police Chief Jon Lewis, lauded the honorees.
"To the winners, congratulations. You are the best of one of the best departments in the state," he said during the Mayor's Greeting.
Duffield went out of his way to say that he has been known to get teary-eyes during police breakfasts in the past, and that he genuinely enjoys them.
"This is such a fun thing to come watch," he noted.
Lewis in turn, thanked the city.
"We are sincerely grateful at all levels for the support we have from the community, which is a community like no other," he said of Newport Beach. "It is truly an honor to serve you."
He also took time to acknowledge those who surround and support police officers.
"It's important that we recognize our families, our police families, who stand faithfully behind the badge. Every act of heroism and service you hear about would not be possible without our police families," Lewis said.
Narrating the award presentations was veteran newsman Keith Morrison of "Dateline NBC." Morrison, who famously covered the 1989 protests in Tiananmen Square and hundreds of world events since, brought equal parts gravitas and humor with his familiar voice.
"The work done by the men and women, when they put in the extra effort, are among the finest people anywhere," he said, noting that police departments face a lot of challenges in today's society.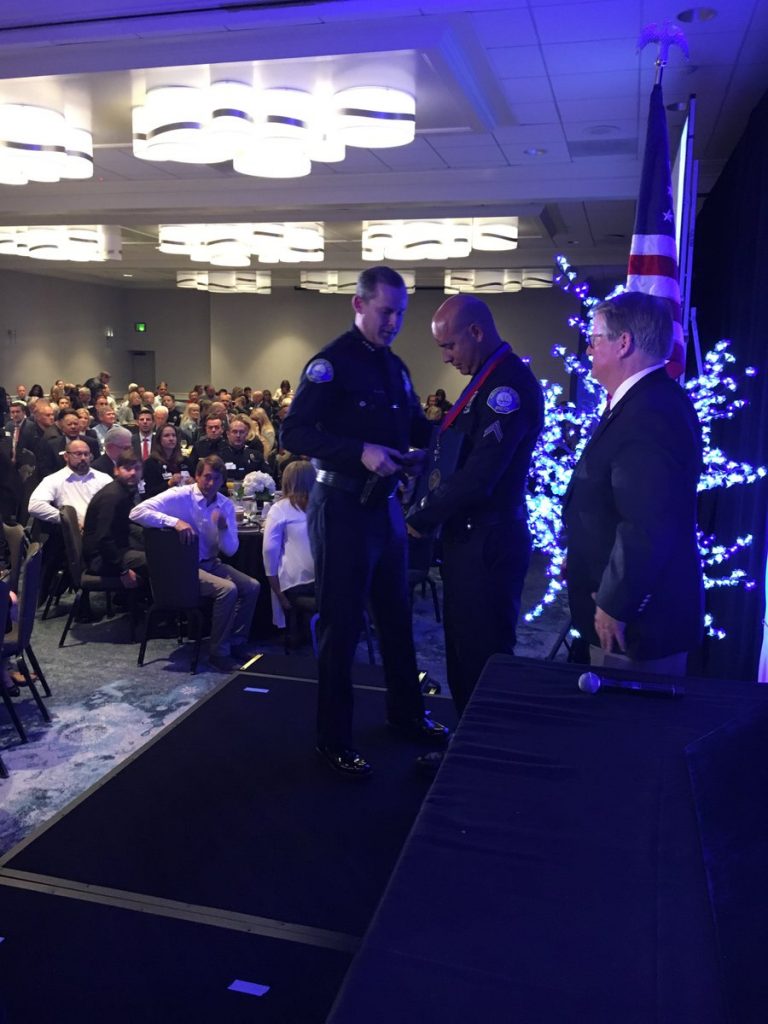 "Their work is oft criticized, but not here. And not today," Morrison said.
He went to share the dramatic stories of lives saved and crimes solved, perhaps none more known that that of Officer Troy Zeeman, who along with another off-duty police officer, saved lives at the Route 91 Harvest Festival in Las Vegas last October.
When shots from the 32nd floor of the Mandalay Bay Hotel rained down on the 22,000 people watching Jason Aldean perform, Zeeman led his wife and 23 others into a dark place to hide.
While guiding them to cover, Zeeman was shot in the right thigh, but he stayed with the group to ensure their safety. He did not seek medical attention for his own gunshot wound until five hours after the event.
For his heroic actions and saving multiple lives, Zeeman was awarded the Medal of Valor, a very rare honor in any department.
Eighteen others were honored with awards. Mental Health Clinician Peg Peterson and Reserve Officer Steven N. Schogel were awarded Chief's Citations. Lifesaving Awards were presented to Officer Mark Fasano, Officer Rachel Cox, Officer Bill Hume, and Officer Ricardo Adame.
Medal of Merit Awards were given to: Sergeant Josh Comte, Sergeant Brad Miller, Officer Jonathan Jarema, Officer Chris Kimble, Officer Jeremy Duenas, Officer Dennis Maisano, and Officer Steven Oberon.
Marc Spiegel won Volunteer of the Year, while Dispatcher Lauren Wyse won Civilian of the Year. Connie Frink was awarded Civilian Supervisor of the Year, Sergeant Brandon Rodriguez won Sworn Supervisor of the Year, and Officer Jason Blakely was Officer of the Year.