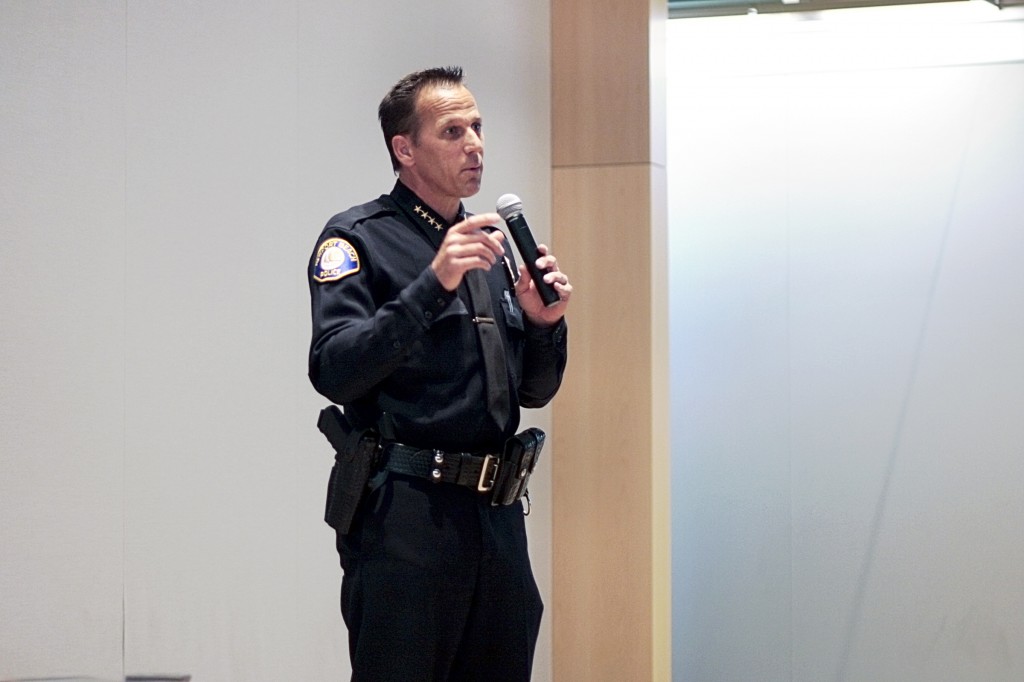 Crime in Newport Beach is at an all time low, Newport Beach Police Department Chief Jay Johnson said this week, but there is always room for improvement.
Johnson spoke at the monthly Speak Up Newport meeting Wednesday night. The community room at the civic center was about half full as Johnson covered a variety of safety and security issues concerning Newport Beach.
Statistically, Newport Beach is one of the safest communities in America, he said.
"Even though we are as safe as we are, I'm never happy," Johnson said. "I think we can always do better."
In 2010, crime was lower than it had been in several decades and it has dropped even lower in the last two years, he said.
As of last week, crime rate in the city is dead even with last year's numbers, the lowest it's ever been in the city's history, Johnson said.
Still, residents often comment that they felt safer back in "the good old days," he said.
"The fact is you are much safer now than you were 50 years ago," Johnson said, in Newport Beach and in California.
It may feel more dangerous now because of the internet and social media, he continued, and people hear more about crime than ever before.
But it could be better.
Property crime makes up for 96 percent of the city's crimes. There are about 2,300 thefts a year, he said.
More than 80 percent of the city's thefts are preventable, he continued. Residents can prevent many thefts by locking their car doors, home's doors and windows and leaving all bags and valuable items out of plain sight. There is very little violent crime in Newport Beach, he added.
About 76 percent of people arrested are from out of town, he noted.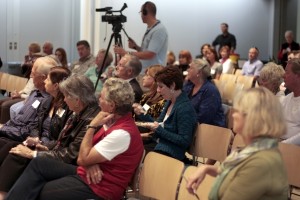 The impact of all this crime, though low compared to neighboring cities, is costing the community $10-12 million per year, Johnson said.
"Because of theft. Simple theft," he said. "And it's one of the easiest crimes to prevent."
A thief stealing any item out of an unlocked car is a petty theft while stealing that same item out of a locked vehicle is a felony, Johnson explained.
Criminals know that, he said, they'll go from car to car checking doors.
"First and foremost, lock your car," Johnson advised. "If you lock your car, 80 percent of the criminals will go somewhere else."
But even with locked doors, thieves can still get in. It only takes about 10 seconds to break the window, steal an item and flee the scene, the chief warned. So keeping valuables, bags or other items out of plain sight is also important to deter thieves.
At home, locking doors and windows will help discourage criminals.
They want an easy target, Johnson explained.
Johnson also spoke about prisoner realignment (AB 109), which shifts responsibility for low-level offenders and parole violators onto county jails instead of state prisons. Because of this, there are a lot more career criminals out on the streets, he said.
The police chief also discussed about quality of life issues like vandalism and homelessness. He went on to answer questions regarding disturbances created by drinking establishments, working with private security, cyber crime and ID theft, coyotes and more.
He also commented on budgeting for the department. The first year Johnson came on board, NBPD came in under budget by $1.9 million, he explained to the crowd. Every year since then the department has been cutting the budget and still coming in under, he added.
"We're not only reducing crime, but we're doing it cheaper," Johnson said. "We're (working) smarter, not harder, and crime has been reduced."
For more information, visit speakupnewport.org.