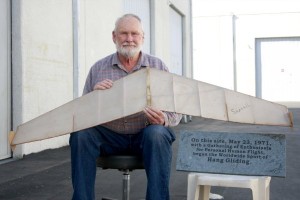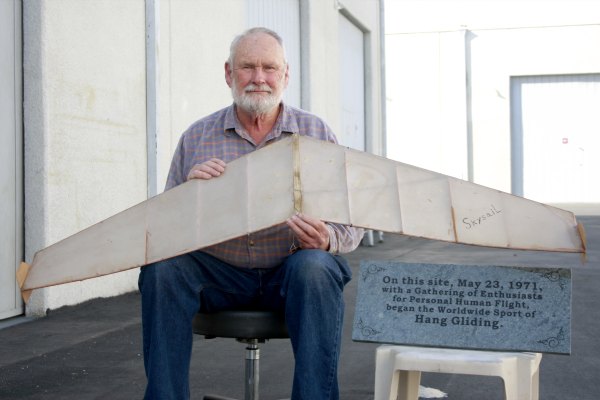 A monument memorializing the Newport Beach birthplace of hang gliding moved closer to being placed at San Miguel Park, following a decision by City Council on Tuesday.
After a few comments by the public introducing the idea, the council decided to forward the proposal on to the Parks, Beaches and Recreation Commission, which will research the matter and report back to the council.
Newport Beach Historical Society President Gordy Grundy spoke during the meeting, saying he wanted to share something "legendary" about Newport Beach with the council and said it's something all residents can be proud of.
"Hang gliding was born," here in Newport Beach, Grundy said. "This is part of our history. This is something to celebrate."
Gordy was talking about the first time a group of hang gliders ever got together for a meet. On May 23, 1971, a group gathered on a hill near the park in honor of Otto Lilienthal's 123rd birthday. Lilienthal was a German pioneer of human flight, known also as the "Glider King."
Engineers, aviators and daredevils took to the sky for the very first time on that day on a hilltop in Newport Beach, Grundy said.
The adventurous bunch strapped themselves into handmade personal aircraft and launched themselves off the hill and into history.
The event kick-started the modern sport of hang gliding, Grundy said.
"Beyond the fun – and fun is key – design, innovation and new technologies have pushed mankind to simply do what we have never done before," Gordy said. "Man can fly."
Gordy went on to say that hang gliding is the most natural method for humans to take to the air.
Frank Colver, a Newport Beach resident, and one of the original "birdmen," also spoke at Tuesday's meeting and showed photos from that first meet. He also brought the February 1972 issue of National Geographic that featured the event.
Colver proposed that a plaque, already made and engraved, be placed in a prominent place in San Miguel Park.
The engraving on the plaque reads: "On this site, May 23, 1971, with a gathering of enthusiasts for personal human flight, began the worldwide sport of hang gliding."
"I think that's a capital idea," Councilmember Keith Curry said. "I think it's a wonderful memorial to this historical achievement."
Colver would ideally like the monument could be installed before May 23, the 41st anniversary of the original Otto meet.
"People around the world want to see this happen," Colver said last week. "We're interested in preserving a piece of history."