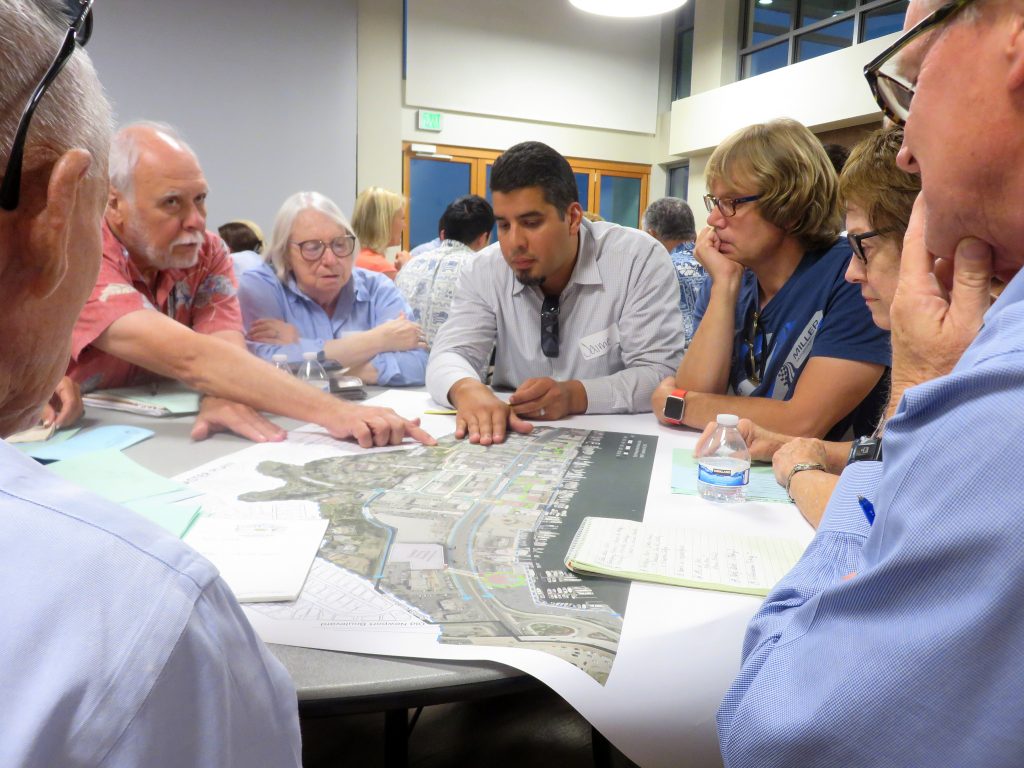 Another community workshop meeting about the Mariners' Mile Revitalization Master Plan was held Monday at Marina Park.
The workshop was part of a special meeting of the Planning Commission, who participated in the discussions with the public and commented on ideas for the plan.
"I'm excited about this," Commissioner Bill Dunlap said. "I look forward to this unfolding in the future."
According to the staff report, Mariners' Mile has been identified by the city as an area needing revitalization. Newport Beach is now evaluating existing land use policies and regulations. The Mariners' Mile Revitalization Master Plan is intended to identify potential refinements or barriers to revitalizing the area.
Woodie Tescher, a principal at PlaceWorks, the consultant for the master plan, gave a presentation on initial ideas for the master plan before the audience, commissioners, and PlaceWorks and city staff broke into small groups for further discussion.
Some of the main topics included streetscape improvements, parking, pedestrian and bicycle movement, traffic, height limits, views and pedestrians/walkability.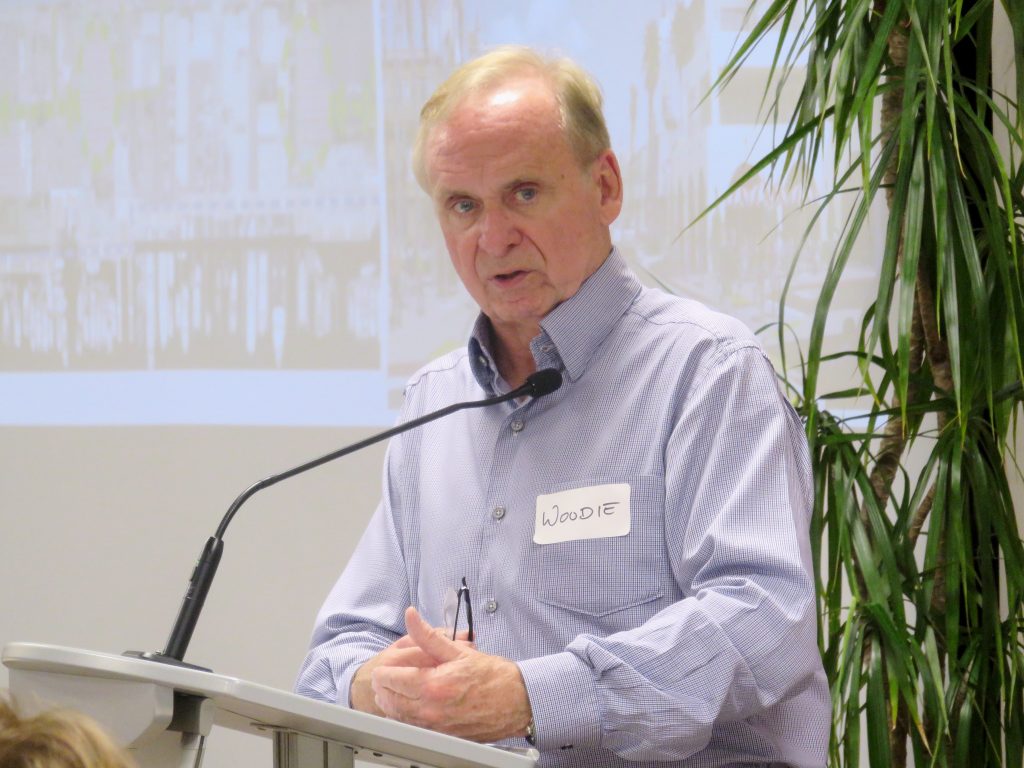 The master plan aims to set guidelines in place to provide parameters for future applicants that come to the city requesting a development project, Tescher explained.
"Basically, it's a checklist by which a project would be reviewed," he said.
This process reflects the notion that Coast Highway will, someday, likely be six lanes wide, Tescher said.
Commission Vice Chairman Peter Koetting expressed concern about the idea of six lanes and whether or not the extra lanes were really needed.
"If that's going to happen, that changes the concept in my opinion," Koetting said.
Tescher emphasized that the topics being discussed are just ideas and that disagreement or other feedback will help them work on the plan moving forward.
The principal themes for the vision of Mariners' Mile, as outlined in the PlaceWorks presentation, include: Enhance the vitality of the area for both residents and visitors, create distinct centers, recognize and improve the harbor frontage, form pedestrian-oriented spaces, streetscape amenities, maintain and enhance view corridors, and more.
"There is a deep history of the basic vision about what this area (should look like)," Tescher noted.
The aim is to make the area more "walkable" and "village-like," he said.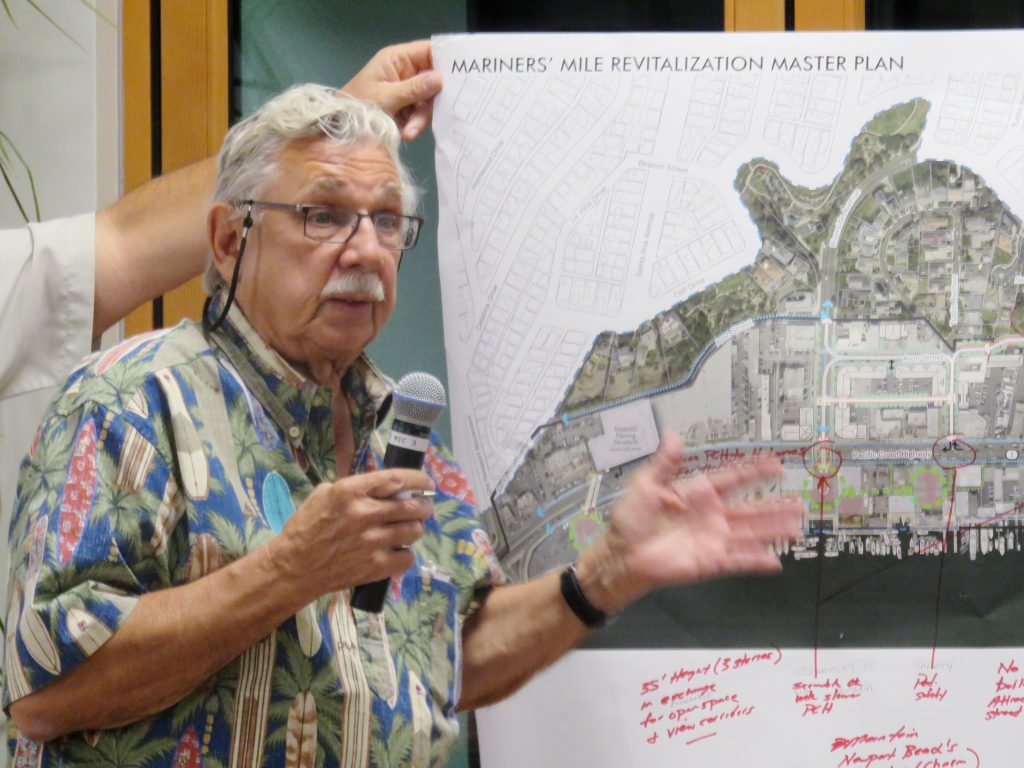 Concepts of shared streets (slower movement and access to include vehicles, bicycles and pedestrians) and "pedestrian scrambles" (intersections that allow pedestrians to cross any direction – including diagonally – while all vehicle traffic stops) were some of the main ideas discussed.
Most of the public speakers who commented on these two ideas tended to support them, but safety was a concern and several noted that they would have to be carefully thought out before implementation. Overall, speakers agreed that the pedestrian scramble concept could work well.
Pedestrian bridges were also mentioned (and liked by most public speakers) as an idea to improve walkability and encourage pedestrians to visit the local businesses and enjoy the harbor frontage.
It's about "creating connectivity," Tescher said.
Tescher pointed out two possible locations for parking garages during his presentation, both of which would include "green" roofs, one on the lot between Newport Theatre Arts Center and the Holiday Inn and the other on Coast Highway and Santa Ana Avenue, next to Sterling BMW.
He also asked the audience for feedback on other strategies to manage parking in the area, like an employee program or drop-off and pick-up locations.
Tescher also commented on the space availability for any future mixed-use projects. A couple of levels of housing or retail won't physically fit in the space with the height limits, he noted.
"The reality is, because of building height restrictions, that any housing or commercial that is actually a mixed-use project is going to have to be horizontally distributed," Tescher said.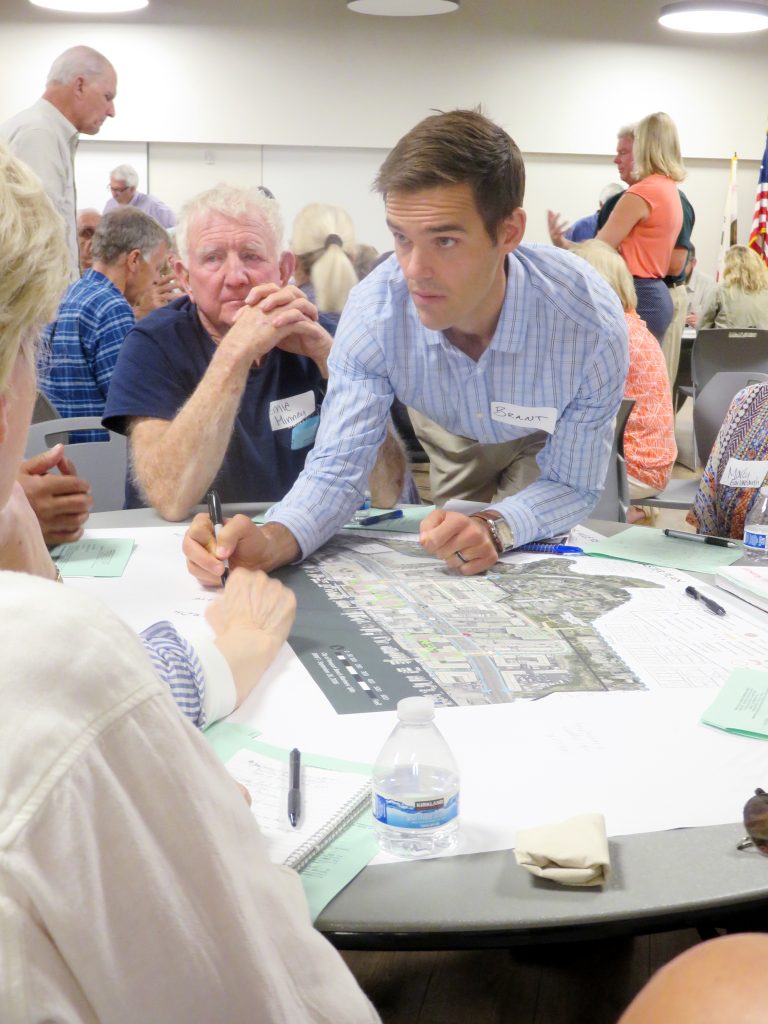 He also mentioned a boardwalk, possibly a water taxi, and adding a public dock.
After the presentation, the crowd broke into small groups of about five to 10 people to discuss ideas. During the group breakout discussions, people raised concerns about parking, private property rights, bicyclists, views, and much more.
Summarizing each group's discussion, public speakers mentioned ideas and concerns about protecting and enhancing views, using a nautical design theme, traffic heading onto Cliff Drive, support and concern about the village-like concept for the Avon Street area, and more.
A few new ideas suggested by audience members or commissioners include an elevated boardwalk, undergrounding Coast Highway, and undergrounding two levels of a parking garage.
Commissioner Bradley Hillgren spoke about what he took from the small group discussion he participated in, which included protecting and expanding views, desire for a "place" for people to enjoy, traffic on Coast Highway, and the appropriate use of the area.  
"Are we going to go from Mariners' Mile to Motor Mile?" Hillgren noted as one of the questions raised during the discussion.
Other commissioners noted the importance of creating a place they are all proud of and also practical, carefully consider both residents and visitors, and creating a village-like atmosphere on the inland side, and safety.
For more information, visit newportbeachca.gov/trending/projects-issues/other-important-issues/mariners-mile-planning-charrette/mariner-s-mile-revitalization-master-plan