As I write this column, it is the last non-school night for our family. My newly minted high school freshman has completed registration, toured the campus, played in his first "real" football game, and will now officially begin his high school career.
Did I mention that his schedule necessitates taking a zero period? Which starts at 7 a.m.? Seriously, this kid is lucky I like him.
Our two younger boys still have one glorious week left of summer – while it is a summer during which we have to get up to take their brother to school in the dark, it is summer nonetheless.
Once we have squeezed in the final beach day, and made the annual trek to the school fence to read the class lists and discover whom they will be sharing a teacher with this year, real life will settle in.
Gone will be the days of leisurely waking up at 8:30, but in their place will return the days of structure. Maybe, just maybe, this will also mean a little more time for mom to relax.
Just today, my husband told me that I was too stressed, and needed to cut something out – a thought that I replied to ever-so-sweetly, in a completely unstressed manner, by asking him just exactly which thing he wouldn't like done anymore.
After establishing that it simply is not possible for me to cut anything out of my schedule, I'm hoping that the same result can be achieved by adding something in. And so, like the recently departed Neil Armstrong, I am planting my flag in previously uncharted territory and claiming mom-time.
What exactly is mom-time you ask? Well, as I envision it, it will be a magical period occurring in between drop-off and daily crisis #1, where I will lounge around in clothes that are much too comfortable to wear to carpool, and enjoy –gasp- a book for which the reading level has exceeded middle school. There may also be bon-bons involved.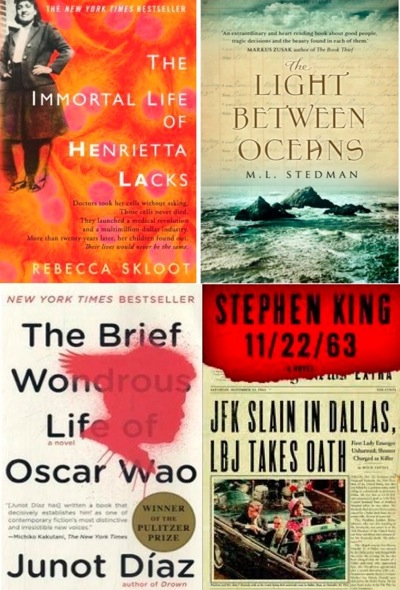 Whenever I come across a book that intrigues me, I add it to The List. A mobile entity, The List is tucked away as a note in my phone, so that I can add to it whenever something strikes my fancy. I like to review its contents frequently, and remain tantalized by the stories it promises to share.
The List, however, has become unwieldy. It is like a garden that needs to be pruned, and mom-time is just the way to do it. No longer will this list be the vacation brochure, stuck to the side of the fridge, whose crystal clear waters remain unexplored summer after summer.  This momma is diving in!
Here are just a few of the titles I intend to wade through:
"The Immortal Life of Henrietta Lacks" by Rebecca Skloot
"The Forgotten Garden" by Kate Morton
"A Walk Across the Sun" by Corban Addison
"11/22/63" by Stephen King
"Gone Girl" by Gillian Flynn
"The Brief Wondrous Life of Oscar Wao" by Junot Diaz
"Daughters for a Time" by Jennifer Handford
"The Light Between Oceans" by M.L. Stedman
Of course, this is just a sampling of what The List has to offer. There are enough titles to keep mom-time running indefinitely. Granted, you'll have to check back with me in a couple of weeks to make sure that those precious hours haven't been filled with uniform washing, or classroom volunteering, or let's be honest, sleeping.
Provided things go as planned however, (and every mom knows they always do,) you will find me on my pillow, good book in hand at least a couple hours a week.
Mom-time is here, and The List is taking recommendations.