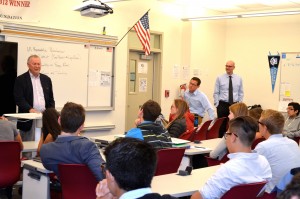 By Tim J. Randall | NB Indy
In an exclusive, wide-ranging interview during the congressional holiday recess, Rep. Dana Rohrabacher, a 13-term member of the House of Representatives, discussed local and global topics including terrorism, immigration, San Onofre, the FAA, his favorite surfing sports and other topics. The conservative 68-year-old is from Huntington Beach; his coastal district spans Seal Beach to Laguna Niguel.
Domestic Terrorism
The recent horrific attacks by terrorists on innocent civilians in San Bernardino incited national outrage. Rohrabacher dismissed the suggestion that the murders were due to a lack of gun control, noting that the killers possessed bombs, which they could have used to massacre considerably more people.
"If there was gun control to the extent that is being advocated, terrorists would understand that if they could get their hands on guns they could control every situation," he said. "This would lead to a huge amount of death."
On the larger issue of gun control, the congressman sees the central tenet as one of deterrence. He advocates for issuing more permits for firearms to responsible individuals who can handle a weapon.
"I keep getting questions and messages asking how many people are killed in your district from guns every year, and I say I don't know the exact number, but it sure would have been a lot more if the honest people were disarmed," he said.
International Terrorism
Islamic extremists are the common element behind the attacks in San Bernardino and other terrorist attacks, such as the slaughter of 140 civilians in Paris in November, Rohrabacher pointed out.
"We are in a war with radical Islam, but this is going to be totally different than what we have conceived of in the past," he said. "We have people who are acting and are being encouraged and educated to act in a terrorist manner."
Rohrabacher, who sits on the House Committee of Foreign Affairs, believes that terrorist groups such as the Islamic State can be traced to the failure of leadership and policies of the Obama administration.
"We are dramatically more at risk; his leadership has taken a bad situation and turned it into a catastrophe," he said. "We are on the edge right now of major terrorist attacks. The president has bolstered the position of those that hate the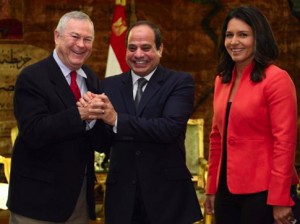 United States, and has undermined the authority and position of those that would ally with the U.S. who are not perfect, but mean us no harm and add to our security."
Rohrabacher cites Obama's support of Egypt's former President Mohamed Morsi, who was allied with the Muslim Brotherhood but removed from office in 2013, as an example of failed leadership.
Immigration and National Security
The congressman jumps on the topic of illegal immigration as first and foremost an issue of national security.
"It has not escaped these evil terrorists around the world that our southern border is an open door and this is a way to bring terrorists into the U.S without being discovered," he said. "This has been occurring for a decade or more, and now that the radical Islamic war is heating up we better pay attention."
Rohrabacher wants to strengthen border security significantly, but also bolster  immigration and migration by screening people seeking entry. He returned to the perpetrators of the San Bernardino attack, noting that Tashfeen Malik was granted entry to wed U.S.-born Syed Rizwan Farook, but that there undoubtedly was insufficient background checking of Malik.
The congressman cited the sentiment that emerged from a recent meeting with senior intelligence officials in Washington D.C. that background checks on individuals entering the country cannot be accurate.
"I asked them if they had ever considered using lie detector tests," he said. "Ken Kalvert, congressman from California's 42nd District, came up with the original idea and I picked up on it. There is no reason in the world we cannot ask someone is this your real name, have you ever assisted with any organization that endorses violence to achieve their goals, and have you ever been involved with a radical Islamic group."
Acknowledging that the tactic is effective only 80-90 percent of the time, Rohrabacher says that the process would be far more effective than doing nothing at all. Rohrabacher is a co-sponsor of a bill with Kalvert that would implement this procedure.
Rohrabacher also is the author of a bill which would prioritize the processing of migrant Christians and Yazidis that are targets of genocide and fleeing their homeland.
"We have been bringing in thousands of people and under 500 of them are Christians. It's horrible," he said.
Asked about welcoming Syrian refugees to the U.S., Rohrabacher thinks unless they are Christians, they should be provided sanctuary in Turkey, Tunisia or Saudi Arabia where they can stay until they can return home.
"It is better to keep them in the Middle East as part of a culture they identify with, rather than bringing them into a hostile culture here," he said. "It costs eight times more to bring a Syrian refugee here; for an eighth of that cost you can take care of them in Muslim countries and we are not vulnerable."
Illegal Immigration
Rohrabacher does not support mass deportation of illegal immigrants already residing in the U.S. as a logical remedy.
"The American people do not have the heart and soul to deport large numbers of people," he said. "The most important thing now is stopping illegal immigration and stopping this stupidity of the idea that people who are not even citizens and came here illegally can vote…and collect education and health care benefits."
Rohrabacher wants a robust E-Verify system to ensure that only American citizens receive government benefits, and that employers are not gaming the system to hire cheaper labor.
San Onofre
As for San Onofre, Rohrabacher, who serves on the House Committee on Science and Technology, acknowledged that while the plant "served us well, it was always too dangerous."
Instead of storage options for radioactive nuclear waste either at a local or national repository, Rohrabacher contends technology holds the solution.
"What I am trying to do is promote the development, placement and installation of the next generation of nuclear reactors that eats the waste that is left over from the old reactors," he said. "If it cost millions of dollars to oversee the waste at San Onofre, let's use that money to develop the next generation of technology."
Rohrabacher is already working with countries such as Ukraine, which spends $250 million per year on waste storage, on ideas to develop this technology.
"Having a depository whether in Nevada, Arizona or in the California desert is a lot more expensive and dangerous than you think," he said. "When you transport this material it goes from being dangerous to hyper-dangerous."
 John Wayne Airport
Rohrabacher is aware of noise complaints about commercial aircraft flying over beach cities, including Laguna Beach and Newport Beach. Residents contend flights are deviating from their FAA flight plans, which call for the aircraft to track over the least inhabited areas after takeoff before changing course toward their destination. Rohrabacher indicates he has had several meetings with FAA officials.
"I certainly would permit my time, energy and staff to see if there was a better way to do this," he said. "If people want to come in and talk to me about it and say here is the plan that works for the most number of people, I would be very open-minded to that."
Re-election Time
Up for re-election again in 2016, Rohrabacher raised $449,210 as of Sept. 30, and had spent $236,912, according to opensecrets.org, a website that tracks campaign spending. His top five contributors are Clos De La Tech, a Santa Cruz vineyard; Signal Hill Petroleum, a well-drilling contractor; Philatron Wire & Cable, a Santa Fe Springs wire maker; Callahan & Blaine, a Santa Ana law firm; and Aeros Aeronautical Systems, a Montebello defense contractor.
The congressman won 64.1 percent of the vote in 2014, an off-year election, and 61 percent of the vote in 2012 when Obama was re-elected.
Final Thoughts
Rohrabacher takes pride in his efforts to turn the medical marijuana issue into a state's rights issue.
"It is a huge victory for those states that had legalized medical marijuana," he said. "The federal government cannot come in and try to supersede state law."
On other fronts, the congressman led the fight against patent reform that he indicated would be destructive to the small inventor.
"In reality this makes it harder for small inventors to protect their patents and easier for big corporations to steal them," he said.
As for the 2016 election, the 48th District congressman is endorsing Ted Cruz as the nominee of the Republican Party.
"He is a brilliant guy who does not have to be obnoxious to get attention," he said.
Aa a longtime surfer, what is Rohrabacher's current favorite surf spot?
"For 25 years as I was really into heavy surfing, but I wore away the cartilage in my shoulder and have horrible arthritis," he said. "My wife and I over the years loved to go to Bolsa Chica (Huntington Beach), but outside the district I really liked Tourmaline in San Diego."