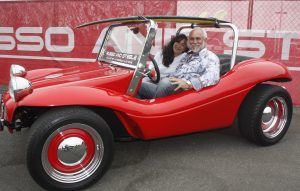 The Russo and Steele automobile auction is coming to Newport Dunes this weekend, and as they enter their fourth year they have learned what makes Newport unique.
"It took us a while to understand the Newport market, and we concluded that this really is a community event," said Darin Roberge, marketing director for Russo and Steele. "Between the weather and the long history of car collecting and custom modifications in Southern California, we seem to draw more of a local audience than in most of our other locations. And Southern California has not always been friendly to the car auction community."
Those locations included moneyed areas like Scottsdale and Monterey, so we are indeed in privileged company. These other locations seem to draw more international customers than local flavor.
Drilling down the Southern California car scene even further, we find that there really is an epicenter, and Newport seems to be it. According to Roberge, we have some of the best car collectors and the best cars in the world all jammed into just a few square miles. Between European high end sports cars, American muscle cars and classic hot rods, we have it all.
Some of those cars will be on display and available for sale at this years' event, which is the companies 15th year in business.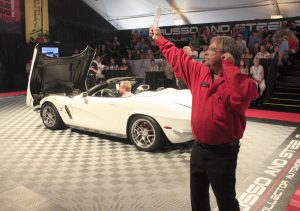 Being part of the community is important to Russo and Steele, and that is taken care of by owner Drew Alcazar and his wife, Josephine, who have been residents of Lido Island for several years.
A celebration of Southern California car culture is what the Russo and Steele show brings to the Back Bay. Automotive fans will salivate at the featured cars on the auction block.
"Newport is unique," Roberge noted. "Some of the most beautiful collectibles in the world are being driven around this town as a daily ride! Between the temperate dry weather and the legacy of tooling around the street in nice wheels, this town typifies usable and beautiful cars."
Roberge makes a good point. In Newport Beach, you could find a classic 356 Porsche Speedster parked next to an XK120 Jaguar next to a split window Vette next to a Morgan- all at the local grocery store.
When asked to name the top three cars that will be on display, Roberge balked since there were "so many more than three," but shared some of his faves.
Among the 350-400 cars for sale, he said the 1979 Porsche Turbo Coupe, which was one of the last 50 USA production cars built, should be a crowd favorite. It is a one of a kind due to being a "paint to sample" pearl yellow-gold color and was fully restored in 2014.
The 930 turbo Porsche's are really hot and have been appreciating like crazy, Roberge said.
They also have a 1967 Shelby GT 500, white over black, and carrying a 428 police Interceptor engine, which is "utterly savage!" This is one of at least six Shelby Mustangs on the block this weekend.
Getting to the less exotic yet no less interesting, they have a 1970 Stage I Buick convertible, one of only 232 built. Packing 455 cubic inches of horsepower, the limited edition car pushes out almost 400 horsepower. As a side note the original invoice with a price of $4,435.93 from an Ohio dealership dated September 24, 1969 is part of the package.
No matter what your tastes, from the exotic, to the powerful, to the unique, Russo and Steele will have something for everyone. As many efforts to integrate mass transit have failed in Southern California, the car will always rule. This may be the best place to find your next ride!
The auction begins each day (June 10-12) at 10 a.m. and runs until early evening. General admission to the public to check out the cars and watch the auction is $30 Friday and Saturday, and only $10 on Sunday.
For more information, including potential bidders, visit RussoandSteele.com.