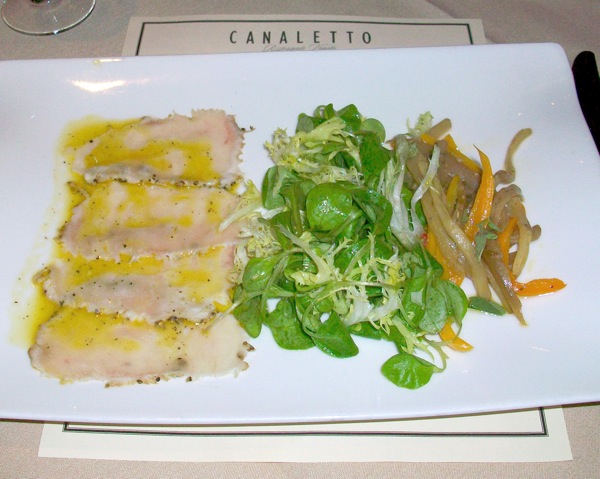 "Ciao, bella," I said to my editorial assistant, Catherine, when she arrived at the office.
"Ciao," she replied. "Is there a reason we're speaking Italian today? Have you been watching Italian movies?"
"No, just getting in the mood for tonight's San Marino wine dinner at Canaletto restaurant."
"I spent several months in Italy, so I can't wait to taste some authentic Italian cuisine."
"After looking at the menu, this appears to be as authentic as they come," I told her. "And, believe it or not, while I've attended many wine dinners, this is my first one that pairs Italian food with Italian wine."
"Mine too – other than what I had in Italy, of course."
"The wines for this dinner are from San Marino, a small enclave in Italy. I've been doing some research. The region is known for Tessano, Biancale and Roncale varietals – all unfamiliar to me. So, this wine dinner will be both tasty and educational."
Upon arriving at Canaletto, we joined an enthusiastic throng of 40 fellow foodies who were feasting on appetizers and sipping prosecco.
We sampled the mini crab cakes with smoked paprika, eggplant rolls with goat cheese, traditional Prosciutto e melone, and mixed olives marinated in spicy oil. We agreed that while we liked them all, the eggplant with goat cheese made our taste buds stand at attention.
Once in the dining room, we received an introduction to San Marino and its wines from a wine representative, and then the meal got underway with an antipasto course: Insalata di Pesce Spada (pan seared swordfish with frisee salad, roasted mixed peppers, and lime dressing), paired with Grilet, Vino Frizzante, which we learned was a combination of Biancale, Chardonney and Sangiovese.
"The pairing of the Grilet with the swordfish really brings out the pepper and citrus flavors in the dressing," noted Catherine.
Up next were two pasta dishes: garganelli pasta tossed with Ahi tuna confit, dill, raisin, pine nuts and fresh tomatoes, and Yukon gold potato and parmigiano gnocchi tossed with basil pesto and toasted pine nuts. Both dishes were paired with 2008 Roncale Bianco 2008.
"The garganelli pasta is cooked perfectly – not too soft or too hard," said Catherine. "The Roncale Bianco brings out the pine nut flavor in the dish. But I don't think the Roncale pairs as well with the pesto gnocchi. It's a bit overpowering compared to the lighter flavoring of pesto."
"Ummm … sure," I mumbled between forkfuls of pasta.
We had a choice of main courses, so I selected the baked Alaska black cod with gaeta olive, heirloom tomatoes, fresh oregano and crispy capers. This was paired with a 2008 Biancale di San Marino.
Catherine chose the roasted rack of lamb with fennel and roasted heirloom tomatoes, paired with a 2008 Tessano Riserva (a blend of Cabernet Sauvignon and Sangiovese).
"Wow, this cod melts in your mouth. It's like buttah," I exclaimed. "And the wine goes well with the fish. You must try some."
"I will, but try the lamb with my wine," replied Catherine. "The wine alone is good – it's smooth, round, a touch smoky, and has a nice finish. The lamb is very tender and has a nice sauce that's light but full of flavor. I tried them alone, then together. When paired, both the food and the wine are elevated to greatness."
"I guess I'd better try some now, because it looks like I may not get another taste," I teased.
We were getting full, but knew there was still a dessert course to come:  Mascarpone and coffee dolce, served with hazelnut and almond cookies. This was paired with Oro dei Goti, Vino Passito di Moscato.
"I like the texture – nice and creamy. The coffee flavor isn't too overpowering. It's even better when you crumble the hazelnut and almond cookies on top."
"Too late. I already ate my cookies," I said sheepishly. "I like the wine, not too sweet like some moscatos. Reminds me of tawny port, but different."
"Chris, I've had three bites of my dessert and you've finished yours already," noticed Catherine.
"What can I say? I loved the dessert, not to mention the rest of this delicious meal," I confessed. "And what I find interesting is that these dishes are not on the regular Canaletto menu. Chef Alfonso Sanna creates these menus specifically for Canaletto's monthly wine dinners."
"I guess we'll have to come back and try the regular menu too," said Catherine hopefully. "I hear they have a great Happy Hour."
"Sounds good to me," I agreed. "I think we'll be saying Ciao to Canaletto quite a bit in the future."
For more information on Canaletto and the monthly wine dinners, visit www.IlFornnaio.com/Canalettonb.