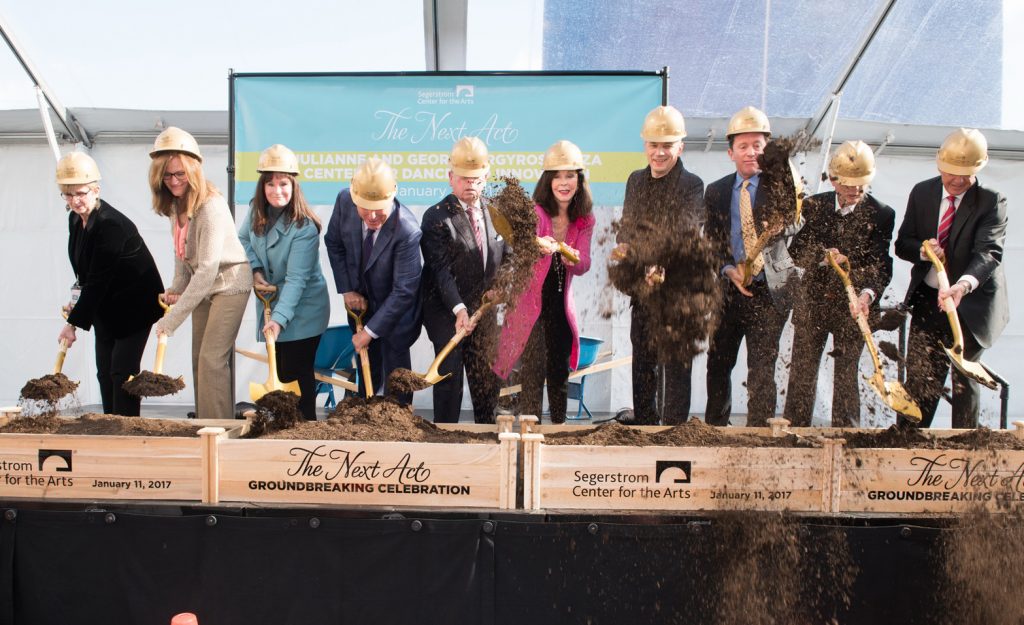 Big changes are coming to Segerstrom Center for the Arts!
Anyone attending a performance at one of the Segerstrom Center venues will notice that construction has begun on the new Julianne and George Argyros Plaza and the Center for Dance and Innovation.
The plaza has been named in recognition of Newport Beach residents Julia and George Argyros' long-time support of the Center and a generous $13.5 million lead gift to the Center's Next Act campaign.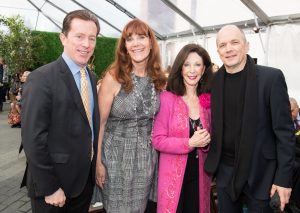 Designed by the firm of Michael Maltzan Architecture, the Argyros Plaza is being designed as a public gathering place that will offer programming throughout the year as well as additional amenities such as a café, a public stage, shaded seating areas, WiFi, and enhanced lighting and sound. A grand staircase will connect Segerstrom Hall to the Argyros Plaza below. 
Currently the plaza has been used for a summer film series as well as occasional concerts and performances, so the addition of a café, wifi and seating areas will offer more reasons for the public to arrive earlier for performances, as well as provide daytime use by local office workers, visitors and shoppers.
I've often enjoyed the Los Angeles Music Center and its pre-show dining options as well as the outdoor fountain and seating areas, so the new Argyros Plaza will bring many of those similar features to Segerstrom Center.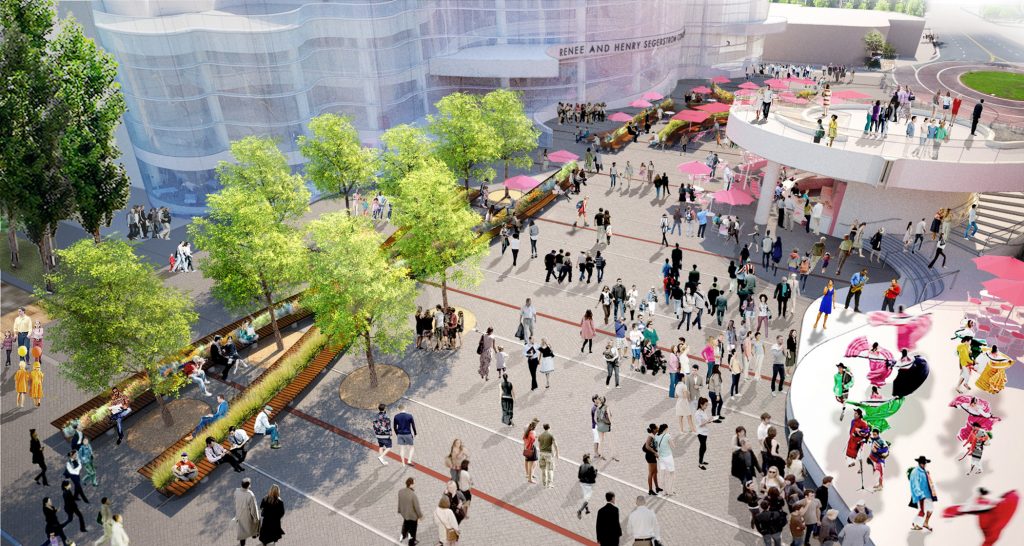 Another change is to the Center for Dance and Innovation, which includes the Judy Morr Theater, studios of the American Ballet Theatre William J. Gillespie School and a new school for children with physical and cognitive disabilities. This building will add a sweeping entranceway and public patio for socializing. 
John L. Ginger, chairman of the board of Segerstrom Center, said "We are so grateful that Julia and George believe in the importance of this plaza to the quality of life in our community. The Argyros Plaza will make an enormous impact on the way we serve and engage with our community and will offer new opportunities for the people from throughout Orange County to enjoy the Center."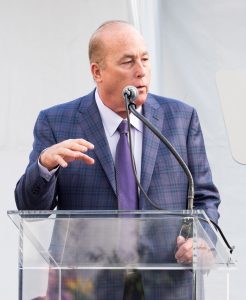 The official groundbreaking came on Wednesday, Jan. 11. Solid rain the night before did not bode well for the ceremony, but the sun and a rainbow came out, as did friends and supporters of Segerstrom Center.
The stars of the occasion were Julia and George Argyros, as well as other lead donors to the campaign, Center board members, Costa Mesa civic leaders and representatives from the Center's resident partners and institutions.
Architect Michael Maltzan received accolades for his designs for the plaza and Center for Dance and Innovation.
Maltzan noted that "architecture is at its best when it's creating a spirited, inclusive place for community. The Argyros Plaza, complemented by the designs for the Center for Dance and Innovation, is poised to do just that: to create a flexible, inviting, beautiful, and utterly unique gathering space for the entire community of Orange County."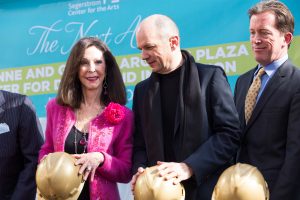 Sharing the stage for the shovel turns were Julia and George Argyros, Maltzan, Karen Presley and Marie Sackett (representing the Sharon D. Lund Foundation), Board Member and Chair of the Building Committee Tony Allen, Center Co-chair of the Next Act Capital Campaign Larry Higby, Center Board Chairman John Ginger, Center President Terrence W. Dwyer, and Executive Vice President Judy Morr.
Also on hand were Orange Country philanthropist Susan Samueli, Costa Mesa Mayor Katrina Foley (who presented Ginger with a certificate of recognition) and Councilmember Jim Righeimer, two original Center founders, Ruth Ding and Tom Nielsen, Pacific Symphony President John Forsyte, South Coast Repertory Founding Director David Emmes and Managing Director Paula Tomei, Orange County Museum of Art Director Todd DeShields (OCMA is planning a move to Segerstrom Center), and former Chapman University President Jim Doti.  
Construction on the Argyros Plaza is expected to be complete by mid-Fall of this year.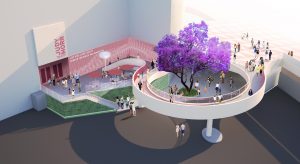 The Plaza is part of The Center's key initiatives, which includes Center Without Boundaries, which The Center describes as "an innovative model for civic engagement that focuses on responding to needs of individual and diverse communities by forging strategic partnerships between the Center and non-cultural groups throughout the county."
The Center is partnering with such diverse organizations as El Centro Cultural de Mexico, The Wooden Floor, Alzheimer's OC, CHOC Hospital, Chapman University, University of California Irvine, United Cerebral Palsy and The KIDA School and Orangewood's Samueli Academy.
Another key Segerstrom Center initiative is the Center for Dance and Innovation. In addition to the American Ballet Theatre William J. Gillespie School, the Center's programs include a dance and music school for children with physical and cognitive disabilities as well as the commissioning of new ballets, dance training in multiple genres, and partnerships with the high-tech community.
"The Center is expanding its ability to contribute positively to the future of Orange County," noted Segerstrom Center President Terry Dwyer.
For more information, visit SCFTA.org.