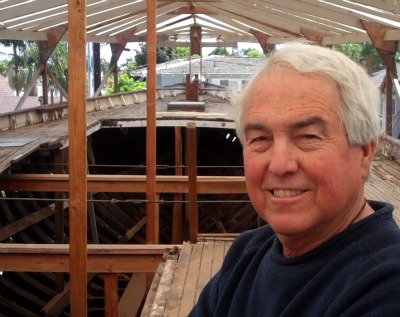 The city of Newport Beach and boat builder Dennis Holland have agreed to settle their long-running dispute over the 72-foot ketch Shawnee in a way that will allow Holland to complete his restoration of the historic craft.
** See video here. **
The boat has been under restoration since 2006 at Holland's home on Holiday Road just off Irvine Avenue.  The city passed an ordinance in 2010 and then filed a lawsuit this year to get Holland to remove the boat. The suit was set to go to trial on Monday in Orange County Superior Court.
According to the terms of the agreement, obtained by the Independent, the boat will be disassembled by Holland and stored in a way that does not violate the city's municipal code.
Holland says that the disassembled boat will remain on his property and be moved to his backyard in a way that will not be seen by neighbors or violate the city's ordinance restricting projects like his. The boat currently is in a large side yard adjacent to Holiday Road and can be seen easily from the street.
Holland, who spoke to the Independent late Friday, said he was "really relieved and kind of mind-boggled" about the sudden agreement that he believes will now allow him to finish the boat's restoration while giving the city what it wants
"The city wants the boat moved, and that's what we're going to do – move the boat," Holland stated.
Holland and his attorneys, Richard Higbey and Jim Miller of Newport Beach, were able to come to the agreement with the city Friday afternoon.
Under the agreement, Holland also will drop a counter-suit he had filed against the city.