At approximately 4:35 p.m. Saturday afternoon, the Newport Beach Police Department received numerous calls about shots fired in the vicinity of Macy's department store in Fashion Island.
According to Kathy Lowe, public information officer for NBPD, it was reported that a male wearing a white shirt and black hat was firing a gun in the air and at the ground in the Macy's east parking lot near the corner of San Miguel Drive and Newport Center Drive.
"Officers on bicycle patrol responded immediately and took the suspect into custody without incident at his vehicle," said Lowe. "Fashion Island remained open, although  some stores locked their doors as a precaution. This was an isolated incident, and we have no motive at this time."
Lowe said the suspect is Marcos Sarinana Gurrola, 42, from Garden Grove.  He was charged with assault with a deadly weapon, although the charges could change depending on the outcome of the investigation.
Based on witness statements at the scene, and as a result of the preliminary investigation, it was determined that the suspect fired approximately 50 rounds from a handgun into the air.
The suspect was standing next to his vehicle at the time of the arrest and advised officers there was additional ammunition located in the trunk of his vehicle. As a precautionary measure the Orange County Sheriff's Department Bomb Squad was called in to remove the ammunition from the vehicle.
According to a statement issued by Tanya Thomas, Vice President and General Manager of Fashion Island, one individual was injured while trying to flee after hearing the sound of the gunshots, but no other injuries were reported.
Eyewitnesses reported seeing a large police presence on the scene soon after the shots were fired, including a SWAT team.
Lucy Mayo was on duty at the hostess station at Brasserie Pascal restaurant, located near Macy's, at the time the shots were fired.
"A lady came in, frantic, and asked to use the phone, saying 'There's a shooter in Macy's,' so I ran and got the keys and locked the front door," recalled Mayo. "I asked our customers to move away from windows. We were a bit frantic and scared, because we didn't know what was happening. I called my mom in North Carolina to let her know what was going on."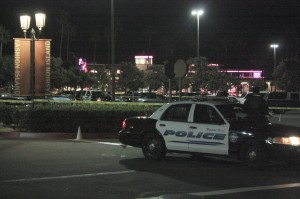 Mayo said the police responded quickly, and that the restaurant reopened after a security guard said it was safe to do so.
"I know other stores closed and have stayed closed, but we chose to stay open," said Mayo. "Everything is back to normal, but it was scary at the time. I'm just glad everyone is okay."
A valet attendant on duty near the parking lot said he heard the shots and saw dozens of shoppers running from the area.
Reached via Twitter, Newport Beach resident Patty Mitchell said she had just parked her car in the Macy's parking lot and was about to enter the store when people began exiting Macy's.
"I'm still sitting in the exact same spot as I was when I got home," tweeted Mitchell several hours after the incident. "Can't shake those moments when I didn't know what had happened, why I was detained and being asked to leave by NB Police with guns drawn, as Macy employees were flooding out of the store saying 'Shots fired.' I never want to hear those words again." #CloseCall.
As of 9 p.m. Saturday night, police had cordoned off a large section of the Macy's parking lot and were investigating the incident.
Anyone with additional information is asked to contact Detective Garrett Fitzgerald at (949) 644-3781.