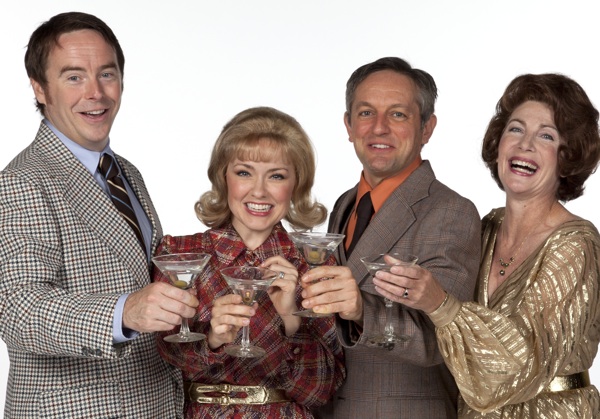 This year marks the 40th anniversary of playwright Alan Ayckbourn's first big hit, "Absurd Person Singular." It wowed critics in 1972 and has continued to wow them, and audiences, since.
And South Coast Repertory's 49th season opens tonight with Ayckbourn's ferociously funny farce; performances on SCR's Segerstrom Stage continue through Oct. 7.
Set over three successive Christmas Eves in three different kitchens, "Absurd Person Singular" listens in on the relationships of three couples as they experience soaring and diving fortunes.
The cast – each with SCR, film and television credits – features Tessa Auberjonois as Eva; Robert Curtis Brown as Ronald; JD Cullum as Sidney; Kathleen Early as Jane; Colette Kilroy as Marion; and Alan Smyth as Geoffrey. SCR Founding Artistic Director David Emmes directs "Absurd Person Singular," his sixth Ayckbourn production and SCR's ninth Ayckbourn play.
I'm pleased to have assembled what I think is an extraordinary cast for this marvelous comedy," Emmes said. "Ayckbourn's genius is in creating characters with whom we can identify; everyday people who have dreams and ambitions not dissimilar to our own."
"Absurd Person Singular" is one of Ayckbourn's most widely praised plays, with a long production history and 2012 revivals in Britain and the United States, including SCR's.
Ayckbourn's deep knowledge of the theater is a delight for director, actors and audience members, said Emmes.
"Ayckbourn comes from the theater, initially an actor, then a director and finally playwright," he said. "He has a theatrical inventiveness and imagination that are particularly unique."
Tickets range from $20-70. Discounts are available for full-time students, patrons 25 years of age and under, fulltime educators, seniors and groups of 10 or more. For details and tickets, visit scr.org.