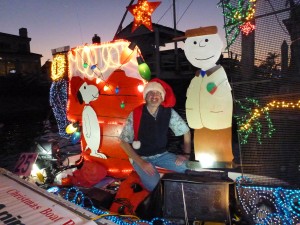 He may have the smallest boat in this year's Christmas Boat Parade, but Peter Barbour has made a big impact.
More than one million people will visit Newport Beach Dec. 17 – 21 for the 106th annual Newport Beach Christmas Boat Parade, presented by the NB Chamber of Commerce.
Some 75 vessels, from yachts to sailboats to electric boats, have decorated their crafts to the theme of "Deck the Hulls with Bows of Jolly," including Barbour and his 11-foot boat, "D-25," which never fails to elicit cheers as it cruises past the throngs of onlookers.
Over the past 11 years, he's carved out his own unique spot among the bigger boats in the parade and within the community.
It just goes to show, "you can have fun in the boat parade with any boat," Barbour said.
Interacting with crowd is what really makes it fun, Barbour said. And being on such a small vessel, he gets a bit different of an experience than those on the bigger boats.
"I'm down low on the water, I'm on the same level as the people watching," he said. "I'm right there within 10 or 20 feet"
Another repeat participant, Dan Flynn, agrees that interacting with the spectators really makes the event fun. They like to have at least one person dressed up on the boat interacting with the audience, he said.
He and his wife, Emily Vogler, have been participating in the Boat Parade since 2004.
"The first year we didn't know what we were doing," Flynn said. "We hung tons of lights… Just said, 'Let's see what we can do.'"
They started out with their boat "Jolly Mom," but now decorate their 52-foot motorsailer "Hippocampus."
A few of their memorable boats include SpongeBob SquarePants, the leg lamp and a pink Cadillac.
Vogler grew up participating in the Boat Parade with her folks and siblings in the 1960s and 1970s and always loved the annual event.
Barbour said he started with his boating club in Newport Beach. One year they decided to decorate the Huff n' Puff sailboat.
"I tried it and the rest is history," he said.
Over the years, both have won several awards.
It takes a bit of time and effort to participate, they agreed.
Barbour has a group of "helper elves" that join in on the decorating each year. He usually starts around Thanksgiving.
Because it is such a small boat and to protect some of the equipment, much of it can't be installed on the boat until the week before the parade, he explained. This year, he'll wait until after the anticipated storms hit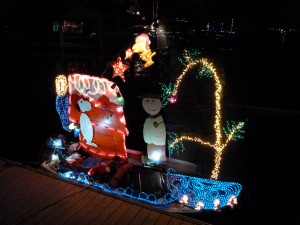 town, because some parts of his display are a bit fragile.
"They only last so long outside," Barbour said.
But the "thinking, planning, and scheming" happens year-round, Barbour said, "in all the extra corners of your mind."
Every year he creates a different design.
"This year is going to be a fun one," Barbour said, hinting that it will be a kitchen scene and involve baking Christmas cookies, brewing tea and theatrical smoke.
"Some years, I don't have an idea and get worried about what to do," he said, "but I'm thinking about it all the time. You never know when inspiration is going to hit you."
Other times, he'll create a scene based on an idea he's had but not yet used, like last year's Snoopy and dog house motif.
The Vogler-Flynn family starts thinking of ideas as soon as the theme is announced.
This year they are recycling pieces from past designs, even items from their "Jolly Mom" years.
"We have seven years worth of stuff to pull from," he said.
This may be the couple's last boat for a few years, as they are considering taking the boat on a long-term world trip.
So they decided to incorporate travel into their design this year for a personal touch. Santa will be seen in a plane, helicopter, even being towed by dolphins, and other forms of transportation.
"For us, there's a special meaning," Flynn said.
But, they won't leave the Boat Parade completely behind.
"I'm sure I'll take a string or two of lights with me," he added.
The designs require a lot of trial and error, he said.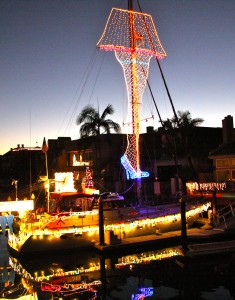 The first design for the leg lamp was three dimensional, Flynn explained. When they tested the hoops that were going to hold the lamp shade they got twisted and the entire thing started shaking.
So they reconfigured their design to be two dimensional.
It took several months to build, but turned out really cool, Flynn said.
"There was a lot involved in that one," he added.
It ended up being seven separate pieces attached together on the mast.
SpongeBob, on the other hand, didn't take a ton of work, but it did involve a huge amount of lights. They used the generator on boat plus two other generators to light up the super-sized sponge character.
SpongeBob was a technical chore, while the leg lamp was a structural chore, he said.
Putting it all together is like solving a puzzle, Barbour agreed.
Everything is built by hand, he said. He uses a variety of tools and materials, from foam board to plastic fencing to spray painted electric conduits to tie wraps holding everything together.
"It has to be lightweight enough so I don't sink the boat, but sturdy enough so it survives the elements for a week," Barbour said.
The small vessel is loaded down with decorations and only has room for one person.
"It's just me on the boat," he said.
So it's up to Barbour to do everything: Running the audio and lights, worrying about safety, and waving and interacting with fans.
A favorite entry of Barbour's was for the parade's 100th anniversary. It was his first year using computers to animate the displays.
His design honored the long history of the parade: A gondola with Japanese lanterns to represent the first parade and "with the switch of a button," a modern tropical Christmas with numerous lights, a beach chair and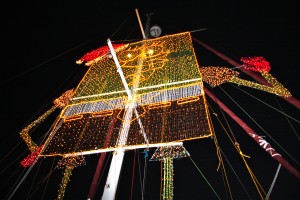 umbrella.
Having a technical background is a great resource, added Barbour, who has a physics degree and works in the electronics field.
Having knowledge and experience in technology definitely helps, agreed Flynn, who has a degree in computer engineering.
It has helped Barbour come up with some creative solutions more than once, including his second year participating.
His first year he had just one generator, the next year the display was more intense so he added a second generator. He didn't get a chance to test them running together until the first day of the parade. As he got in line at the start of the parade, it failed.
"I had to rewire it out on the water," he recalled. "I got it running and the show went on."
Despite all the time and effort that goes into just a few hours for five days of display, it's "absolutely worth it," Barbour said.
It's special for a few reasons, Flynn agreed.
One: It brings the immediate family together for a fun project.
It's absolutely an important family tradition, Flynn said.
"This is our big family event," Flynn said. "This is what we do for Christmas."
Two: It's five nights of partying with friends and family. Extended family and friends help with decorating and then get together to ride along in smaller groups during the parade.
"It brings a lot of people together," Flynn said.
And three: It's one of the last vestiges of community.
They look forward to the meetings, awards ceremony and other events with other participants.
"You feel like you're a part of the city," Flynn said.
It's not just about decorating a boat and driving it around the harbor, he said, it's about interacting with people and being a part of the community.
Participants need to be able to navigate the crowded harbor safely, create a display and have fun.
"All those things are the same whether you're on a big boat or little boat," Barbour said.
"Start small and do what your capable and comfortable with," Barbour suggested.
Both men encouraged others to participate, but emphasized that those interested need to be able to be respectful of all the safety concerns.
There are a lot of issues that need to be considered to make sure this as great of an event for everybody as possible, he said.
Issues like the start of the parade is like "bumper boats," some of the turns are pretty tight, there are kayakers and others on the water to watch out for, and there is a lot of electricity bobbing out there on water, he said.
The fact that there are so many boats moving in close quarters and putting on this show is a huge feat, Flynn said.
For more information, visit christmasboatparade.com.