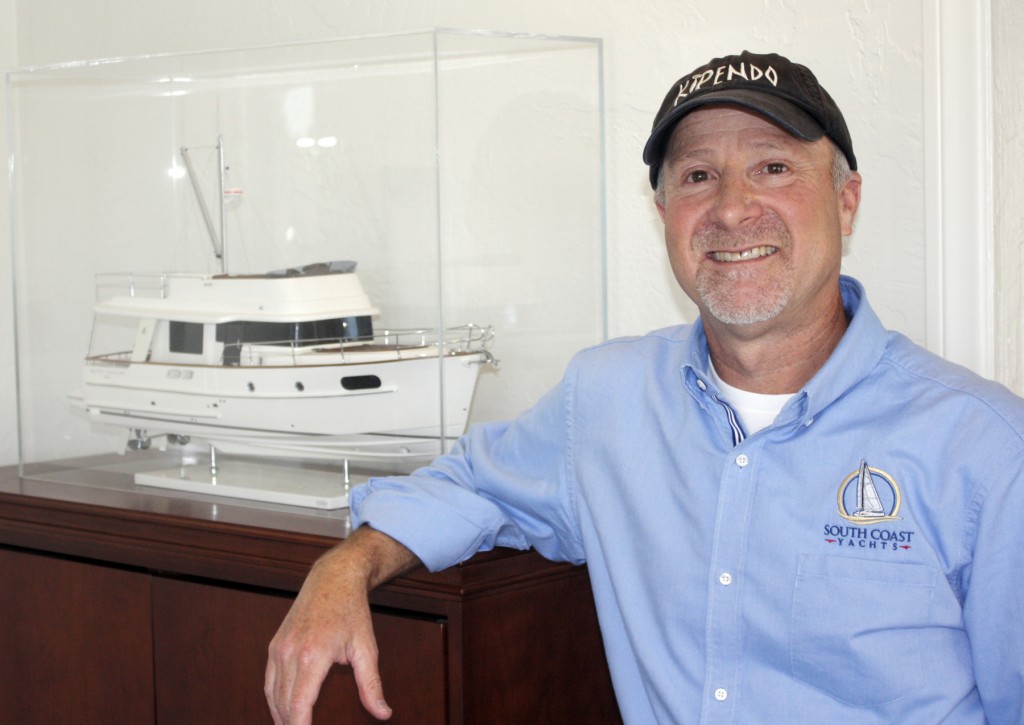 In an upstairs office within Lido Marina Village, Jody Krimstock of South Coast Yachts is busy helping boaters "live their dream" as a Beneteau Authorized Dealer.
Krimstock is also living his dream. He grew up on the east coast, boating on the Chesapeake Bay, before heading to California. He co-founded a successful boat maintenance business in Alameda and raced sailboats in San Francisco Bay.
Jody has sailed in the Baltic Sea, Sea of Cortez, Atlantic and Pacific Oceans and throughout the Caribbean. He had stints crewing on charter boats, then switched careers and went to work in the sales divisions of Apple and Hewlett Packard for 25 years before joining the team at South Coast Yachts. He helped open the Newport office last fall.
The Beneteau boats he represents are the top selling sailing brand in the world. This year, the company celebrates its 130th anniversary.
"They're the Apple of the boat manufacturing world because they're so cutting edge," explained Krimstock. "Beneteau is near and dear to me—I've owned two new Beneteaus, so I'm so excited to be able to sell the boat that I know and love. I pinch myself every day.
Krimstock said that while the Beneteau sailboats are renowned in the U.S., Beneteau sells more powerboats than sailboats in Europe, so he's become an evangelist for the Beneteau powerboat line as well as the sailboats.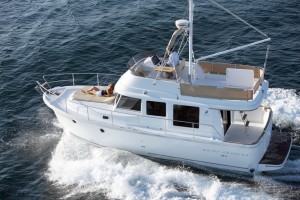 One of their featured boats in Newport Beach is the new Swift Trawler 34, the Greatest Loop Award Winner.
"The fun part has been coming up with ways to get established here. We're using the Lido Isle newsletter, we have a relationship with West Marine (the boating supplier that opened in Newport last fall), we're working with Orange Coast College sailing school and California Recreation Company, and I'm presenting at local yacht clubs and talking about what Beneteau has been up to. It's really exciting."
Krimstock noted that when he worked for Apple, he was focused on a customer's need. Now, it's a customer's "want."
"They don't necessarily need a boat, but they want it. It's sort of an impulse thing. For me, there is no better thing in my life. The boat is an escape from reality for a lot of boat owners."
Beneteau boats themselves are an escape from reality. While perusing the various boat models and styles on the South Coast Yacht website, visitors can easily get a sense of what it might be like to own such a boat.
"Due to Beneteau's scale, you get more bang for your boat," said Krimstock. "You can easily spend three to four times as much with a custom manufacturer."
Krimstock noted that Beneteau sailboats 45 feet or less are manufactured in the U.S., others are made in France, and all are customized to the specific needs of the buyer. South Coast Yachts instructs new owners on how to use their boats, offers year round boating activities (annual Catalina rendezvous, regattas, raft ups, boat shows) and representatives are available around the clock to support Beneteau owners.
For more information, visit SCYachts.com, or email Jody at [email protected].