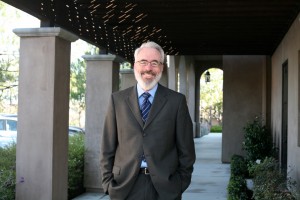 What do St. James Episcopal Parish school (now Oasis Senior Center), the old Seabyrd restaurant at the Dunes, and the cafeteria at Corona del Mar High School have in common?
Each was a temporary home of St. Mark Presbyterian Church.
The locations bounced around, and at one point even included the unoccupied shop room at CdM High, where their new organ spent its first months flanked by Driver's Ed cars. In all, St. Mark moved eight times in the two years before it had a building of its own.
St. Mark enjoyed its location across CdM High for 43 years and moved to its present new home near Fashion Island five years ago. This year, the church is celebrating its 50th anniversary as "An Inclusive Community with Open Arms and Open Minds."
In addition to numerous special projects and events, including the retirement party in January of Rev. Gary Collins after 21 years of service, the congregation is becoming reacquainted with Rev. Curtis Webster, who has been called as interim pastor.
"He's doing a fabulous job, because as a former member, he understands what St. Mark is about," explained Deborah Mayhew, church elder. "He is making a smooth transition for us as he guides the process."
"Pastor Collins' retirement party celebrated his accomplishments and provided an opportunity to look back at how far St. Mark has come in the past 50 years," Deborah continued. "As we commemorate this golden anniversary, we are also in the interim period of self-study and a discussion of where we want to be in the next ten years or so. Laying the right groundwork is a critical step in the selection of our next pastor. It's worth taking the time, as we have a very good track record attracting just the right people for St. Mark."
Deborah explained that the congregation is excited to have Pastor Webster as the interim pastor, and it's clear the feeling is mutual.
"I'm just thrilled to come back and share what I've learned since St. Mark sent me out," Webster said. "When I got the call, I pinched myself, thinking it was too good to be true. I really have to give St. Mark credit for many things, including getting me back to the faith many years ago; I don't know where I'd be now without it. The first time I attended St. Mark in 1987, it was because my fiancé (now wife Kay) had persuaded me to join her. St Mark took me from not being sure I believed in God to professional ministry."
"When I felt called to ministry, St. Mark was very supportive and agreed to sponsor me," he continued. "They gave me a lot of moral support, and Gary Collins was my ideal of what a pastor should be, even though our styles are very different. He gave me opportunities to preach and he was very honest with me. I've since refined my skills. It's really a God thing to be back. One of the only hesitations I had was wondering if I could convert to being the congregation's pastor, but the transition has been more seamless that I'd thought."
Webster is a specialist in interim ministry, having served four congregations before being called to St. Mark.
"Interim ministry is very different from being an installed pastor," he said. "I'm better at the interim. I like figuring out what needs to be addressed or changed. I judge my performance by the quality of the next leader they select. Gary did a magnificent job preparing the congregation for his departure. He let people know he was not the church, the people are."
Webster enjoys incorporating a variety of tools, such as references to popular culture, including sci-fi, when appropriate, to help convey the message of his sermons and God's Word, finding it particularly helpful with young adults.
"Jesus was a great storyteller; His parables are genius," he observed. "Sometimes we need to see ourselves in narrative instead of being told things."
The church campus includes the fully licensed, not-for-profit St. Mark Community Preschool as well as a not-for-profit Newport Community Counseling Center, which is one of the few in the area offering sliding scale fees.
"It's important to understand that St. Mark is a very unique institution; it is vibrant and robust and they try to embody the values and truths Jesus taught us," Pastor Webster said. "It's inclusive; people who have given up on church say, 'Here's a place I'm comfortable'. There are a lot of great congregations, but there is no other place like St. Mark."
For more information, go to www.stmarkpresbyterian.org. Cindy can be reached at [email protected].